MARTIN SIMMONDS

SEND THIS TO A FRIEND!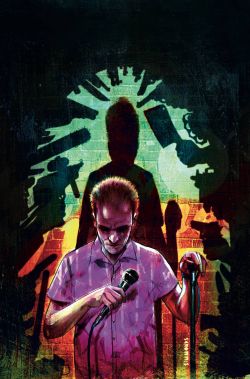 DF Interview: Martin Simmonds pushes his art style in a darker, grittier direction for 'Dying Is Easy'
By Byron Brewer
Meet Syd "Sh*t-Talk" Homes, a disgraced ex-cop turned bitter stand-up comic turned... possible felon?
In the new limited series Dying Is Easy, Carl Dixon is on the verge of comedy superstardom and he got there the dirty way: by stealing jokes. He's got a killer act, an ugly past, and more enemies than punchlines. So when someone asks Syd Homes how much it would cost to have Dixon killed, Syd isn't surprised in the slightest. He's already got a figure in mind...
From IDW Publishing comes the debut of an all-new creation by writer Joe Hill (Locke & Key) and artist Martin Simmonds (Punks Not Dead), Dying Is Easy. DF did a bit of a swerve on this one and got the facts (just the facts) from artist Martin Simmonds.
Dynamic Forces: Martin, before we get into the comic book Dying Is Easy proper, tell readers a little bit about your craft. How did you become interested in art, and how did that work its way to comics?
Martin Simmonds: I grew up reading comics, my first experience being 2000AD, and then onto discovering Marvel and DC books, and having always had an interest in drawing and painting, so eventually I combined the two. I trained as a graphic designer, and worked in the design industry for several years, at the same time working on self-published projects with other like-minded creators I met at conventions. As more and more opportunities came my way, I was able to drop the design work, and eventually work full-time in comics.
More often than not I paint digitally, and try and incorporate some of the things I learned as a graphic designer into my sequential art, whilst also drawing influence from artists such as Gustav Klimt, Edward Hopper, and Egon Schiele, and illustrators like Coby Whitmore, Austin Briggs, and Bob Peak.
DF: How did you come to be a part of this new IDW limited series?
Martin Simmonds: Chris Ryall got in touch with me while I was still working on the second volume of Punks Not Dead for Black Crown/IDW, and asked if I'd be interested in collaborating with Joe on a crime series, and or course I jumped at the chance. It was a great opportunity to work on something special with an amazing writer.
DF: What can you tell readers about the storyline of the book?
Martin Simmonds: It's a fair-play mystery, so the reader can put the clues together as they read through each issue, and solve the case alongside our main man Syd "Sh*t-Talk" Homes. It's certainly a darker story than previous projects I've worked on, and it's given me a great opportunity to push my art style in a different direction.
DF: Introduce us to Syd Homes. Through your creation of him by way of art, what type of man is he? What can you tell readers about the character as we prepare to pick up issue #1 of Dying Is Easy?
Martin Simmonds: Syd's a disgraced ex-homicide detective who's turned his hand to stand-up comedy. He's a no bullsh*t kind of guy and is somewhat angry. Joe described Syd pretty clearly in the script, so I already had a platform to start with, but suffice to say he needed to have a beat-up and cynical look about him. Despite being a comedian, I don't reckon Syd smiles that much.
DF: What can you tell us about designing the characters for the book? Was there a character that was either your favorite or particularly difficult?
Martin Simmonds: Joe writes such fantastic colorful characters and I had so much fun visualizing all of them. Most likely they all have a skeleton or two in the cupboard, and as such, they're all potential suspects in our story. I loved designing Syd, but there's a character called Paulie who's just the kind of character I've always wanted to draw into a project. Paulie runs The Funnies (the comedy club in our story), and he's got a great fashion sense.
DF: How have you used your artist's toolbox to bring the atmosphere writer Joe Hill creates through words to life on your pages?
Martin Simmonds: Dying Is Easy has given me chance to push my art style in a darker, grittier direction, with an emphasis on realism. The script brought to mind sleazy, smoke-filled clubs, neon lights and dark shadows, but there are also opportunities for fast-paced action scenes, and some pretty funny moments.
I also wanted the art to have a looser, hand-painted feel, which I felt was a good way to give the environments a lived-in feel, so there are lots of textures used throughout the book. I wanted the building to have that same tired, weathered look that Syd and the other characters have.
DF: Speaking of Joe, tell us a little about your collaboration on Dying Is Easy thus far.
Martin Simmonds: It's been great! I think Joe and I have been on the same page (sorry, bad joke) with how the book should look and feel, and it's been hugely enjoyable to see it all come together. Seeing as it's a fair-play mystery, there are clues that need to be placed precisely throughout the book, and so I've been careful to follow Joe's direction on that, but other than that, it's been a pretty organic process with playing with panel count, pacing, composition etc.
DF: Martin, what other projects of yours, inside or outside comics, can you tell readers about?
Martin Simmonds: So before Dying Is Easy, I was the artist/co-creator on two volumes of Punks Not Dead (written by David Barnett) for Black Crown/IDW, and Friendo (written by Alex Paknadel) for Vault Comics. Both projects I'm immensely proud of.
As for future projects, I have a very exciting project I'm due to start work on straight after Dying Is Easy, but that's all I can say on that for now. Watch this space.
Dynamic Forces would like to thank Martin Simmonds for taking time out of his busy schedule to answer our questions. Dying Is Easy #1 from IDW Publishing hits stores in December 11th!
For more news and up-to-date announcements, join us here at Dynamic Forces, www.dynamicforces.com/htmlfiles/, "LIKE" us on Facebook, www.facebook.com/dynamicforcesinc, and follow us on Twitter, www.twitter.com/dynamicforces.
---
NEW! 1. 11/23/2020 - CHUCK BROWN
3. 11/16/2020 - RYAN O'SULLIVAN
4. 11/16/2020 - RYAN O'SULLIVAN