CAITLIN KITTREDGE & STEVEN SANDERS

SEND THIS TO A FRIEND!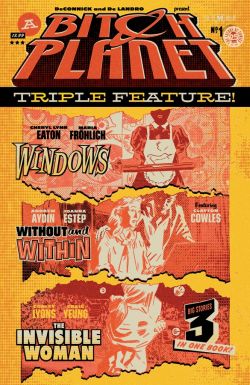 DF Interview: Caitlin Kittredge & Steven Sanders' SF spy thriller Throwaways coming to trade
By Byron Brewer
A "Throwaway" is defined as (1) a disposable asset, used for a single mission; (2) a disavowed assassin, meant to die alongside their target.


Abby Palmer and Dean Logan are two broken people – Abby, a vet with severe PTSD, and Dean, a burnout trying to escape the shadow of his infamous father -- when they are thrust into a modern-day MK-ULTRA conspiracy ... and discover they are both ULTRA's human experiments.
This high-tech espionage tale is set to come out in trade form from Image Comics, brought to life by writer Caitlin Kittredge and artist Steven Sanders. DF wanted to explore the series presented within the TPB, so we sat down with the creators for a chat.
Dynamic Forces: Caitlin and Steven, what's it like to see your psychic spy thriller Throwaways in trade paperback form? This is the book's first volume of TPB, I believe.
Steven Sanders: Pretty great! It's been a few years since I've taken the time to do enough comic work to have a trade come out where I'm the main artist on it, and that's always a fun thing. Also since, I think, trades tend to get more non-traditional comic readers than floppies, I'm excited to see Caitlin's story reach an even larger audience.
Caitlin Kittredge: It's awesome. I'm thrilled that all the hard work Steven and I have put in over the past year and a half is gaining so much momentum, and I can only hope the trade will bring in a whole new audience.


DF: Caitlin, tell us how the regular book came about? What was its inspiration and how did it get to Image Comics?
Caitlin Kittredge: I'd wanted to write this story for a really long time—it was my first non-fantasy or horror genre pitch, and I was approached by Image after my Vertigo book, Coffin Hill, started up back in 2012. I figured there wasn't going to be a better venue to start a project that was a total departure from my previous work so I went for it and the rest is history.
DF: What can you tell us, non-spoilery, about the mind control experiment perpetrated by a government herein? Was it our (U.S.) government, how many "victims" were involved? Can you give us any hints at all about the program's "sinister architect"?
Caitlin Kittredge: So, MK-ULTRA and all the references to it in Throwaways all really happened, in the 1950s and '60s, and it was merely the worst (arguably) of a whole host of unethical experiments our government perpetrated against its citizens during the Cold War in the name of national security. Some of them are well known, like the Harvard LSD experiments or the attempt to create psychic assassins by the U.S. military, and others have largely faded away into history, but all I did for Throwaways was push the truth a step further and posit some of these experiments were actually successful. The ULTRA program's leader, Dr. Elizabeth Ostrander, has a background pulled from many true sources—because nothing is scarier than the truth.
DF: Tell us about your protagonists, Abby Palmer and Dean Logan, and the situation in which they find themselves during this adventure.
Caitlin Kittredge: Abby and Dean find themselves totally screwed at the start of Throwaways—the only two people to survive the ULTRA program and escape. They're both severely broken by their experiences. Abby is a former special forces soldier with severe PTSD and amnesia, and Dean is an off the grid burnout pretending that he's a badass hacker. They'd never be friends under normal circumstances, but when they're thrust together to stay alive, they become a credible threat to Ostrander's operation ... so of course they become even bigger targets, and realize the only way they're going to stay alive is to take the program down and expose Ostrander.
DF: Steven, did you do most of the designs for these characters? Was it in collaboration with Caitlin, or were you kind of given carte blanche?

Steven Sanders: Yeah, I did the designs, based on character sheets Caitlin gave me, which gave things like height, hair/eye/skin color, tattoos, and general "look." I tend to do "what do you think about this design?" vs. "Which of these designs do you like?" So I'd send her a design for approval and/or tweaks, and go from there. We probably collaborated most on Dean, at least as far as the Black Flag shirt goes. I forget who's idea choosing them specifically was, but it's hard to go wrong with Black Flag. Haha.

Beyond that, though, she did pretty much give me carte blanche. Also, I ended up using some friends as models for two of the female characters, and the model for Kimiko, my friend Pixie, chose the outfits. So a lot of input from different sources. Really enjoyable.


DF: Atmosphere is very important to a story like Throwaways. How do you use your art/layout to convey the mood as reflected in Caitlin's scripts?


Steven Sanders: As best I could? Haha. Throwaways was, outside of a few pages of Moon Knight, the only "realistic"/non-superhero, sci-fi or fantasy work I've done, so it's been a learning experience.


DF: What character among the lot and/or scene featured in the coming TPB challenged you the most? Which did you find most enjoyable?

Steven Sanders: Probably Abby? At least in terms of visually communicating her ethnic background. America is genetically diverse enough that ethnic genotypes (is that even a thing? I'm uncertain.) like those of the Pashtun (or in Abby's case, half-Pashtun) can be difficult to communicate visually without going into caricature territory. It was a fine line to walk, hopefully I pulled it off.

As far as enjoyable scenes, a chunk of my brain is basically in grade school and loves robots and explosions. So the telekinetic explosion or fight scenes were like a little party for me.


DF: Guys, how did you enjoy working together on Throwaways?

Steven Sanders: I liked it a lot, this kind of story (one that isn't super-hero or takes place in a sci-fi or fantasy environment) is new for me, and getting to stretch and learn new approaches has been great. Caitlin writes compelling scripts that are evocative and fun to do my best to help bring them to life.


Caitlin Kittredge: This has been a fantastic experience for me. It's very freeing to know I can write the script and Steven really gets it—I trust him to run with the words on the page because his POV adds that extra something that makes Throwaways a really kick-ass comic.
DF: Do each of you have current or near-future projects you'd care to mention?

Steven Sanders: I have a short version of the Symbiosis book I Kickstarted, the Symbiosis Chapbook, coming out soon as a pay-what-you-want PDF and CBR. (The backers are getting it free.) Everything else is pretty far off.
Caitlin Kittredge: I just wrapped up two miniseries that are currently for sale: Lucas Stand for BOOM! Studios (which I co-wrote with Kurt Sutter from Sons of Anarchy, a total "holy crap, is this even real?" moment for me) and a tie-in mini for the TV show Grimm over at Dynamite. I have a new creator-owned series that's in the development stage at Image right now, so I can't spill too much since we just hired an artist, but I can say it's a science comedy called Bad Clone that's about the perils of cloning yourself and the wacky hijinks that ensue when your clone just turns out bad. I also have an ongoing in the works that I can't tell you anything about, because then I'd have to kill you, and that's really hard to do over the internet.
Dynamic Forces would like to thank Caitlin Kittredge and Steven Sanders for taking time out of their busy schedules to answer our questions. The Throwaways TPB from Image Comics arrives in stores Dec. 21st!
For more news and up-to-date announcements, join us here at Dynamic Forces, www.dynamicforces.com/htmlfiles/, "LIKE" us on Facebook, www.facebook.com/dynamicforcesinc, and follow us on Twitter, www.twitter.com/dynamicforces
GRIMM VOL. 2 #1 Written by Caitlin Kittredge
---
NEW! 1. 11/25/2020 - STEVE SKROCE
4. 11/16/2020 - RYAN O'SULLIVAN
5. 11/16/2020 - RYAN O'SULLIVAN