STEVE SKROCE

SEND THIS TO A FRIEND!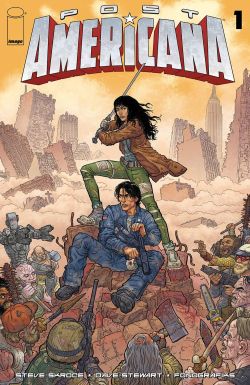 DF Interview: Steve Skroce serves up a dystopian America and a girl hellbent on revenge in 'Post Americana'
By Byron Brewer
The Cheyanne mountain installation, aka the Bubble, is the most sophisticated super bunker in the world. It was built to ensure the survival of America's executive branch of government and its most important citizens should the unthinkable happen. When the world ended, the executive branch failed to reach the sanctuary, but the elite citizenry did.
Eighty years later, one of their own has named himself the new President of the United States. His plan? Subjugate the survivors of the American Wasteland using the same bunker resources meant to rebuild it. The only thing standing in their way is a deadly Wasteland girl, hellbent on revenge!
From Image Comics comes Post Americana, illustrated and written by Maestros creator, We Stand on Guard co-creator, and The Matrix storyboard artist Steve Skroce with coloring by the Eisner Award-winning Dave Stewart.
DF wanted to know more about this limited series, so we tracked down and chatted with artist/scribe Steve Skroce.
Dynamic Forces: Steve, while not exactly ripped from the headlines, I can definitely see this coming if America continues as it has in the real world of 2020. Tell us the genesis of your concept for Post Americana.
Steve Skroce: Growing up in the 80s, the Cold War and the possibility of nuclear holocaust was ever present, in the news and in the pop culture I was absorbing. Post Americana has more to do with Mad Max, Damnation Alley, Blade Runner and Akira than it does the current political situation. Its DNA is all genre.
DF: Tell readers about the world you are building here.
Steve Skroce: This story takes place in the long-dead ruins of a futuristic American Wasteland. We'll learn that multiple events destroyed civilization and brought the Earth's human population down to almost zero. Roving gangs and blood cults terrorize innocent communities, who survive by scavenging the corpse of the dead world. The status quo is chaos and fear.
DF: Without spoilers, what can you share with us about "a deadly Wasteland girl"? Who is she?
Steve Skroce: Her name is Carolyn. She's descended from a collective of survivalists and lawmen who retreated to the mountains when the end times came. Her mother was their leader, and they kept the road safe for innocent travelers wanting to join their growing commune.
All that ended when a heavily-armed force wearing the old American flag appeared in the night and wiped them out. Carolyn has been hellbent on revenge ever since.
DF: Tell readers about the surviving "Elite". What is the name and story behind the "elitist" who has named himself POTUS?
Steve Skroce: Some of America's richest and most prominent families bought golden tickets into the Bubble. Inside the mountain, they spent generations living an imitation of the gone-world, their lives of privilege were without purpose or belief.
Nathanial Hawksworthe was born in the Bubble. He grew up fascinated by the late empire's history. Eventually the residents longed to see what was left of their once-great country and Nathanial joins an expedition into the American Wasteland; he returns years later…changed.
He's a Svengali. The Bubble's citizenry is transfixed by his vision of a new America. They unanimously agree to call him "President".
DF: Everyone does it differently. I think readers would enjoy hearing about your creativity as both artist and writer of this comic. What is the process?
Steve Skroce: It all starts with a blank page and notes and sketches. Ultimately, I revise my work over and over until I'm ready to start drawing the finished art. I don't write a script in a traditional sense, just notes that no one but me could follow.
DF: Steve, what other projects of yours, inside or outside comics, can you share with readers?
Steve Skroce: Post Americana was meant to come out earlier, but I had to press pause for a few months to work on the new Matrix film. Obviously, I can't say much [about the new Matrix], but I'm excited to see it. The story is fantastic and is consistent with the trilogy but goes in some new and fitting directions that are really exciting.
Dynamic Forces would like to thank Steve Skroce for taking time out of his busy schedule to answer our questions. Post Americana #1 from Image Comics is slated to hit stores Dec. 2nd!
For more news and up-to-date announcements, join us here at Dynamic Forces, www.dynamicforces.com/htmlfiles/, "LIKE" us on Facebook, www.facebook.com/dynamicforcesinc, and follow us on Twitter, www.twitter.com/dynamicforces.
---
NEW! 1. 01/25/2021 - MATTHEW ERMAN & LISA STERLE
2. 01/21/2021 - RORY MCCONVILLE