BENJAMIN PERCY

SEND THIS TO A FRIEND!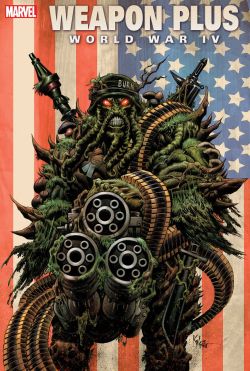 DF Interview: Benjamin Percy unleashes Man-Slaughter in 'Weapon Plus: World War IV'
By Byron Brewer
Biochemist Ted Sallis was developing a serum for military application, but was tragically killed in a freak accident before he could perfect it. Still, the data behind his formula remains property of the United States government and the Weapon IV Program to this day. Mutants aren't the only ones to have weaponized flora!
From Marvel Comics comes a sensational new hero ready to fight back against the new world order. No longer just a man … not a thing … he's All-American soil and he's reporting for duty. Benjamin Percy (Wolverine, X-Force) and Georges Jeanty (Weapon X) introduce...MAN-SLAUGHTER!
This is a book which draws on and mashes up a lot of MU history, so you know DF wanted to dig even deeper. To do that, we sat down with writer Benjamin Percy.
Dynamic Forces: Ben, tell us the genesis of this quite unusual mixed-genre one-shot, Weapon Plus: World War IV, and how you became a part of it.
Benjamin Percy: Chris Robinson—who I've worked with on Moon Knight, X-Force and Wolverine—knows I have a strong interest in horror, and he reached out and said, "You want to talk about trying something new with Man-Thing?" and I said, "Hell yeah." That was the first poisonous seed of the conversation/brainstorm that grew from there.
DF: Describe the atmosphere for this book: monster, war saga, mix? What bag are we getting here?
Benjamin Percy: Imagine Predator meets Commando meets Annihilation, and you have a general notion of what to expect. It's a monster book—but it's also a war-time quest into a horrifying wilderness.
DF: Tell us what you can about Man-Slaughter. (I DO love that name!) What is he, and who WAS he?
Benjamin Percy: The quick and dirty summary is this: an environmental journalist breaks into the Weapon Plus laboratories, trying to document the source of the toxic runoff affecting its surroundings. There he is discovered, detained and experimented on. The Man-Thing serum has failed on all other hosts, but it finds a perfect host in the journalist. Their relationship is symbiotic at first, but the monstrous force within him is in danger of taking over as he's sent on paramilitary missions. Weapon Plus keeps promising Man-Slaughter the cure, but the goal posts keep getting moved.
DF: Can you give readers an extended elevator pitch for this story?
Benjamin Percy: The town of Hemlock Haven—and the neighboring wilderness in the Pacific Northwest—has gone dark. A massive dome of fog hangs over it, the perimeter of which grows every day. Anything that goes in doesn't come out. And Man-Slaughter's brother—a scientist specializing in fungal research—is among the missing. So this is both a rescue mission and a moment of reckoning for our (anti)hero, who is feeling broken and resentful after being manipulated by Weapon Plus for so long.
DF: Is there hopes of this becoming an ongoing?
Benjamin Percy: Stay tuned.
DF: LOL! … Okay, talk about the art of your collaborator, Georges Jeanty.
Benjamin Percy: He's a badass and I can't wait to see him bring these otherworldly horrors to life.
DF; As long as we have you, Ben, could you just cautiously comment on what we can expect from your other "new" series, X-Force and Wolverine? No spoilers allowed!
Benjamin Percy: Mayhem and menace, of course.
DF: Aside from the Dawn of X titles, what other projects, in or outside comics, can our readers look forward to from you, Ben?
Benjamin Percy: Marvel is keeping me busy. So is Upshot (AWA Studios), which will publish two creator-owned series of mine in 2020: Devil's Highway is a crime series I'm writing, paired with artist Brent Schoonover; and Year Zero is a global account of the zombie apocalypse I'm working on with artist Ramon Rosanas. My latest book of stories— Suicide Woods — just released this fall. And I have a sci-fi trilogy — called The Comet Cycle — that will begin to drop in 2021 with Houghton Mifflin Harcourt.
Dynamic Forces would like to thank Benjamin Percy for taking time out of his busy schedule to answer our questions. The Weapon Plus: World War IV one-shot from Marvel Comics hits stores on Jan. 29th!
For more news and up-to-date announcements, join us here at Dynamic Forces, www.dynamicforces.com/htmlfiles/, "LIKE" us on Facebook, www.facebook.com/dynamicforcesinc, and follow us on Twitter, www.twitter.com/dynamicforces.
X-FORCE #1 SIGNED BY BENJAMIN PERCY
JAMES BOND: BLACK BOX HARDCOVER
JAMES BOND: BLACK BOX TRADE PAPERBACK
---
NEW! 1. 11/25/2020 - STEVE SKROCE
4. 11/16/2020 - RYAN O'SULLIVAN
5. 11/16/2020 - RYAN O'SULLIVAN