CHUCK BROWN

SEND THIS TO A FRIEND!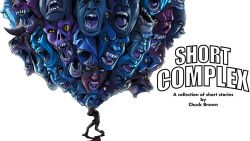 DF Interview: Chuck Brown introduces a connected universe in his collection of prose stories, Short Complex, up on Kickstarter
By Byron Brewer
Short Complex is a collection of original prose short stories by Eisner and Ringo award winning writer, Chuck Brown.
Five stories. Five very different stories of science fiction, horror and action, all connected within the same preternatural universe. Accompanying Brown's short stories are vignette images from talented illustrators. The book concludes with illustrations, maps and bios that delve deeper into the complex interconnecting worlds. At its core, these tales explore the topics of mental illness, dystopian political policies, racial and social inequalities.
Short Complex, like many properties these days, is going the crowdfunding route and is up now on Kickstarter.
DF caught up to scribe Chuck Brown to find out more about this unique short story prose package.
Dynamic Forces: Chuck, my friend, welcome to your very FIRST Kickstarter campaign with Short Complex. Tell us what this is and why the decision to crowdfund.
Chuck Brown: Hey, Byron! It's always a pleasure. Short Complex is a collection of short stories that I've have been sitting on for several years. My wheelhouse and experience is in comics so publishing a book of prose shorts was foreign to me. I thought the best way to get it out into the world is with a Kickstarter and go directly to the readers.
DF: Collectively, what is the genesis of this project? You have five very different prose stories interconnected in the same universe. Sounds like a great idea for a graphic novel series. Why a prose book?
Chuck Brown: Sometime my ideas lead to a comic or a prose. It's all about the story I want to tell at that time. My comic On The Stump actually began as prose and then evolved into a comic. Short Complex collects those stories that either began as or ended up as prose.
DF: I know there are some great illos accompanying your prose at various points in this publication, as it comes. Can you tell me even a few of the artists that may be involved?
Chuck Brown: Absolutely! There's Tim Geathers, Meech Dawkins, Federico Sabbatini, Francesco Tomaselli, Javier Ratti, and Prenzy. They're a mixture of comic book and children's book illustrators.
DF: Very different for this forum, but this is a very different topic. Let's take each of the five short stories here, conceived and written by you, and give readers as informative a thumbnail description of the tale as possible.
Chuck Brown: Sure thing!
Magic Bullet – This story takes place in the 1970s and we meet a young man about to take his life. It's a sci-fi action-packed tale that tackles the subjects of suicide and sacrifice.
Flawed – A psychiatrist helps her patients by hitting the streets and punishing the wicked people in their lives. This story delves deep into societies broken and flawed dogma, politics, and self-destructive nature.
Sick – Ironically, this short story was written before covid hit us. The concept is our broken health care system meets degenerative superpowers.
Stranger Daze – This short story is from the world of On the Stump. A world where politicians decide policy by hand-to-hand combat. It follows a young Secret Service agent named Stranger Day as he tries to root out corruption within this violent and bloody government.
Staff Retreat – Staff retreat represents that soul-crushing job that a lot of us have had in our lives. A young man is stuck in a cycle of sorrow and nothingness at one of these jobs. He's now being forced to go on a staff retreat with the co-workers that he loathes. The retreat is like all the others … until all sci-fi hell breaks loose.
DF: Of all the stories to be contained in Short Complex, of which are you most proud and which was the most difficult/perhaps most personal to tell?
Chuck Brown: Magic Bullet was hard to write. I basically had to recount the many times I've contemplated taking my own life.
Staff Retreat is both personal and one of the most challenging sci-fi stories I've written in awhile. It's also written as if the main character is writing in his journal and I've never written a story like that before.
DF: Chuck, tell readers about your Kickstarter campaign.
Chuck Brown: The Kickstarter has a few days left to go. We are fully funded, but I want to get this book into as many hands as possible. I have some amazing Add Ons such as original sketches from Sanford Greene inside of Bitter Root and On the Stump Trades. I also have rare Bitter Root variants as Add Ons. So pledge and share today!
https://www.kickstarter.com/projects/ogounink/short-complex?ref=discovery&term=short%20complex
Dynamic Forces would like to thank Chuck Brown for taking time out of his busy schedule to answer our questions. Short Complex, a collection of prose short stories, is up on Kickstarter now!
For more news and up-to-date announcements, join us here at Dynamic Forces, www.dynamicforces.com/htmlfiles/, "LIKE" us on Facebook, www.facebook.com/dynamicforcesinc, and follow us on Twitter, www.twitter.com/dynamicforces.
---
NEW! 1. 01/25/2021 - MATTHEW ERMAN & LISA STERLE
2. 01/21/2021 - RORY MCCONVILLE