CHIP ZDARSKY

SEND THIS TO A FRIEND!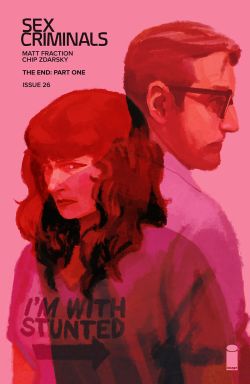 DF Interview: Chip Zdarsky helps unfold final storyline of 'Sex Criminals'
By Byron Brewer
The highly-anticipated return of bestselling humor/romance series Sex Criminals kicks off its final story arc. The comic follows the adventures of Suzie and Jon – a couple who discover they can stop time when they have sex.
The final chapter, beginning with January's issue #26, sees the reunion of writer Matt Fraction (November, Hawkeye) and Chip Zdarsky (The White Trees, Daredevil) as they weave their plots into a creator-satisfactory close. DF wanted to be on top of this arc's beginning, so we sat down to discuss it with co-creator/artist Chip Zdarsky.
Dynamic Forces: Chip, we'll ask this one right out of the gate (as we say here in Kentucky horse country): Why the last arc of such a successful book? Why is it time to bring down the curtain on Sex Criminals?
Chip Zdarsky: Here's the honest truth: endings are satisfying. I obviously enjoy writing books for Marvel, but those are continuous stories that never really end. So the fact that we have ultimate control over Sex Criminals means that we can craft it so it has a definitive beginning, middle, and end, which is actually really exciting!
DF: Sex Criminals first published in September 2013. Talk about what it is like to reteam with writer Matt Fraction for this final time … at least on this comic.
Chip Zdarsky: I mean, we never stopped teaming up, really. There may be a year between arcs, but we work on the book almost every day, even if it's just texts back and forth about character ideas. I'll never be rid of Matt. Never.
DF: Chip, before we go on, please re-tell the story of how you and Matt came together to create this. I love this story, it has become industry lore.
Chip Zdarsky: Ha! It's not THAT interesting! We were friends online for about ten years, and mutual fans. I worked for a newspaper and was getting a little tired of the job so I said to Matt that we should do something, anything, together. My pitch to him was basically a fantasy book, because we always made fun of Ed Brubaker for his Lord of the Rings love. Matt pitched me Sex Criminals back in a single line and that was it.
We genuinely didn't expect it to last past three issues. Who would buy something like that?
DF: For the uninitiated, please remind us what the book is about and where we have come to as we move forward with issue #26 in January.
Chip Zdarsky: It used to be about Jon and Suzie, a bank-robbing couple who could stop time when they orgasmed. But now the cast has grown so much, it's about more than just them. It's about relationships, sexuality, and people learning about themselves.
DF: Tell us about Suzie and Jon: who they were, who they are now as characters.
Chip Zdarsky: Suzie and Jon were a young couple in the heat of fresh love. Now they're a couple trying to navigate their histories and what they mean for their futures. It's really exciting seeing them grow in this final arc.
DF: If you can, what is the overall storyline of this final arc?
Chip Zdarsky: It's our Avengers: Endgame, I guess! Sex Criminals ... End ... Games? It's about plans, both bad and good, and how they intersect. It's Suzie's last stand and the truth about the Sex Police.
DF: You are doing so much fantastic writing now, Chip, it has been awhile since we've discussed your art. What inspires you to put down the lines for Sex Criminals? How do you use your artist's tool box to establish mood, atmosphere, etc. with this particular romantic comedy book?
Chip Zdarsky: It's super satisfying drawing this book. There's an internal clarity I get from drawing pages of Sex Criminals that I don't get when I'm writing. I think it's that writing feels like you're mixing the ingredients for a cake with a lot of worry about what's going to happen, but illustrating is baking it and feeling relief that it works, PLUS you get to put the icing on it!
I find most of my illustration mood and atmosphere come from placement and framing in the scenes. I enjoy playing with angles and distance to set the tone, and then the rendering heightens it.
DF: Chip, what other projects have you got going or coming up that you can tell readers about? Any news on Afterlift that was announced back at SDCC?
Chip Zdarsky: Oh man, uh, alot's going on. What can I talk about, though ...
Afterlift is out! A five-issue mini-series with Jason Loo that's available on comiXology and coming out monthly! Daredevil keeps on keepin' on! I have a Fantastic Four + X-Men four-issue mini-series coming out in early 2020! A DOOM 2099 one-shot next month! And I have four more books in the pipeline that are top secret, I guess!
Dynamic Forces would like to thank Chip Zdarsky for taking time out of his busy schedule to answer our questions. Sex Criminals #26 from Image Comics hits stores Jan. 29th!
For more news and up-to-date announcements, join us here at Dynamic Forces, www.dynamicforces.com/htmlfiles/, "LIKE" us on Facebook, www.facebook.com/dynamicforcesinc, and follow us on Twitter, www.twitter.com/dynamicforces.
SECRET WARS #1 PARTY RETAILER VARIANT BY CHIP ZDARSKY!
HOWARD THE DUCK #1 - ONE OF A KIND EVOLUTION OF HOWARD RETAILER VARIANT BY CHIP ZDARSKY!
HOWARD THE DUCK #1 - 1:25 RETAILER VARIANT BY CHIP ZDARSKY!
SEX CRIMINALS #1 RARE FOURTH PRINTING PHOTO COVER GOLD SIGNATURE SERIES ELITE EDITION SIGNED BY MATT FRACTION!
SEX CRIMINALS #1 RARE FOURTH PRINTING PHOTO COVER!
SEX CRIMINALS #11 SPECIAL SECOND PRINTING FAN SKETCH CONTEST COVER
---
NEW! 1. 11/30/2020 - SKYLAR PATRIDGE
5. 11/16/2020 - RYAN O'SULLIVAN