BOB LAYTON

SEND THIS TO A FRIEND!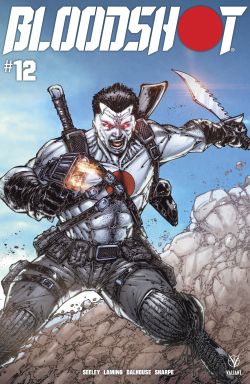 DF Interview: Character co-creator Bob Layton talks 'Bloodshot' film, more
By Byron Brewer
After he and his wife are murdered, marine Ray Garrison is resurrected by a team of scientists. Enhanced with nanotechnology, he becomes a superhuman, biotech killing machine – Bloodshot! As Ray first trains with fellow super-soldiers, he cannot recall anything from his former life. But when his memories flood back and he remembers the man that killed both him and his wife, he breaks out of the facility to get revenge, only to discover that there's more to the conspiracy than he thought.
Bloodshot, a new film starring Vin Disel and arriving from Sony in February 2020, is based on the Valiant comic book character created in 1992 by Kevin VanHook, Don Perlin and Bob Layton. The latter, supremely known in comicdom for his superb runs on Iron Man as well as being a co-founder of Valiant, has visited the filming of the Bloodshot movie in South Africa and has been a huge promoter for the coming flick.
It was recently my honor to discuss the Bloodshot film with Bob Layton as well as his own sci-fi feature film currently in the works, The Helix.
Dynamic Forces: Bob, what is it like to see a Bloodshot movie finally come to fruition?
Bob Layton: Having dealt with movie franchises like Iron Man and Ant-Man, which were also based on my original co-creations, I can honestly say that it never gets old. I love seeing my work come to life on the screen, even though I'm keenly aware that you're dealing with a different audience and an altered incarnation than what comic books readers are familiar with.
DF: Have you had any active role in the making of the film? Do you have a credit? A Stan Lee-esque cameo?
Bob Layton: Not really. Like with most comic-to-film productions, Kevin VanHook [Bloodshot co-creator] and I were called on to fulfill a more promotional role for the project. That being said, I have to sing the praises Executive Producer Dinesh Shamdasani and Director Dave Wilson. Dave is an amazingly humble man. When Kevin VanHook and I visited the set in South Africa last October, Wilson was incredibly conscientious towards us, allowing more access to the shoot than any other director I've worked with in Hollywood. He was so excited to meet us and very concerned that we approved of what he was doing. That's rare behavior from a director.
And, let's face it, Dinesh Shamdasani is the man that revived Valiant Comics. He was determined, from the beginning, that a Bloodshot film shouldn't be made unless it would be a top-notch, high-quality adaptation of the material. I can't thank him enough for including Kevin and me in the process of the film.
As far a cameos and credits: there was an outtake shot with VanHook and me but I don't know if it will make it's way into the final cut. And hopefully, Dave, Dinesh and Sony will be kind enough to give us a creators card in the film. I honestly don't know what's going to happen at present.
DF: What can you tell us about the plot of the coming Sony film and how do you feel about this iteration of Bloodshot?
Bob Layton: Sorry to say, Kevin and I are not allowed say too much about the story.
But I can say that the filmmakers never set out to make a "superhero movie," per se. This film is going to have much more in common with action/sci-fi films like Total Recall and RoboCop than it does X-Men or Iron Man.
The Valiant Comic Universe has always marched to a different beat. I am confident that the Bloodshot movie will have its own voice too, distinctly different than a DC or Marvel film. Comics and film are two separate art forms and they generally don't directly translate from the comic book reader to a film-going audience.
So, the film WILL differ.
But I'm a big believer that as long as a film adaptation is true to the spirit of the character, that's all we should be care about. If he doesn't look exactly like the original Barry Windsor-Smith cover of Bloodshot #1, does that change the interesting aspects of the character or the exciting action? Of course not! That's merely the trappings. As long as the production is true to the spirit, I think readers and moviegoers both will be good with that. Vin Diesel, Sam Heughan and the entire cast were obsessed about getting the film "just right." For me, going there to Capetown and seeing the amount of effort being put in, and the amount of passion from the principal players and crew, it made me feel very hopeful that we are going to get a high-quality Bloodshot movie. And now that the trailer is out, you can see for yourself that the production rocks!
DF: What can you tell us about that crazy trip you took to South Africa during the filming of the Vin Diesel movie? Looks like you had one wild time!
Bob Layton: Other than the airlines losing my luggage, it was an unforgettable, positive experience.
Hanging out with Vin Diesel was a total trip! I am a huge fan of David Twohy's Riddick series and I had a chance to talk to Vin in some detail about his portrayal of Richard Riddick. To sit there and discuss Kevin and my Bloodshot creation with him was mind-blowing. I had that same good fortune, years ago, to be on set and talk to Robert Downey Jr and Jon Favreau about the evolution of Tony Stark's character in Iron Man. Having a chance to do that, one-on-one, with Vin was equally amazing.
Sam Heughan, of Outlander fame, was incredible and one of the hardest working actors I've ever seen.
And on the last night I was there, I hung out with Eiza Gonzalez on location, while stunt coordinator J.J. Perry was setting-up her action scenes. We had a nice chance to chat about her character, which is new to the pantheon of Bloodshot, and about our mutual admiration of Edgar Wright, who she worked with on Baby Driver.
So, all in all, it was an unreal experience. And also, let me say that the people of South Africa were incredibly warm and welcoming too.
DF: Let's hop in the WABAC Machine: Reminisce with us about the creation of Bloodshot the comic book. And maybe of Valiant Comics, if you'd like.
Bob Layton: At Valiant, we really wanted to set our books apart from other comic book universes. We didn't just want to create types – a "Wolverine type," an "Aquaman type" or whatever. We wanted to base our universe in what looked and felt like the real world and not a fictional, comic book fantasy realm where anything could happen and the fantastic was commonplace.
In addition, I've always been a very science-based guy. If you consider my contributions to the Iron Man lexicon, my entire approach to the character was to convince the readers of the technology of the suit and how everything worked conceptually. I made a concerted effort to make the technology of Tony Stark's armor sound believable.
The same thinking goes for Bloodshot.
Bloodshot's origins came from an article I read in Scientific American in the early '90s, back when nanotechnology was purely theoretical. It seemed like a more credible way to give someone superpowers, using nanites, than being bitten by a radioactive albino rhinoceros. I've always had a personal mandate, as a creator, to focus the emphasis on the real world, on characters readers could relate to, and on science-based powers as much as possible. When I read the article about nanotechnology, that gave me the idea of how to give a character superpowers that would be scientifically or next-gen credible.
Bloodshot was the first of his kind in comic history. And, in his case, having an empathy with machines, it's a melding of man and machine that invokes a new kind of cyborg technology in a way that's not as terrifying as the Terminator. We didn't want him to be too freakish. After all, he still has to walk down populated streets, right?
Nanotechnology, especially at that time, was revolutionary, and that made Bloodshot unique in the pantheon of superheroes.
DF: Monday morning quarterbacking: what would you do differently with the book granted the "future knowledge" you have now?
Bob Layton: I'm not sure that I would change anything. I was, more-or-less, a hands-off creative manager. I would pick the team at Valiant, whom I believed would competently execute the vision I originally conceived, and set them loose on comic fandom! In the case of Bloodshot, Kevin and Don Perlin did a bang-up job and maintained a high-quality product, close to my concept of what I thought the character should be.
DF: Any chance fans will ever see a Layton-drawn Bloodshot or Iron Man issue (no credit for covers)?
Bob Layton: Nope! Not likely. My comic book drawing days are behind me. With over 6,400 comic credits currently credited to my name, there are very few 'mountains to climb' in the comic industry, if you get my drift. It is time for some new creative challenges.
DF: They say, "Never say 'never'"! … Back to the future: Bob, what can you tell us about your upcoming sci-fi feature film, The Helix? I believe you are writing and co-producing it?
Bob Layton: The Helix, my first major motion picture as sole screenwriter and co-producer, follows a commercial geological survey crew of four who encounter a mysterious alien artifact while in orbit around one of Jupiter's moons. A psychological study that asks: "Are we truly prepared to face the unknown?" In the film, the discovery of the Helix will threaten the crew's personal beliefs, as well as their hopes of ever returning to Earth. The fabric of civilization itself will be tested by the Helix's existence… all within the microcosm of this cramped ship, drifting in the vast confines of space.
The Helix will be shot primarily in Scandinavia and should begin filming in the first quarter of 2020. Major role casting should begin shortly.
Our movie will be co-produced and directed by Marcus Ovnell, a Swedish-born director and one of the founders of Phellican Films. Trained at the New York Film Academy in Los Angeles, Marcus has worked with companies such as BBC, Al Jazeera and some of the most influential Swedish production companies: Filmlance International, FLX, Swedish Television and Anagram.
My production company, Box Monkey Pictures, is a new multi-media company dedicated to producing creative, fun and thought-provoking works based primarily on my existing comic properties and concepts I've created exclusively for Box Monkey Pictures.
The Helix is one such project.
My business partner, Michele Grant, began working in films, television and commercials in the early 1990s. She is known for her work as Assistant Director on Philadelphia (1993), Most Wanted (1997) and The Wedding Singer (1998) among many others.
We are both dedicated to giving back to community, as my dear departed mentor, Dick Giordano, always reminded me to do.
Unique to our company, Box Monkey Pictures has pledged a percentage of the profits from each of our projects to the Tower Research Cancer Foundation. Based in Los Angeles, Tower provides grants to those on the cutting edge of cancer research, as well as free exercise classes and rehabilitation programs for people recently diagnosed with, undergoing treatment for, living with and surviving cancer.
Dynamic Forces would like to thank Bob Layton for taking time out of his busy schedule to answer our questions. Bloodshot from Sony hits theaters Feb. 21st, 2020. Keep following DF News for more on Bloodshot and The Helix films.
For more news and up-to-date announcements, join us here at Dynamic Forces, www.dynamicforces.com/htmlfiles/, "LIKE" us on Facebook, www.facebook.com/dynamicforcesinc, and follow us on Twitter, www.twitter.com/dynamicforces.
DOCTOR SPEKTOR #1 "COLOR" RARE BOB LAYTON VARIANT, SIGNED BY MARK WAID
SOLAR: MAN OF THE ATOM #4 HIGH-END BOB LAYTON "VIRGIN ART" ULTRA-LIMITED
SOLAR: MAN OF THE ATOM #3 HIGH-END BOB LAYTON "VIRGIN ART" ULTRA-LIMITED
SOLAR: MAN OF THE ATOM #2 HIGH-END BOB LAYTON "VIRGIN ART" ULTRA-LIMITED
SOLAR: MAN OF THE ATOM #1 HIGH-END BOB LAYTON "VIRGIN ART" ULTRA-LIMITED
MAGNUS: ROBOT FIGHTER #3 HIGH-END BOB LAYTON "VIRGIN ART" ULTRA-LIMITED
---
NEW! 1. 11/30/2020 - SKYLAR PATRIDGE
5. 11/16/2020 - RYAN O'SULLIVAN