EDDIE GORODETSKY & MARC ANDREYKO

SEND THIS TO A FRIEND!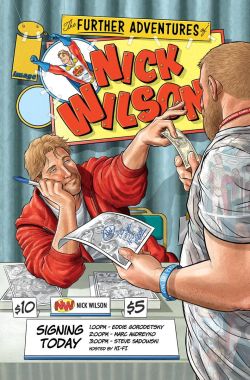 DF Interview: Eddie Gorodetsky & Marc Andreyko bring us life after superpowers in The Further Adventures of Nick Wilson
By Byron Brewer
From Emmy and Eisner-winning writers Eddie Gorodetsky and Marc Andreyko and artist Steve Sadowski comes a five-issue miniseries unlike any other!
For a few years in his early 20s, Nick Wilson had superpowers and all the acclaim associated with them. When those powers vanished, so did his fame, sending him from national hero to late-night punchline. By the time we pick up his story, he is not yet 30 and barely an answer in a trivia contest.
Faced with a life in a rear-view mirror full of lost powers, faded glory, former enemies, ex-girlfriends and forgotten grudges, Nick struggles to figure out who he is today. Packing on an extra 20 pounds and peering through a medicinal marijuana haze, he is trying to build a future when all that's left is just a man who hasn't been super for a very long time.
These are The Further Adventures of Nick Wilson, and this is the series DF spoke about with writers Eddie Gorodetsky and Marc Andreyko.
Dynamic Forces: Eddie and Marc, first out of the gate (as we say here in Kentucky's horse country), we have a very awards-studded writing team here. Putting modesty aside, can you tell readers about some of your accolades (Emmy, Eisner, Harvey), how those kudos feel and how you came together for The Further Adventures of Nick Wilson?
Marc Andreyko: It's always nice to win awards, especially from peers, but it is never the reason to do a project. Chasing accolades is like chasing trends, it never ends well and feels forced. We just try and do work that is honest and meaningful to us and hope audiences respond to it.
Eddie and I met through our mutual pal, Paul Dini, at a Halloween party and just hit it off. I was singing the praises of the sitcom Mom not knowing Eddie was the co-creator (smiles), so when Eddie approached me to collaborate with him I was insanely flattered and agreed instantly.
Eddie Gorodetsky: I'd had this idea for a comic book in my head for a while and even though I'd been a reader since I was a kid, as a writer I have real respect for different forms and disciplines so when I met Marc at Paul's house, I glommed onto him
immediately. I loved that original run of Manhunter and a bunch of other things he had done.
And the fact that he was funny and opinionated were two strong points in his favor.
DF: What can you tell us about Nick Wilson?
Marc Andreyko: Nick is a guy who mysteriously got superpowers and for years was the only superhero on Earth. Then, just as quick as they appeared, they were gone. Since that day, he has been struggling to define himself and figure out what to do with his now decidedly-earthbound existence.
Eddie Gorodetsky: When Marc says "mysteriously", he means to the reader. We have a vague sense of how he got his powers but we chose not to reveal it yet for a couple of reasons. First off, it's an origin sequence, for Christ's sake – we have limited real estate and its gonna make as much sense as a radioactive spider or half a dozen gods in a subway station.
More importantly, who cares – he got powers, let's go -- the real important day is the day he lost them. That said, we don't show that day either but we do talk about it. But that is where our story really starts and the reader is literate enough in all the superhero lore and jargon that they can fill in a lot of the blanks and catch up.
Marc and I think the readers are really smart and don't need to be spoonfed.
DF: How is he coping with the challenges of his life today?
Marc Andreyko: With a copious amount of medical marijuana. Nick is at his nadir when we first meet him and struggling to find his purpose. His previous superheroic reputation looms large over his daily life and he really just needs to get out of his own way.
Eddie Gorodetsky: We all have shadows we try to get out from under – we try different things. Nick is doing the same. I've seen a lot of people make a lot of money in my day job. Quite often what happens is people spend a couple of years making asses of themselves – they buy stupid sh*t, get loaded, sleep with people they shouldn't The smarter ones correct their course and start doing good things and finding love and raising a family.
The same thing often happens with second-term Presidents – they start thinking about their legacies.
Nick never had that chance – he only got to do the stupid stuff before he lost his powers. And that's one of the things that haunts him. That and the way he treated his ex-girlfriend Jane.
DF: Will we see some of the exploits Nick performed as a super-being? Will any of those – aside from the fame and dump game – have any bearing on the book?
Marc Andreyko: We will see glimpses of his previous high-flying life as they pertain to his life today, but his past shaped who he is today and that is the stuff we are exploring. Much like an athlete who blows out their knee and can't play anymore, Nick is looking for what to do for the second act of his life.
Eddie Gorodetsky: Like Marc said, we will visit pieces of Nick's past to illuminate his present and hopefully point the way to his future.
DF: Can you introduce readers to some other characters involved in the miniseries please? Any favorites among the lot?
Marc Andreyko: Well, we'll meet Nick's biggest nemesis from his heroing days, Nick's ex-HS flame, Jane, and, among others, the hanger-on who fancies himself Nick's "manager".
DF: Any former big-bads hiding in the wings to take advantage of our slothed-out superhero?
Marc Andreyko: This story takes place in a world where Nick was the only superhero. This isn't like the Marvel U. or DCU where everyone has powers. So, while there are "bad" guys, Nick won't be facing angry alien marauders or ancient gods or anything
Eddie Gorodetsky: Even worse, the real "big bads" are the minor inconveniences that are like death by a thousand paper cuts – nuisance lawsuits from people he injured catching them and saving their lives, bankruptcy, bad judgment calls coming back to haunt him. Oh, and what he did to his ex-girlfriend Jane. (smiles)
DF: There is obviously a "15 minutes of fame" subtext herein. Can you tell us the inspiration for the tale?
Marc Andreyko: That was all Eddie. When he pitched me the idea, it was always about "what do you do for your second act?" In fact, we initially were calling the project "Second Act" in its earliest stages.
Eddie Gorodetsky: The truth is what I loved about comic books growing was that they were universal stories told against a big backdrop. Superman the exiled outsider, Batman the vengeful orphan, Spider-Man the angsty teen, Tony Stark the alcoholic – Nick Wilson is in that tradition,
DF: How has it been working with artist Steve Sadowski?
Marc Andreyko: I've known Steve for years and always been a fan. It was fun working with him because Eddie and I had very specific ideas about the look of the book and Steve really challenged himself to do new stuff here. And it is glorious work.
Eddie Gorodetsky: Steve's terrific – I wanted our book to look pretty traditional because the writing had some odd turns in it so I didn't want it to look at all indie – I told Steve I wanted it to look something like Curt Swan doing a play instead of a big budget movie – I'm sure that confused him but he gave me exactly what I was dreaming of – it didn't look a thing like Curt Swan, it was pure Steve but it had that traditional look but scaled down to a living room instead of the galaxy. And it stayed there – it wasn't like the living room scenes were the counterpoint between the Shi'ar battle sequences. That was where the book lived.
DF: Marc and Eddie, are there any projects current or near-future, in or out of comics, you can tell readers about?
Marc Andreyko: I've currently got Harley and Ivy Meet Betty and Veronica from DC/Archie that I'm co-writing with Paul Dini and a couple of movie and comics projects it would be way too early to elaborate upon. (smiles)
Eddie Gorodetsky: I'm in the middle of season five of Mom on CBS which is taking most of my time, and Chuck Lorre and I are talking about something else but like Marc says, that is way premature to talk about. Right now, I'm mostly excited this thing is getting into people's hands and I really hope they dig it.
Dynamic Forces would like to thank Eddie Gorodetsky & Marc Andreyko for taking time out of their busy schedules to answer our questions. The Further Adventures of Nick Wilson #1 from Image Comics hits stores Jan. 17th!
For more news and up-to-date announcements, join us here at Dynamic Forces, www.dynamicforces.com/htmlfiles/, "LIKE" us on Facebook, www.facebook.com/dynamicforcesinc, and follow us on Twitter, www.twitter.com/dynamicforces.
HARLEY & IVY MEET BETTY & VERONICA #1 BLANK COVER SIGNED & REMARKED BY KEN HAESER WITH A COLOR VERONICA IVY SKETCH!
HARLEY & IVY MEET BETTY & VERONICA #1 BLANK COVER SIGNED & REMARKED BY KEN HAESER WITH A COLOR BETTY QUINN SKETCH!
HARLEY & IVY MEET BETTY & VERONICA #1 BLANK COVER SIGNED & REMARKED BY KEN HAESER WITH A COLOR ARCHIE DENT SKETCH!
HARLEY & IVY MEET BETTY & VERONICA #1 BLANK COVER SIGNED & REMARKED BY KEN HAESER WITH A COLOR JUGHEAD JOKER SKETCH!
HARLEY & IVY MEET BETTY & VERONICA #1 BLANK COVER SIGNED & REMARKED BY KEN HAESER WITH A COLOR POISON IVY SKETCH!
BATMAN 66 MEETS WONDER WOMAN 77 #1 GOLD SIGNATURE SERIES SIGNED BY JEFF PARKER!
LEGENDERRY: RED SONJA #1 (OF 5) RARE JOE BENITEZ "VIRGIN" ART EDITION
CHASTITY #1 DF EXCLUSIVE COVER!
DF EXCLUSIVE EDITION OF TRUE BLOOD: TAINTED #2 DOUBLE-SIGNED EDITION - SIGNED BY MICHAEL MCMILLIAN, TRUE BLOOD ACTOR AND ISSUE CO-WRITER, AND CO-WRITER MARC ANDREYKO
DF EXCLUSIVE EDITION OF TRUE BLOOD: TAINTED #1 DOUBLE-SIGNED EDITION - SIGNED BY MICHAEL MCMILLIAN, TRUE BLOOD ACTOR AND ISSUE CO-WRITER, AND CO-WRITER MARC ANDREYKO
LEGENDERRY: RED SONJA TRADE PAPERBACK
CHASTITY VOL. 1: LIFE/DEATH TRADE PAPERBACK
---
NEW! 1. 11/25/2020 - STEVE SKROCE
4. 11/16/2020 - RYAN O'SULLIVAN
5. 11/16/2020 - RYAN O'SULLIVAN