DF EXCLUSIVE EDITION OF TRUE BLOOD: TAINTED #1 DOUBLE-SIGNED EDITION - SIGNED BY MICHAEL MCMILLIAN, TRUE BLOOD ACTOR AND ISSUE CO-WRITER, AND CO-WRITER MARC ANDREYKO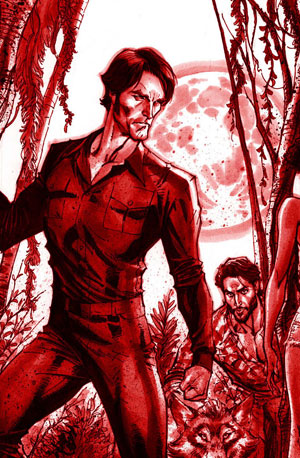 PRICE:
$49.99
This is the rare DF Exclusive Edition of True Blood: Tainted #1 and now it's signed by both True Blood actor and the issue co-writer, Michael McMillian and co-writer Marc Andreyko! Another awesome DF Exclusive edition of the smash hit True Blood series! The latest head-turning story arc of the True Blood comic series starts here and it's signed by both Michael McMillian who plays Fellowship of the Sun leader Reverend Steve Newlin on the HBO series True Blood, is co-writing this new story arc of the second series comic adaptation. And co-writer Marc Andreyko! "Tainted, part 1. Our friends in Bon Temps just can't seem to catch a break these days. Sookie Stackhouse's world is turned upside down when contaminated bottles of Tru Blood cause the Southern Vampire population to go berserk! Looks like those growing human/vampire tensions aren't going to simmer down anytime soon! But who (or what) is behind the bad "Blood"? And Hoyt plans to do what for Jessica?! The latest "head-turning" story arc of the True Blood comic series starts here!
ABOUT MICHAEL MCMILLIAN: Michael McMillian has been working steadily in film and television since graduating from the Carnegie Mellon School of Drama in 2002. His acting credits include: Veronica Mars, Firefly, The Mentalist, Big Love, CSI:NY, Love Bites, Saved, What I Like About You, The Hills Have Eyes 2, and Dorian Blues. He also played Reverend Steve Newlin in the hit HBO vampire series, True Blood. In 2010, Michael kicked-off his foray into comics with LUCID, a magic-themed miniseries he wrote and created for Zachary Quinto's Before the Door Pictures and is published by Archaia Entertainment. Michael lives in Los Angeles with his bulldog, Albion.
ABOUT MARC ANDREYKO: Marc Andreyko is a comic book and screenplay writer, known for writing the 2000s ongoing series Manhunter for DC Comics. Marc has written comics for other publishers, including DARK HORSE Comics, IDW Publishing, and Todd McFarlane Productions/Image Comics. In 2004 he began writing DC Comics' Manhunter series, relaunching it with a third volume, in which he introduced the character of Kate Spencer and her supporting cast. He co-created (with artist Jesus Saiz) Kate Spencer, the title character of the series, the first female character to carry the long-running legacy. Andreyko also wrote the Manhunter back-up feature in DC Comics' Batman: Streets of Gotham monthly series that launched in June 2009.