AMIT TISHLER

SEND THIS TO A FRIEND!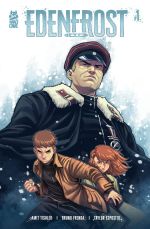 DF Interview: Amit Tishler takes readers on a chaotic journey through war-torn Ukraine in 'Edenfrost'
By Byron Brewer
After losing their parents in a pogrom, teenage siblings Alex and Yuli use the mystical power of a Golem to survive the chaos of the Russian Civil War. In a harrowing journey through war-torn Ukraine, the duo will face the harsh reality of warfare, ethnic bias, and national pride as they fight for their own place in the world.
From Mad Cave Studios comes Edenfrost by writer Amit Tishler (Animals, Mr. Pickles) with art and colors by Bruno Frenda (Heavy Metal, Carnivalia). I had the opportunity of talking to the Israel-born scribe about his new comic.
Byron Brewer: Amit, first of all I am honored to be interviewing you about your new comic, Edenfrost, your first work for Mad Cave Studios, I believe. You have other works to come that seem to revolve around a theme of inspiring audiences while also perhaps challenging their notions on many things. Can you expound on this?
Amit Tishler: The honor is all mine! I want to write the kinds of stories that got me into becoming an entertainment consumer and producer to begin with. While all genres and styles of storytelling are valid, narratives that really stuck with me were always those that forced me to reconsider something I had taken for granted.
From entertainment to advertising to political propaganda, art can influence our way of thinking, and the artist's job is to communicate an idea through their craft. So regardless of whether you're an illustrator, game designer or writer, your work can influence your audience's perception. In a world where so many people can broadcast their unfiltered and uninvited opinions every second, it's easier to just tune out. However, with the right use of mediums such as comics, games or film, a message can be delivered in a more subtle and contextual manner through creative means.
It doesn't matter if it's a goofy comedy, a cerebral science fiction story or a gruesome horror piece, there's a way to convey something deeper into your piece if you build it into the DNA of the work itself. I anchor every story I write in a statement, which sips into every element of the work. In the cast of Edenfrost, that statement was: "Identity is a construct". As for what it means, well…I guess you'll have to read the series to find out!
Byron: If I am not mistaken, Edenfrost takes place during the period of the Russian Civil War, roughly November 1917 through June 1923. Give readers a little background on this canvas in which we will be placed, and also the landscape by which your protagonists et al will be surrounded.
Amit Tishler: The Russian Civil War was an incredibly disorientating conflict. Wars are always chaotic, but after they're over we slowly construct a more linear, logical narrative to make sense of them. We like easily digestible stories that give us a sense of who's fighting, where and why because it helps us understand the eventual fallout. Unfortunately, no matter how hard you try, you can't fit the Russian Civil War into a clean mold.
It was a brutal battle driven by conflicting ideologies and identity politics, with multiple armies all grasping for power at the wake of a massive empire's collapse. Communists, anti-communists, regional independence movements, peasants and even anarchist militias, all color coded, with their own leadership structures, insignias, and socio-political philosophies. Some cities swapped hands every few months and many territories went through waves of drastic change in short periods of time…but pretty much every single faction engaged in some good old-fashioned, large scale antisemitic violence, as in tradition. That's the hostile playground Edenfrost's protagonists will have to navigate throughout the series, without ever getting the full picture of what's happening around them.
Byron: Introduce us please to teen siblings Alex and Yuli. Who are they and what is their backstory, as much as you can reveal?
Amit Tishler: Alex (16) and Yuli (13) grew up in a secular Jewish household in a small village in Western Ukraine. Until they were specifically targeted for being Jews during a pogrom, their ethnic classification seemed anecdotal and mostly inconsequential. The story begins in the aftermath of this tragedy, as the siblings escape the violence that killed their parents with the help of a Golem, which miraculously appears and then disappears in their darkest hour. Alex is sweet-natured, diplomatic and has a strong desire to belong, while Yuli is more of an individualist; spunky, mischievous, and contrary. The siblings complete, love and protect each other, but over time their differing ideologies will start pulling them in opposite directions.
Byron: The siblings will be taking a distressing trip through war-torn Ukraine. Can you discuss if their situation is reflective of the modern-day Russia-Ukraine war at all?
Amit Tishler: I wouldn't say it's reflective as much as it's historically related. When I started pitching Edenfrost the recent invasion hadn't even started (excluding the 2014 Crimean crisis). It's easy to find threads that link these two conflicts, but I think they're very different in nature.
With that said, the Russian Civil War was definitely the unofficial prequel to the current one. I'm going to painfully simplify this (and sacrifice a degree of accuracy in the process), but the majority of Ukraine fell to the Russian Empire under Catherine the Great's rule and after a complicated, fragmented struggle for independence during the Russian Civil War, was incorporated into the USSR. The Soviet Block's collapse resulted in modern day Ukrainian independence, but…by now the two nations' "on and off again" relationship has been causing friction for hundreds of years. So, you wouldn't get the current conflict without the fall of the USSR and you wouldn't have the rise of the USSR without the Russian Civil War. History's fun, huh?
Byron: This IS in part a fantasy story, so can you explain to the readers what a Golem is and how it – or its powers – is utilized by Alex and Yuli?
Amit Tishler: The story of the Golem has a special place in Jewish mythology. It's a folk narrative that inspired multiple iterations throughout history. While it is linked to Jewish Mysticism, the monster we call "The Golem" is basically a literary allegory crafted in response to a wave of antisemitic violence against European Jews during the renaissance and beyond. A Golem is a creature made from materials like earth or clay and brought to life by a human creator through ritualistic magic. Different stories have their own take on the creature, but traditionally it takes the role of a companion and a protector of Jews in the Diaspora.
As for Edenfrost's version, I'm going to keep my description vague to avoid spoiling the mystery, so all I can really say is that I'm completely reimagining the Golem's lore in this series. Edenfrost's Golem is an entity the siblings struggle to control. It's a mysterious, supernatural being that has a complicated, symbiotic relationship with Alex and Yuli, and the decision on whether or not to use its power becomes a point of contention between the two.
Byron: Talk about the art and colors of Bruno Frenda.
Amit Tishler: I mean, just LOOK AT IT! The guy is a master of his craft. Bruno has been an incredible partner. He's given his passion, heart and soul to this project and it really shows. We were influenced by a lot of the same media, and he instantly got what I was going for with this story. Some of the characters were already designed when he stepped into the project, but he breathed new life into every aspect of Edenfrost and owned it. His characters are expressive, the scenes are emotional and dramatic, and his control of color, posing and composition are unparalleled. Believe it or not, as stunning as issue #1 is, Bruno somehow managed to outdo himself with every following entry, as you'll soon see for yourself. I feel extremely fortunate to have him on this project and I'm thankful to Mad Cave for bringing him in.
Byron: Amit, tell readers about any coming projects you may have, including books for Mad Cave Studios to which we have alluded.
Amit Tishler: I think 2024 is going to be a big year for my creative endeavors. Aside from more issues of Edenfrost, there are three new comic titles coming out that I co-created with my good friend and animation industry veteran, Elliot Sperl (Bob's Burgers, Axe Cop, Central Park). Two are OGNs we are producing for Humanoids Publishing, the first is a dark fantasy story and the second is a sci-fi comedy.
The third title, however, is another new issue-based, original horror-thriller series we're working on with Mad Cave Studios. Expect some exciting announcements about these projects around San Diego Comic Con 2024! And aside from that, I'm already developing a couple of new titles I plan to shop around to publishers soon…so stay tuned!
Dynamic Forces would like to thank Amit Tishler for taking time out of his busy schedule to answer our questions. Edenfrost #1 from Mad Cave Studios is slated to be on sale Nov. 22!
---
NEW! 1. 12/05/2023 - JASON LOO
5. 11/08/2023 - OLIVIA CUARTERO-BRIGGS