RODNEY BARNES

SEND THIS TO A FRIEND!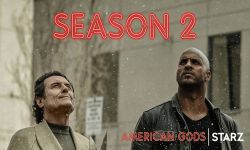 DF Interview: Rodney Barnes on working amidst the drama deities of 'American Gods'
By Byron Brewer
Based on the novels by writer Neil Gaiman, American Gods is a fantasy drama TV series which premiered on the premium cable network Starz in April 2017. Actor Ricky Whittle is the series lead, Shadow Moon, who meets a strange man named Mr. Wednesday (Ian McShane) after being released from prison, and soon becomes embroiled in a large-scale conflict between the Old Gods and the New Gods, who grow stronger each day.
Frequent comic book scribe Rodney Barnes is a writer and executive producer on American Gods, which is currently shooting for its second season on Starz. DF sat down with the busy Barnes and discussed this TV series which has received much critical acclaim, with praise for its performances and visual style.
Dynamic Forces: Rodney, let's start out sideways here. You have been involved in comic books like the writer of the novels upon which American Gods is based. Have you been a fan of Neil Gaiman's often surreal but oddly satisfying work? If so, which (aside from American Gods, of course)?
Rodney Barnes: Miracleman! I loved the book as a kid (and just got Neil to sign my original Eclipse copies!). He, along with Alan Moore, opened my eyes to a different way to look at comics. A more introspective way. Then, of course, there's Sandman. The entire series blew my mind. I miss those types of series.
DF: Tell readers how you became involved (writer, executive producer) with the TV iteration of American Gods, which has received critical acclaim and a lot of new viewers for Starz.
Rodney Barnes: I was hired by the show for the second season by the new producing team, network and studio. I'd done some previous work for the network and there was mutual interest.
DF: It has been announced that American Gods has been renewed for a second season, coming in 2019. Where will our cast find themselves as S2 begins? Can you whet our series appetites with any hints?
Rodney Barnes: The characters will find themselves struggling to define their roles in this dynamic as well as preparing for war with the New Gods.
DF: One of the most fascinating things of the show has been its epic performances and visual style, very unexpected and for which it has received diverse award nominations. Will this quality continue into Season 2, and can you tell readers your personal favorites for both performances and show pieces/scenes in the first season?
Rodney Barnes: Certainly, Mr. Nancy's speech on the slave ship stands out. Also, Bilquis's unique way of devouring her followers. Beyond that, I have to say there's a general beauty to the show that I really love. Our VFX team is second to none. It's a joy trying to come up with new challenges for them.
DF: Who has been your favorite character to write?
Rodney Barnes: Mr. Nancy! Hands down. His humor and no bullsh*t take on life and all things Godly is pure fun to write to. As well, I dig Orlando Jones as a person, which enhances the experience.
DF: Devil's advocate Q: Why should I, Joe/Jane TV Viewer, tune into the second season of American Gods?
Rodney Barnes: What more could you ask for?! Season 2 will build off of Season 1, but it will give the uninitiated plenty to sink their teeth into: there's love, loss, hope and war!
Dynamic Forces would like to thank Rodney Barnesfor taking time out of his busy schedule to answer our questions. The second season of American Gods will debut in 2019 on Starz!
For more news and up-to-date announcements, join us here at Dynamic Forces, www.dynamicforces.com/htmlfiles/, "LIKE" us on Facebook, www.facebook.com/dynamicforcesinc, and follow us on Twitter, www.twitter.com/dynamicforces.
---
NEW! 1. 11/25/2020 - STEVE SKROCE
4. 11/16/2020 - RYAN O'SULLIVAN
5. 11/16/2020 - RYAN O'SULLIVAN