W. MAXWELL PRINCE

SEND THIS TO A FRIEND!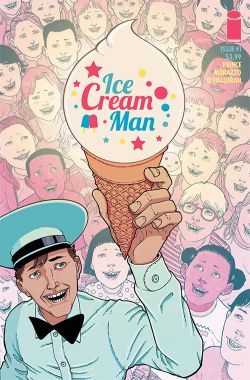 DF Interview: W. Maxwell Prince serves up icy cold goodness one genre at a time in Ice Cream Man
By Byron Brewer
Chocolate, vanilla, existential horror, drug addiction, musical fantasy … there's a flavor for everyone's misery.
Ice Cream Man is a genre-defying comic book series featuring disparate "one-shot" tales of sorrow, wonder and redemption. Each installment features its own cast of strange characters, dealing with their own special sundae of suffering. And on the periphery of all of them, like the twinkly music of his colorful truck, is the Ice Cream Man: a weaver of stories, a purveyor of sweet treats. Friend. Foe. God. Demon. The man who, with a snap of his fingers – lickety split! – can change the course of your life forever.
From Image Comics and written by W. Maxwell Prince (One Week in the Library) with art by Martín Morazzo (Great Pacific) and Chris O'Halloran (Generation Gone), Ice Cream Man is guaranteed to leave you – chilled!
With all the puns (our sundae best!), we at DF grew a tad hungry so we decided to talk to author W. Maxwell Prince at the nearest ice cream parlor. Here's what he told us.
Dynamic Forces: Will, Ice Cream Man has a very unusual format. Tell us about it please.
W. Maxwell Prince: I hope it's not too unusual. The upshot is: every issue is a standalone story featuring different characters in different straits; the Ice Cream Man makes an appearance in every chapter, sometimes as a force for evil and sometimes as a force for something else.
And each episode dips its toes into a different kind of storytelling. The ironical slogan for the book is: something sweet for everyone.
DF: What can you tell us about the titular Ice Cream Man, if anything? Is he Rod Serling or Demon? Will he be the teller of tales in every issue, ala the Watcher in What If...?
W. Maxwell Prince: You're right to reference Rod and Twilight Zone—that "weird-of-the-week" sensibility is very much embedded into the series. (When I was a kid, my parents were part of this VHS subscription service, wherein every month you'd get a new Twilight Zone tape with like 4 or 5 episodes on it. It was—and perhaps still is—my favorite piece of mail.)
The ICM is less a storyteller than a fundamental force—he exerts some level of cosmic influence on the main characters of each story. More often than not, he's doing his thing to elevate some pre-existing sorrow or dissatisfaction. To what end, we'll have to wait and see.
I liken him to Morpheus from Gaiman's Sandman: the series is named for him, but the stories are, at the end of the day, about these other people living their small lives.
DF: What can you tell us about issue #1, and our first special sundae of suffering [see what I did there?]?
W. Maxwell Prince: Issue #1 features some creepy crawlies, some furry what's-its, a boy raising himself, and a small-town detective with an internal itch that she can't seem to scratch.
It also has a bunch of ice cream.
It is, I think, a very sad opening issue, with a through-line of darkness/horror/whatever. It does its best to sort of solidify the premise of the series: folks with exceedingly complex interior lives find themselves in extreme circumstances, usually at the behest of the Ice Cream Man.
DF: Talk about the art of Martín Morazzo. If he is doing the art for multiple issues, each "defying genre" and featuring a different set of characters, this sets quite the challenge for him as well as yourself.
W. Maxwell Prince: Martín's doing the art for all issues, for as long as the series is on stands.
And you're right—it is a challenge to cycle genres. But this is the only way I know how to keep my writing fresh: to work on projects that fill me with a ton of doubt, that have no easy solution or straightforward direction. Otherwise I just sort of coast, or the writing comes out all stiff and stilted. There's that line from A Sunday in the Park with George: "If you know where you're going, you're gone." Which is to say that I've found it beneficial for me to not know where I'm going, and to tackle stories that may, in the end, whoop my butt.
As for Martín: I keep throwing weird s**t at him, and he keeps knocking it out of the park. I'm lucky enough that this is my second project with him. From high sci-fi (musical zeppelins, steampunk guitars) to things more mundane (like a couple getting high on their couch), Martín's proven to be a grafter of the highest order: humanity just sort of oozes from his line-work.
I should mention our colorist Chris O'Halloran too. Chris came to us late in the game, but he's transformed the book into something full of cotton candy energy and rainbow sprinkles.
DF: As non-spoilery as possible, can you give us a kind of rundown of some of the stories readers can look forward to, in no particular order?
W. Maxwell Prince: Sure! I like to make lists:
-Issue 1 is about a boy and his spider, and also a detective investigating strange happenings in the small town of St. Generous.
-Issue 2 is about the converging lives of two very different types of opioid abusers.
-Issue 3 features a washed-up musician finding a musical fantasy world in his basement.
-Issue 4 is just two men talking about what it's like to be a dad.
Those 4 will make up the first trade, after which things will take a small turn.
DF: I have a feeling that this is one of those books – like One Week in the Library in its own way – that messes with your mind big-time. Why do you like these sinister slices of life, and are you a fan of the narrator-style tale-telling (like I assume this is, like Twilight Zone, et al)?
W. Maxwell Prince: The goal, in the end, is to successfully show that ugliness and beauty tend to co-present in life, often manifesting as different parts of the same entity. Which is to say: I like the sinister, sure, but I'm not doing a good job as a writer if I don't also highlight moments of more positive stuff/joy—even if those moments are fleeting. We'll see if the Ice Cream Man will allow for some relief from all the dark.
DF: Will, what other projects might you be working on – in or out of comics – that you can tell readers about?
W. Maxwell Prince: I've got some other comics stuff brewing, but I'm a slow writer. We'll see how long it takes for me to get that stuff out of my throat.
Other than that, I'm trying to be a decent dad and meditate every day.
Dynamic Forces would like to thank W. Maxwell Prince for taking time out of his busy schedule to answer our questions. Ice Cream Man #1 from Image Comics hits stores Jan. 17th!
For more news and up-to-date announcements, join us here at Dynamic Forces, www.dynamicforces.com/htmlfiles/, "LIKE" us on Facebook, www.facebook.com/dynamicforcesinc, and follow us on Twitter, www.twitter.com/dynamicforces.
---
NEW! 1. 11/25/2020 - STEVE SKROCE
4. 11/16/2020 - RYAN O'SULLIVAN
5. 11/16/2020 - RYAN O'SULLIVAN