DENNIS HALLUM

SEND THIS TO A FRIEND!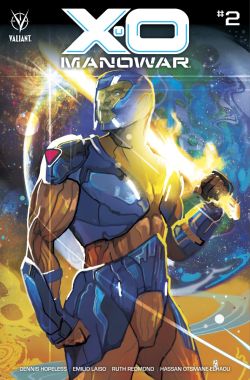 DF Interview: Dennis 'Hopeless' Hallum continues a brave new era for 'X-O Manowar'
By Byron Brewer
Aric of Dacia, a 5th century warrior catapulted into the modern day, has been bonded with the sentient alien armor, Shanhara. Together, they are the most powerful weapon in the world: X-O Manowar!
Now, a new threat emerges from the fires of X-O's latest battle. Can X-O save the day, or does the world need a new kind of hero?
From Valiant Entertainment comes X-O Manowar, written by Dennis "Hopeless" Hallum with art by Emilio Laiso. DF wanted to reignite the fires after the gulf of time between issues 1 and 2, so we sat down with scribe Dennis Hallum for this monumental hero's return!
Dynamic Forces: Dennis, you have brought a lot of "new" to the life of Aric of Dacia. Since it has been awhile since the debut of X-O Manowar #1 (thank you, COVID-19), please tell us some of the exciting aspects readers can expect when picking up issue #2 of this new iteration.
Dennis Hallum: We ended X-O #1 with Aric and Shanhara under the gun, in the middle of a civil war-torn Ukraine. The identity of that mysterious attacker will be revealed in issue #2... And we'll be revealing the first arc's terrifying new villain. This second issue very much sets the table for the battles to come while continuing to build Aric's new world and community.
DF: Give us your take on X-O Manowar, the character and the man.
Dennis Hallum: X-O Manowar has always been a time-traveling Visigoth prince in sentient alien battle armor. An ancient noble warrior wrapped in a nuclear bomb. What we're bringing into the mix with this new series is humanity. We've set the series in present day New York City where Aric and his armor Shanhara are trying their hands at traditional superheroics. Aric is a warrior. He's fought back the Roman army. Escaped an intergalactic prison and defeated an alien armada... Now he's trying to protect a modern city. Trying to help the very normal people of Earth. This new battle is more complicated than he expects. People are difficult to please and when you drop a spaceship in the middle of the morning commute, it tends to piss them off.
DF: What new characters are coming our way in this new series?
Dennis Hallum: Shanhara, Aric's sentient armor and longtime partner, isn't a new character but we'll be putting a new spotlight on her in the series. Aric and Shanhara's relationship is the cornerstone of the book. In issue #2, we also meet tech billionaire and X-O Manowar superfan Troy Whitaker... And set up our big-bad for the first arc.
DF: And about new villains...?
Dennis Hallum: I won't drop a name just yet, but a big new villain makes a HUGE entrance at the end issue #2.
DF: Fans have hopefully already enjoyed the first issue of X-O Manowar. But for the uninitiated (you know who you are!), what is the overall storyline for this first arc?
Dennis Hallum: X-O and Shanhara are back on Earth and have relocated to Harlem. Their alien wars are over and they are thinking locally for once. They each have very different ideas on how to protect the city and they're constantly debating which direction to fly. Aric is very punch first, ask questions never. Shanhara is more worried about building the city's trust and making New York a home. Things have been bumpy so far and there's someone watching their every move from the shadows.
DF: What can readers previous and new expect when they open up issue #2? Can you give readers a bit of a preview?
Dennis Hallum: X-O battles on two fronts, fighting to end a civil war and survive a robot attack... as a grinning billionaire complicates everything.
DF: Talk about the art of Emilio Laiso and the palette of colorist Ruth Redmond.
Dennis Hallum: This book is just gorgeous. I've been lucky enough to work with Emilio before (on Gamerverse Spider-Man) and knew exactly how brilliant he is. X-O Manowar is an action book at its very core. You have a warrior wearing the most powerful weapon on Earth. There's going to be blood, guts and destruction in every issue. Fire raining from the sky. Big fights and big threats. But as I said before, we're leaning into Aric's humanity with this series... So there will also be a lot of smaller, dramatic character moments. Emilio is the rare artist who can crush both. His facial expressions and character acting are spot on. And good God, his fight scenes...! Add to that Ruth's gorgeous rendering and rich palettes. We're very lucky to have this team on board.
DF: Dennis, what else is coming from the Hall of Hopeless (that doesn't sound right) in the near-future that you can tell readers about?
Dennis Hallum: My Image book, Sea of Stars, is back after a short break with our wild second arc. It's a father & son lost-in-space story that's equal parts The Road and Finding Nemo. Jason Aaron, Stephen Green, Rico Renzi, Jared K. Fletcher and I have so much more intergalactic nonsense to throw your way. Other than that and the glorious return of X-O Manowar, I'm plugging away on several new series I can't wait to announce... hopefully soon.
Dynamic Forces would like to thank Dennis Hallum for taking time out of his busy schedule to answer our questions. X-O Manowar #2 from Valiant is slated to hit stores Nov. 25th!
For more news and up-to-date announcements, join us here at Dynamic Forces, www.dynamicforces.com/htmlfiles/, "LIKE" us on Facebook, www.facebook.com/dynamicforcesinc, and follow us on Twitter, www.twitter.com/dynamicforces.
WWE #1 ULTRA-LIMITED SILVER SIGNATURE SERIES SETH ROLLINS ACTION FIGURE VARIANT EDITION SIGNED BY DENNIS HOPELESS!
WWE #1 RARE FIRST PRINTING ULTRA-LIMITED BIG GREEN EDITION SIGNED BY DENNIS HOPELESS!
SPIDER-WOMAN #1 SIGNED BY DENNIS HOPELESS!
AVENGERS ARENA #1 SIGNED BY DENNIS HOPELESS
CABLE & X-FORCE #1 SIGNED BY DENNIS HOPELESS
UNITY #1 BLANK VARIANT SIGNED & REMARKED WITH A X-O MANOWAR SKETCH BY KEN HAESER!
VALIANT COMICS X-O MANOWAR HIGH-END LITHOGRAPH
---
NEW! 1. 01/18/2021 - STEVE ORLANDO
4. 01/07/2021 - DARICK ROBERTSON
5. 01/04/2021 - CONOR MCCREERY