CORINNA BECHKO

SEND THIS TO A FRIEND!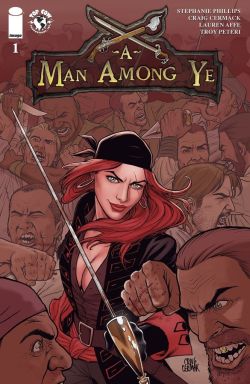 DF Interview: Corinna Bechko brings time travel, monsters to Angel Season 11
By Byron Brewer
One of the big announcements from Dark Horse Comics at NYCC was that writer Corinna Bechko (Miss Fury, Aliens/Vampirella) will be taking on Angel Season 11 for the publisher. She will be joined by Deadpool and Ghost artist Geraldo Borges and Buffy Season 9 colorist Michelle Madsen on the series.
Angel goes solo in the new series as he is tormented by memories of his past and they link to a big-bad coming in the future. The goddess Illyria intervenes and assists Angel as he discovers that it might be possible to change the future by traveling back in time to change the past.
DF approached Corinna and she was glad to share some of the secrets and adventure coming readers' ways in the new Dark Horse book.
Dynamic Forces: Welcome to the Whedonverse, Corinna! And with one of its most complex characters, Buffy's old beau! Right out of the gate: Give us your impressions of Angel as a character. (It will be fun to maybe interview you after this 12-issue series to see if those impressions are the same.)
Corinna Bechko: Thanks! Angel's fun to write because he's such a complex character. He's a good man who's done bad things, sometimes for the best of reasons, and sometimes, well, because he was actually evil at the time. The point is, he remembers doing the things he did, what it felt like to do them, and now chooses to be a force of good in the world because he can. He's the opposite of a boring do-gooder who only knows how to be on the side of the angels. And because everything he does is a choice, it means he has the capacity to be a lot more compassionate than a hero that can't understand why someone would choose to be less than upstanding. That in turn allows for stories with many shades of grey, and means that he can interact with a cast full of interesting, multi-faceted characters.
DF: Can you give us a broad sense of what paces you will be putting Angel through during your run (non-spoilery, of course)?
Corinna Bechko: I'm lucky, because we'll be doing a bit of time traveling throughout this season. So we'll visit some familiar haunts, but also get to see some entirely novel places that will be completely new to Angel.
DF: Time traveling? Do tell!
Corinna Bechko: I love time travel stories, and we'll be on something of a time travel road trip here. There are problems approaching in the future that can't be solved in the present… But they could have been solved in the past. Maybe. If something else doesn't get in the way. Like elder gods, or many-limbed monsters…
DF: Will we be seeing any old faces return?
Corinna Bechko: Definitely! One of my personal favorite characters, someone who first appeared on the show, will be along for the ride, as will a rather mercurial presence who will have a major impact on the direction of this season. And given that there's time travel involved, expect to see some very familiar faces.
DF: What about new characters to watch out for? Maybe some who seem incidental that might play big roles before your penultimate 11th issue hits?
Corinna Bechko: There are definitely a number of new characters, including a couple that play a very big role. And yes, I take my time travel conundrums seriously, so watch out for those twists and turns.
DF: I sense one of those patented Bechko big-bads looming behind the scenes. True, and any hints if so?
Corinna Bechko: Certainly! At this point I think my comics career has been built on the back of monsters, and I wouldn't have it any other way. I love that Angel is a serious character, but that his world includes room for some really fun, scary creatures. As someone who delights in writing in that sort of thing I can tell you there's more than one waiting in the wings.
DF: How has it been working with artist Geraldo Borges and colorist Michelle Madsen thus far?
Corinna Bechko: I'm so pleased to be collaborating with Geraldo and Michelle! Dark Horse always pairs me with creative teams that I'm honored to be a part of.
DF: From Planet of the Apes to Lara Croft, you have become a master of finding the familiar "voices" of characters based on live folk and engrained in our collective memories and successfully translating those to the comic page? Have there been any particular joys or challenges with Angel?
Corinna Bechko: One thing I always strive for is tone. It's really important to me that whatever character I'm writing feel like the character people know. New adventures are great, but there's a reason that readers want to go on those adventures, and that reason always comes down to wanting to spend time in a particular world in the company of certain characters. That's as true for Planet of the Apes fans as it is for Angel fans. So I consider getting the characters' reactions and inner life right to be job one. For Angel, this was complicated journey since he has a lot of history and I wanted to review it all before starting to write. But after immersing myself in his world for hours at a time I came to appreciate just how nuanced his perspective could be. He's lived a long time and seen a lot of things, but he's not jaded. At the same time, he doesn't have much tolerance for indecision. He's a man of action. Finding the right mix of those traits is a challenge, but also rewarding when I feel like I've gotten it right.
DF: So, Corinna, do you have any current or future projects (besides Angel Season 11, lol) coming you can tell us about?
Corinna Bechko: Yes! Invisible Republic, the Hugo-nominated Image Comics series I co-write with Gabriel Hardman, just started its third arc. Issue #11 marks a great jumping-on point for fans of political intrigue and sci-fi.
Thanks for the great questions, Byron! It's an honor to write Angel, and I hope readers enjoy the new season!
Dynamic Forces would like to thank Corinna Bechko for taking time out of her busy schedule to answer our questions. Angel Season 11 #1 from Dark Horse hits stores Jan. 18th, 2017!
For more news and up-to-date announcements, join us here at Dynamic Forces, www.dynamicforces.com/htmlfiles/, "LIKE" us on Facebook, www.facebook.com/dynamicforcesinc
LORDS OF THE JUNGLE TRADE PAPERBACK Written by Corinna Bechko
MISS FURY VOL. 2 #1 RARE TULA LOTAY "VIRGIN ART" EDITION Written by Corinna Bechko
LORDS OF THE JUNGLE #1 (OF 6) RARE ALEX ROSS "VIRGIN ART" EDITION Written by Corinna Bechko
ALIENS / VAMPIRELLA #1 (OF 6) RARE GABRIEL HARDMAN "VIRGIN ART" EDITION Written by Corinna Bechko
MISS FURY: THE MINOR KEY TRADE PAPERBACK Written by Corinna Bechko
ALIENS / VAMPIRELLA HARDCOVER Written by Corinna Bechko
---
NEW! 1. 01/21/2021 - RORY MCCONVILLE
5. 01/07/2021 - DARICK ROBERTSON