ETHAN SACKS

SEND THIS TO A FRIEND!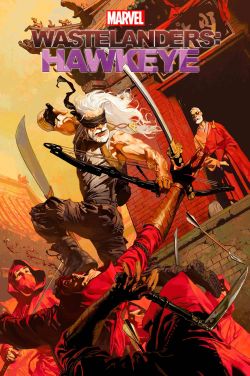 DF Interview: Ethan Sacks tells of a blind Clint Barton learning to avenge from an old man without fear in 'Wastelanders: Hawkeye'
By Byron Brewer
In the realm of the Wastelands, Clint Barton's sight may be gone, but his will to avenge is stronger than ever. And with the training and expert guidance of Matt Murdock, arrows will fly again! But what is Murdock's actual target? And how will this change Hawkeye's path in the Wastelands?
Witness the never-before-told story of Hawkeye's training with Stick—the man formerly known as Daredevil—in Wastelanders: Hawkeye #1 from writer Ethan Sacks and artist Ibraim Roberson. I sat down with the scribe to discuss the characters and the book.
Byron Brewer: Ethan, tell readers how this new book on the iteration of Clint Barton formerly known as Old Man Hawkeye came about.
Ethan Sacks: I've been in regular touch with my own comic book sensei, Mark Basso, who was my editor on the original Old Man Hawkeye maxi-series. Every so often I'd pitch him the idea of returning to the Wastelands for a one-shot to pick up where we left off on that last page of Old Man Hawkeye #12. Basically, I've wanted to show how this Clint, though blind, became able to fight so well as he does in his first appearance in Old Man Logan. Usually Mark would say we can't do it yet, but then six months ago or so he answered with something more enigmatic than usual so I knew something was up. This issue is one of five one-shots tied to the new Wastelanders podcasts that Marvel had produced with some of the best talents in show biz. So that makes this extra special.
Byron: With the new reader in mind, will we need to know anything from the series of "Old Man" books etc. to enjoy this read? Is this a bandwagon you can jump onto easily?
Ethan Sacks: The story is designed to be self-contained, so even a first-time reader can jump on and enjoy it. But I think it rewards those who have read both the original Millar-McNiven Old Man Logan and my run on Old Man Hawkeye with artists Marco Checchetto, Ibraim Roberson and Francesco Mobili, because it adds an extra layer of tragedy to know where Clint is coming from and where he is going.
Byron: Just by way of background, can you explain where in his life Clint is and how he became sightless?
Ethan Sacks: The story is set almost fifty years after the super-villains banded together under the Red Skull to kill the superheroes. Because Clint, with no powers except a talent to wield a bow and arrow, was not considered such a threat, and thus left alive. He languished for all those years in obscurity…until he started to go blind from glaucoma. On a ticking clock, he embarked on a mission of revenge that ultimately led to an aging Baron Zemo, a saga told in Old Man Hawkeye. Now blind (his condition speeded up during a fight with Avalanche) and believing he can do more to avenge the deaths of his fellow heroes, Clint made a pilgrimage to a mountain temple to seek out a mysterious teacher named Stick who he believes can help him train to overcome his blindness. On the last page of Old Man Hawkeye #12, we found out Stick was really Matt Murdock, formerly known as Daredevil!
Byron: Awesome idea of having Matt Murdock train the elder Hawkeye back into shape. Can you give us any background on Old Man Matt that will not spoil any of the fun of this book? C'mon…
Ethan Sacks: Not without unleashing the Hand on you to keep the secret.
Byron: (Laughs)… Great memories of stories past in Matt taking the street name Stick, after the man who taught a young Murdock how to control his newly-heightened senses and who guided him in mastering his radar sense. Any Old Man Daredevil story in his taking of that moniker for future Wastelanders sagas?
Ethan Sacks: I would never say never, but there are no plans for now. I like the idea of some of these stories remaining shrouded in mystery. But it would be an interesting story since there were previous accounts of Bullseye throwing him off a cliff and the Enchantress killing him in Wastelands lore. How he managed to fake his death TWICE is a story I have in the back of my head.
Byron: What can you, in non-spoilery fashion, tell readers about the chief storyline of this book?
Ethan Sacks: Clint has been training for two years under Stick's guidance, and gotten quite good at the fighting part. But it's the other lessons that are clearly not …ahem…sticking. So his teacher sends him on one last training mission, in which he'll either learn something or die trying. Of course there are ninjas involved, so that's not a metaphor. He could quite possibly die trying.
Byron: Talk about the awesome art of Ibraim Roberson.
Ethan Sacks: Ibraim and I teamed together on Old Man Hawkeye #7, the infamous flashback issue that showed the horrors Clint endured on the day the villains struck. So, it felt like a family reunion and really made this book feel like an extension of the original series. Most importantly, though, he's damn good. He can draw emotional anguish as well as he can a kinetic action scene. Page 2 should be a frigging poster on my wall, and I'll take down my wedding photos if I have to in order to make room for it.
Byron: Right (laughs)… Ethan, what other projects in which you are involved can you tell our readers about?
Ethan Sacks: Right now, my dance card is pretty full. Most of the stories I tell for Marvel are in another galaxy – one that's far, far away. As the writer of Star Wars: Bounty Hunters and Star Wars: The Halcyon Legacy, I'm kept pretty busy, but I also recently had my first creator owned comic, a period horror flipbook called Intrusion, come out last month. There are also some projects I can't talk about yet.
Dynamic Forces would like to thank Ethan Sacks for taking time out of his busy schedule to answer our questions. Wastelanders: Hawkeye #1 from Marvel Comics is slated to be on sale December 8th!
For more news and up-to-date announcements, join us here at Dynamic Forces, www.dynamicforces.com/htmlfiles/, "LIKE" us on Facebook, www.facebook.com/dynamicforcesinc, and follow us on Twitter, www.twitter.com/dynamicforces.
KISS: ZOMBIES #1 - GENE SIMMONS SIGNED VIRGIN PHOTO COVER
KISS: ZOMBIES #1 - STUART SAYGER LIMITED VIRGIN COVER
KISS: ZOMBIES #1 - CGC-GRADED PHOTO COVER
KISS: ZOMBIES #1 - CGC-GRADED ARTHUR SUYDAM COVER
KISS: ZOMBIES #1 - ARTHUR SUYDAM LIMITED GRAYSCALE VIRGIN COVER
KISS: ZOMBIES #1 - ARTHUR SUYDAM LIMITED VIRGIN COVER
---
NEW! 1. 01/10/2022 - DAVID F. WALKER
2. 01/04/2022 - BENJAMIN PERCY
5. 12/16/2021 - RICHARD DOUEK & JOE MULVEY