ROB GUILLORY

SEND THIS TO A FRIEND!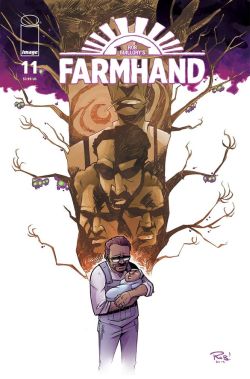 DF Interview: Rob Guillory grows new arc in 'Farmhand' – AND a word about the TV series
By Byron Brewer
Comics' best ongoing series about agriculture gone apocalyptic returns for its third season! After last issue's game-changing events, a weakened Jedidiah Jenkins seeks guidance from an old friend. Unfortunately, her mystical wisdom points to a dark future for the residents of Freetown.
From writer/artist Rob Guillory comes Farmhand, with a new arc starting in issue #11. To get the full 411, DF talked with the bulk of the creative team: Rob Guillory.
Dynamic Forces: Rob, before we start talking about issue #11 of Farmhand in which a newer, more creepy arc begins, remind readers about the genesis of this book. From whence came and what inspired Farmhand?
Rob Guillory: That's always a hard question for me because it's always a mix of things. I've always thought stories where mankind pushes its limits and inevitably falls on its face – like Frankenstein or Jurassic Park—have a timeless quality to them. I think Farmhand is sort of a modern retelling of that theme, but with modern scientific advances and a more personal touch.
DF: Give me an extended pitch for the book as a whole, just to remind some what is going down here.
Rob Guillory: Farmhand centers around a simple farmer named Jedidiah Jenkins, who has a seemingly supernatural vision that gives him the scientific blueprint for a new type of seed that grows human organs. Jed uses these farm-grown organs to heal many, until the transplant recipients start to experience assorted hideous side effects. As these transplants become more violent, Jed's children end up in harm's way, having to survive the many consequences of their father's invention. It's a mix of dark comedy, body horror and family drama.
DF: What can you tell us about Jedidiah Jenkins … as a man and as a character? What has changed in the course of the book's run for him, and what challenges does he face as issue #11 approaches?
Rob Guillory: Jed's a complicated man. When we first meet him, he seems to be this malevolent puppet master who might be deliberately causing the transplant chaos. But as the story continues, we see he's as swept up in this maelstrom as anyone else. He's a family man who's been embittered by the loss of his wife, hardened by the blows life's dealt him and many of his decisions flow from that bitterness. On top of that, he's utterly confused why his miracle invention could have gone so wrong. When we see him next in issue #11, he's in a dark place, trying to make sense of everything that's happened.
DF: Can you clue us into the mystical female friend who will be helping Jed out? What if anything can you tell us about her?
Rob Guillory: She's the oldest living person in Freetown. She's seen a lot, and she knows all there is to know about the town and specifically the Jenkins family. Also: she's not very nice.
DF: What other characters are important to this coming new arc, as of issue #11? What is the current state of Freetown?
Rob Guillory: The usual key players –Ezekiel, Andy and Tree—are all huge parts of this arc, but Monica Thorne is the center of everything. She's the intersection between the weird science that created the Seed and the supernatural threat that's been looming since the first issue. As for Freetown, the town is still coping with the ever-increasing number of people contaminated by Jed's creation. And as the arc rolls on, more and more of the town will be affected by it.
DF: How new reader friendly is Farmhand #11? Is this a good place for new readers to jump on board?
Rob Guillory: God, no! Farmhand is very much a complete novel, so beginning the story at issue #11 would be like starting a Stephen King novel at page 172. You could do that, but it might not make any sense. So I'd encourage new readers to catch up with previous issues before trying this one. Both Farmhand Vol.1 and 2 are available in trade paperback now.
DF: Switching gears a little, any news you can tell us about the development of Farmhand into a TV series by AMC/AMC Studios? Word has it a script is under way. By YOU!
Rob Guillory: Yeah, I'm currently juggling writing and drawing Farmhand the comic with writing Farmhand the TV show. It's not always easy, but I'm really proud of what we're doing. For now, I'm just focused on writing a solid pilot episode. It's been an amazing experience so far, and my showrunner LaToya Morgan (Into the Badlands, The Walking Dead) has been a fantastic partner in developing it.
DF: Rob, what other projects are you working on that you can share with our readers?
Rob Guillory: I'm doing a new Chew thing, actually. Just a small thing that I'm doing in between Farmhand stuff, but it's been really fun returning to that world after three years away. I think fans of that book will get a kick out of it.
Dynamic Forces would like to thank Rob Guillory for taking time out of his busy schedule to answer our questions. Farmhand #11 from Image Comics hits stores Nov. 20th!
For more news and up-to-date announcements, join us here at Dynamic Forces, www.dynamicforces.com/htmlfiles/, "LIKE" us on Facebook, www.facebook.com/dynamicforcesinc, and follow us on Twitter, www.twitter.com/dynamicforces.
---
NEW! 1. 11/30/2020 - SKYLAR PATRIDGE
5. 11/16/2020 - RYAN O'SULLIVAN