DAN WICKLINE &PHILLIP SEVY

SEND THIS TO A FRIEND!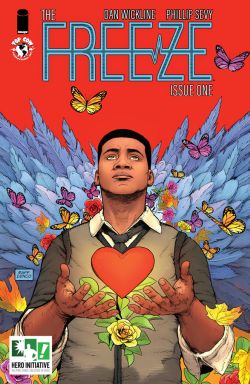 DF Interview: Dan Wickline & Phillip Sevy explore the nature of mankind in The Freeze
By Byron Brewer
The entire human population is frozen by a mysterious global event ... all except Ray, and only he has the power to unfreeze them. Now, with the fate of the world in his hands, he must figure out what is going on, how to set things right again, and answer the question: does everyone deserve to be saved?
From Top Cow and Image Comics comes The Freeze, by writer Dan Wickline and artist Phillip Sevy. To learn the full 411 and pass it on to you, DF thawed things out by chatting with those creators.
Dynamic Forces: Dan, what was the inspiration for The Freeze? Is this something that has been brewing on the Wickline back burner for a spell?
Dan Wickline: This one has been in my back pocket for well over a decade, just waiting for the perfect time and publisher. As for the inspiration, The Freeze came to me when I was working as a computer programmer. The idea that you look up from your desk and no one is moving. Like something you'd see on The Twilight Zone … but as I thought about it, I realized just how big and meaningful the story could be.
DF: Introduce us please to Ray Adams.
Dan Wickline: Ray is a good man. He lives with his ailing mother and his dog. He takes the bus everyday to work and has a crush on a co-worker. He has no idea why he is the only one to be unaffected by the Freeze or why he has the ability to awaken people. But it changes every aspect of his life and forces him to make every decision as if it will change the world … as it likely will.
DF: What can you tell us about the storyline for this new series?
Dan Wickline: The Freeze is both a global series and a personal one. There is the overarching question of what happened, why did it happen and how do they undo it. But it's also a chance to take humanity and examine it as a microcosm. As Ray uses his ability to unfreeze people, he is adding pieces to a new society unaware of what that person will add in both contribution and dangers. This is a chance to play with the best and worst of man without the rules and cultural norms.
DF: Do we know why Ray survived the "mysterious global event"? [solicit copy] Will this question or how he has the power to unfreeze the populace be key parts of this saga?
Dan Wickline: I don't want to say that the event is a MacGuffin, because it will definitely be a major factor in the series as will be his ability to unfreeze, but there are so many stories to tell while they're trying to figure it out. The question of how will be in their minds, but survival is the first order. After that, human nature takes over and the desire for power, wealth and control. There will be clues to what happened as the series progresses, though.
DF: If you can, tell us about some of the other characters we may encounter in The Freeze.
Dan Wickline: I don't want to give away too much, but Ray discovers he has the power by bumping into a co-worker named Lisa (who he has a crush on). She works customer service but is studying journalism at night. She tends to ask him "why" questions. Then there is Daisy whose unfreezing was done with little thought and leads to potential tragedy. And there's Gavin, who is used to being in charge and finding the best angles for himself. We'll meet all of them in the first issue.
DF: Man playing God is not an uncommon story theme, but there is always that side of man that the Devil prefers. Does what some would call man's true nature rear its ugly head here, and what effect does that have on the godlike decisions Ray must make?
Dan Wickline: The nature of man is on full display here … the good and the bad. And Ray's godlike decisions not only give him pause, but it makes others look at him in very different and some dangerous ways. When someone has a power like this, how people react to that person creates a lot of great story threads to follow. Reverence, jealousy, greed, fear … reactions are all over the board and sets up a lot of great drama.
DF: Phillip, tell us how you utilized your artist's tool box to create that kind of world that Dan's scripts described. It certainly has a style I really enjoy.
Phillip Sevy: The Freeze has a very cinematic feel to it. Using comics to showcase both motion and the lack thereof has been a challenge from the beginning. If the reader doesn't realize that no one else can move (or they don't look frozen), then I've failed the central concept of the story. So finding ways to move the camera around and keep characters static from all angles has been a fun challenge. This is the first series that I've been able to color myself, so it's been a lot of fun getting to employ all the artist tools I have to accomplish telling the story that Dan has written.
DF: Did you get to design all the characters and set pieces in The Freeze? If so, tell readers a little about what went into that process.
Phillip Sevy: I did get to design all the characters and set pieces, actually! I was brought on board very early on in the process, so I was able to work with Dan in shaping the visual look of the book. Early on, I asked Dan if we could make sure our characters weren't all just young white guys. Dan laughed and said since the book is set in real world LA, he wanted it to reflect the diversity LA offers. Dan was great to provide some character reference/inspiration in his descriptions of each character. I then went off and dug up a ton of reference on each one and built them from the ground up. And since the book takes place in real locations, I've used lots of Google maps, reference searches, 3D models and so on to try and get things as accurate as possible.
DF: Thus far, and I realize it is early, who is your favorite character (maybe the most fun to design or "direct") and what scene or locale in the book has proven most challenging (or just plain fun)?
Phillip Sevy: That's a great question! I'm wrapping up issue #2 right now and there are about 5 or 6 pages that take place in a grocery/drug store and they've been killing me (laughs). I was joking with Dan about it the other day. It's really funny how certain mundane, everyday locations can actually be so brutal to draw. You can't fake a grocery store. It has to look like a grocery store – with a million boxes and packages adorning the shelves.
As far as a favorite character to draw – I've spent the most time with Ray and really like the range of subtle emotions he's had to show. The weight of the series rests on his shoulders, so it's fun to try and convey that weight.
DF: Dan and Phillip, what other projects of yours, current or near-future, can you tell readers about?
Dan Wickline: I'm working on a second series for Top Cow that stars one of their characters, but that hasn't been announced yet. I'm just about finished with my next novel, Blythe: The Trailer Park Knight Rises. But folks can check out my ongoing Lucius Fogg series of urban fantasy novels that are available on Amazon. There are a couple of other projects, but they're still in the talking stage so I'll catch you up on them later.
Phillip Sevy: In addition to The Freeze, I drew Tomb Raider: Inferno for Dark Horse this year, and that was a lot of fun. Another project that came out this year was a horror graphic novel called The House. Artist Drew Zucker and I worked on it for years but released the collected edition in 2018. It's a World War II haunted house story. You can find it on my website (phillipsevy.com) or in person at conventions.
Dynamic Forces would like to thank Dan Wickline & Phillip Sevyfor taking time out of their busy schedules to answer our questions. The Freeze #1 from Top Cow/Image Comics hits stores Dec. 5th!
For more news and up-to-date announcements, join us here at Dynamic Forces, www.dynamicforces.com/htmlfiles/, "LIKE" us on Facebook, www.facebook.com/dynamicforcesinc, and follow us on Twitter, www.twitter.com/dynamicforces.
THE BLOOD QUEEN OMNIBUS TRADE PAPERBACK
---
NEW! 1. 01/21/2021 - RORY MCCONVILLE
5. 01/07/2021 - DARICK ROBERTSON