CHRIS SEBELA

SEND THIS TO A FRIEND!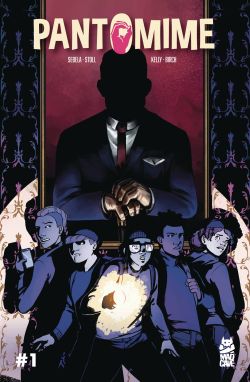 DF Interview: Christopher Sebela writes about kids whose 'deafness is a part of who they are, not the entirety of their being' in 'Pantomime'
By Byron Brewer
Haley and her brother, Max, are alone after their mother's death and are sent to Wayfair Academy, a special needs boarding school. Eventually, they find family among other deaf children. One night, the group decides to dip their toes into crime... the thrill is too much to leave behind. They soon find out that stealing from the wrong person has its consequences. With no one to turn to but each other, they must make a choice, one where no one comes out the same.
From Mad Cave Studios comes Pantomime, written by Christopher Sebela and illustrated by David Stoll. DF was very anxious to find out more about this unique coming comic, so we sat down with our old friend, scribe Christopher Sebela.
Dynamic Forces: Chris, I was so happy about this comic's content because I have deafness on the maternal side of my family and this is not something you often if ever see addressed. What was the inspiration for Pantomime? Do you have family or friends who are deaf?
Christopher Sebela: The idea actually came from Mad Cave. They approached me with the idea and I asked if I could tinker with it and inject some of my own sensibilities into it and they said yes, so I dived in. I don't know anyone who is deaf but in addition to Mad Cave hiring a sensitivity reader, I did my homework and ultimately approached it the same way I approach my stories and characters, trying to make them feel solid and imperfect in the way all people are. Deafness is a part of who they are, not the entirety of their being and I wanted to tell a story that reflected that.
DF: What can you tell readers about the storyline for this series?
Christopher Sebela: Pantomime is about a pair of kids who lose their mom and get sent to live at a school for kids with disabilities. They manage to find their way into a good life, making new friends and expanding their horizon. A little trick among friends to strike back at a teacher introduces them to the fun and easy world of breaking and entering and, like kids do, they push each other further. Until it nudges them into the cross-hairs of a career criminal who moves in and forces them to work for him. Then things get REALLY complicated.
DF: Introduce us please to Haley and Max. Can you tell us anything about the circumstances of their mother's death and ramifications?
Christopher Sebela: Their mom raised them on her own and she got sick. Before she died, she made arrangements to ensure her kids would go to Wayfair and get to live a normal life, not being shuffled around to a bunch of relatives they hardly know or a foster home. So now that she's gone, Max and Haley only have each other until they get to school and begin making friends.
DF: Spotlight a few of Haley's friends who will be an important part of this series.
Christopher Sebela: Harry is the polymath of the group, one of those restless brain kids who gets into everything with 100% enthusiasm until he moves onto the next thing. The rest of the kids are maybe a little intimidated by how smart he is. Kestrel is kind of a jock, kind of a nerd, kind of their own clique unto themselves, defying the usual social group classification. Lexi is one of the popular kids but she comes from a shifty family that makes her life hard so she isn't the variety that establishes their popularity with cruelty. Lexi loves everyone and everyone loves Lexi.
DF: What can you tell readers about Wayfair Academy?
Christopher Sebela: It's a school for kids with disabilities and it's where Max and Haley wind up after their mother dies. Outside of a couple of crap teachers, it's actually a great place and the students live on campus, so it provides a home for Haley and Max and also puts them among kids who are like them. Wayfair opens the door to a much bigger world for them and introduces them to a lot of new elements, which is both liberating and also kind of the source of their problem.
DF: Did you do any research into deafness and the deaf community? If so, can you give us some details. I am extremely interested in this.
Christopher Sebela: I did a lot of reading about deaf people and their community. Very little of it was medical. That part didn't interest me so much because I wanted it to be about a group of kids who happen to be deaf. I didn't want to make deafness be the main character or treat it like some kind of gimmick – I wanted it to be another aspect of these kids among all the many things that make up a person. Representation is important and I struggled to write something that was respectful but also lets some characters be jerks or selfish or vain or, if not full-on criminals, at least extremely morally flexible.
DF: Talk about your collaboration with artist David Stoll.
Christopher Sebela: David has been amazing the whole way through. I knew about him because he'd worked with a friend of mine and is part of a studio of a bunch of other comics people I know or have worked with and when Mad Cave suggested him I was 100% on board. David's had to do a lot of work beyond figuring out my scripts and drawing pages, he's also the one who figured out how to incorporate sign language usage into the book so that it feels seamless. And no matter what dumb stuff I might send in my script, he can look at it and turn it into pages that really sing. It's been a great partnership and David's only going to get better as he goes, so look out.
DF: Chris, what other current or near-future projects can you tell readers about?
Christopher Sebela: My OGN with Ben Sears about ghosthunters who die and come back as ghosts, Dead Dudes, is out now. And the third and final volume of Heartthrob will be in December. Plus we're wrapping up the last issues of Crowded which will come out as a trade early next year. Also I'm really into picking locks as a hobby, thanks to this book, so I'll be working on that for the time being.
Dynamic Forces would like to thank Christopher Sebela for taking time out of his busy schedule to answer our questions. Pantomime #1 from Mad Cave Studios is slated to hit stores Nov. 4th!
For more news and up-to-date announcements, join us here at Dynamic Forces, www.dynamicforces.com/htmlfiles/, "LIKE" us on Facebook, www.facebook.com/dynamicforcesinc, and follow us on Twitter, www.twitter.com/dynamicforces.
KISS/VAMPIRELLA #1 ATLAS COMICS SIGNATURE SERIES - SIGNED CHRIS SEBELA EDITION
KISS/VAMPIRELLA TRADE PAPERBACK
AGENT 47 VOL. 1: BIRTH OF THE HITMAN TRADE PAPERBACK
---
NEW! 1. 12/04/2020 - JOSH BLAYLOCK
3. 11/30/2020 - SKYLAR PATRIDGE