JIM ZUB

SEND THIS TO A FRIEND!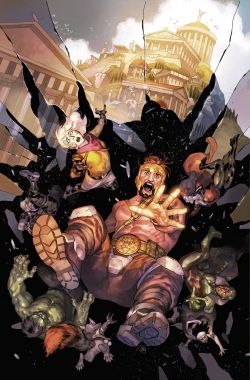 DF Interview: Avengers Assemble! Jim Zub talks about new weekly limited series, Avengers: No Road Home
By Byron Brewer
The creative team that surprised and entertained critics and comics fans alike with Marvel's weekly blockbuster, Avengers: No Surrender, is back with a brand new weekly Avengers epic that will be running from February through to (and what a coincidence) the release of the untitled Avengers 4 movie.

That coming epic is Avengers: No Road Home, a completely new story that's self-contained with a surprising cross-section of Avengers members in the mix. Action-packed and filled with fun twists and turns to keep people talking about it week after week, the comic is brought to readers by writers Mark Waid, Al Ewing and Jim Zub with art from Sean Izaakse and Paco Medina!
Since we talked to Mark Waid last time around about No Surrender, DF turned its attention this time to Jim Zub, who also is preparing for a renaissance in Champions, to take us through the coming New Year's gift from the House of Ideas.
Dynamic Forces: Jim, the plotting and writing work Mark Waid, Al Ewing and you did on Avengers: No Surrender was nothing short of phenomenal, and that's coming from a guy who first bought Roy Thomas' Kree/Skrull War epic issue by issue! What (besides Marvel editorial) led you three back for a second dose of weekly madness with Avengers: No Road Home?
Jim Zub: On the week that Avengers #690 came out (the final part of Avengers: No Surrender), congratulation emails were sent around and editor Tom Brevoort mentioned that it would be a shame to "break up the band" after everything turned out so well.
No Surrender came out just before the Infinity War movie and it ended up being a good visibility booster for the weekly series, so it was natural to do the same thing with Avengers 4 arriving around the same time in 2019.
At C2E2, Tom, Mark and I went out for dinner and started talking about broad ideas and by mid-May all three of us were deep in planning the new story that would eventually be called No Road Home. Since then, we've been plugging away and, at the time of this interview, we're already writing the final issue.
DF: Is this a sequel to No Surrender, a distant cousin with some plot threads readers of the last weekly might enjoy, or a total stand-alone?
Jim Zub: It's a spiritual successor to No Surrender, in the sense that a lot of the creative team is the same and some of our cast carries over, but we've purposefully built it so readers who didn't collect No Surrender won't have to worry about feeling left out. It's a stand-alone story, but in a similar mold.
DF: How long does No Road Home run (when to when, number of issues) and what is the general storyline?
Jim Zub: No Road Home is a 10-part weekly story that launches in mid-late February. We're keeping the actual story elements close to our chest right now, but I can tell you that it has more of a mythic flare than No Surrender and that Hercules plays a central role.
DF: No Surrender had some great stand-out moments, most memorable of all being the return of the Bruce Banner Hulk. Will No Road Home follow suit, and can you be as specific as you can be?
Jim Zub: Our writing crew has absolutely built some big and crazy moments into No Road Home, including a fun turn at the end of issue #5 that will add a lot of momentum to the latter half of the story.
DF: Elephant in the room: Will Voyager be returning? If so, will Daddy?
Jim Zub: Voyager IS a part of this story, but Grandmaster is not in the mix this time.
DF: One of the hits of your first weekly Avengers adventure was the narration by different, sometimes unexpected characters. Will we be seeing that here, and can you tell us some, if not the full list, of Avengers taking part?
Jim Zub: In a similar fashion, each issue of No Road Home has its own narrator and to keep the perspective of each issue interesting, delving into each character's thoughts and fears as events roll out.
Revealed so far on the covers are Hawkeye, Hercules, Hulk, Scarlet Witch, Spectrum, Vision, Voyager [as mentioned above] and Rocket Raccoon.
DF: Jason Aaron is on a great run with the regular Avengers book, which I assume will be publishing as this weekly book runs. Is there any crossover material? Will any of Aaron's regular team Avengers be participating in No Road Home?
Jim Zub: Yes, Jason's book will be running at the same time as our No Road Home storyline. Some tiny plot elements will tie between them, but they'll be doing two distinctly different stories. Jason's team won't be participating in most of the events of No Road Home until trouble from it comes to their doorstep.
DF: Talk about the phenomenal art (that word again!) upcoming on this weekly.
Jim Zub: Paco Medina and Sean Izaakse delivered wonderful work in No Surrender and they're both drawing the best pages of their career here on No Road Home. It's just stunning work on every level. Having the scripts in nice and early has given them time to really deliver their best on every page. I can't wait for you to see how great this series looks.
DF: Devil's advocate closer: After No Road Home is said, done and in the books, can you hint at what you think Avengers fans will be talking about the most re the limited series?
Jim Zub: Our mid-point reveal will have readers excited with its potential and the climax of No Road Home is one for the ages, the kind of huge, crazy, wonderful stuff that comics does best.
Dynamic Forces would like to thank Jim Zub for taking time out of his busy schedule to answer our questions. Avengers: No Road Home hits stores in February and continues for 10 weeks!
For more news and up-to-date announcements, join us here at Dynamic Forces, www.dynamicforces.com/htmlfiles/, "LIKE" us on Facebook, www.facebook.com/dynamicforcesinc, and follow us on Twitter, www.twitter.com/dynamicforces.
AVENGERS #675 SILVER SIGNATURE SERIES SIGNED BY MARK WAID
AVENGERS #1 SIGNED BY MARK MORALES
AVENGERS #1 SIGNED BY GREG LAND
AVENGERS #2 ENCORE EDITION SIGNED BY MARK MORALES
AVENGERS #1 GOLD ELITE EDITION SIGNED BY STAN "THE MAN" LEE
PATHFINDER VOL. 1: DARK WATERS RISING HC - SIGNED BY JIM ZUB
PATHFINDER VOL.2: OF TOOTH & CLAW TRADE PAPERBACK
PATHFINDER VOL. 1: DARK WATERS RISING TRADE PAPERBACK
PATHFINDER VOL. 3: CITY OF SECRETS HARDCOVER
RED SONJA: TRAVELS VOL. 2 TRADE PAPERBACK
PATHFINDER VOL. 2: OF TOOTH AND CLAW HC
---
NEW! 1. 11/28/2023 - CULLEN BUNN
4. 11/08/2023 - OLIVIA CUARTERO-BRIGGS
5. 11/02/2023 - ETHAN SACKS & NAOMI SACKS