ALEX SEGURA

SEND THIS TO A FRIEND!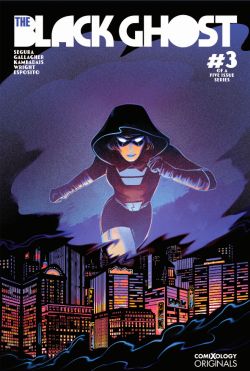 DF Interview: Alex Segura sends a reporter to investigate a valiant vigilante in 'The Black Ghost'
By Byron Brewer
The mysterious hero The Black Ghost is one of the few shining lights left in the downtrodden Eastern seaboard city of Creighton. But while the residents accept the hero's anonymity as the price of safety, a reporter new to the city is asking questions.
In the new comiXology Originals limited series The Black Ghost, writers Alex Segura and Monica Gallagher go from telling crime stories with the podcast Lethal Lit to telling them in comics – with help from artist George Kambadais.
DF went straight to the source and chatted the comiXology comic up with industry vet Alex Segura.
Dynamic Forces: Alex, first I have to ask between your day job at Archie Comics and writing novels, where do you find the time for this complex comiXology comic?
Alex Segura: I was telling a friend of mine not long ago that I don't do much else – I write, work, and dad. Meaning, I spend most of my time working on something or with my family. That makes for a quiet social life, but a productive and creative one.
DF: You and co-writer Monica Gallagher have done quite a bit of impressive work together, and in many formats, and now The Black Ghost limited series. How did you two happen to come together to form such a creative collaboration?
Alex Segura: Monica and I first worked together as co-creators of the Lethal Lit podcast for iHeart. She added so much energy and verve to our story, and the response was so positive that we quickly knew it wouldn't be the only time we'd work together. After the first season, we started brainstorming things to do, and I mentioned an idea I had for a female vigilante book. She liked it, and we jammed on it a bit more and the end result was The Black Ghost.
Monica is super-talented and a great, energetic, and thoughtful collaborator. It's hard to tell where my work ends and hers begins, honestly. I'm lucky to know her.
DF: For those under a rock (and who could blame them today? LOL), tell us about the genesis of this book. It certainly seems a great use of the crime noir I have read in your novels.
Alex Segura: I've always wanted to play in the superhero vigilante space – I grew up reading Daredevil, Batman, The Question and those kind of iconic heroes, and I was really intrigued by more recent takes, like Rucka and JH's Batwoman. I was doing an interview about this a few weeks ago and it was in this period, kind of researching an idea I wasn't sure about yet, that I realized how much I really owe to Greg's work. Books like Stumptown, Whiteout, Lazarus – all huge influences on not just The Black Ghost, but my work in general. He's one of the best.
The big idea Monica and I had, really, was to blend some of the elements of the PI genre – from my novels, from the work we did together on Lethal Lit – with the tropes of the street-level vigilante, like legacy, the fictional city, the sidekick. We wanted to take a flawed, messed-up protagonist and – to spoil a bit – thrust them into the role of having to be a hero. Stuff like Alias by Bendis and Gaydos and James Robinson and Tony Harris's Starman were really integral here, as was Sandman Mystery Theater. Once we had that general high concept, we were able to see the characters come to life.
DF: Who is The Black Ghost?
Alex Segura: That's the big question, isn't it? (laughs) When we join the story, we're introduced to Lara Dominguez, a burnt-out cops reporter in the corrupt city of Creighton. She's come here from Miami, avoiding her past and her demons, but unable to shake them. She's also unable to shake her obsession with The Black Ghost – a masked vigilante who protects the city and seems to be its only flicker of hope. She's on the brink of losing her job, too busy chasing capes to do her assigned beat. That's where we start. By the end of the first issue, everything has changed, and I hope readers enjoy where the book goes from there.
DF: Aside from Lara, what characters do we need to know about before jumping in? Hopefully you can let us know without real spoilers, since issues #1 and #2 are already up now.
Alex Segura: We meet a lot of people along the way, but the big players are Lone, the mysterious hacker/computer being Lara gets intel from. Who's side they're on, what their motive is remains to be seen, but they stepped up and helped Lara in a big way, so she's loyal. Ernesto, one of Lara's GED prep students, becomes a partner-of-sorts for her, despite her desire to fly solo. He's our take on the sidekick idea, and how we'd see it working. We also meet a lot of Lara's colleagues at her workplace, The Creighton Courier – like her boss, Maggie Braffet, and her crude and rude fellow reporter, Lippman. In terms of villains, Lara's big target is Barnabus, a new crime boss who's put together a strong gang that seems to have control over the entire city. We also learn there's a wealthy investor named Boyle who's buying up a lot of property in Creighton…
DF: The question comes a little late, I know, but what is the story of the overall book?
Alex Segura: It's a story about overcoming your demons and problems to become the person you want to be. At least thematically. Lara is our viewpoint character, and through her we see how she tries to move past her issues and demons to become the hero her city needs. If you enjoy dark, noir stories and are a fan of unique superhero tales, this book is right up your alley.
DF: Talk about the moody art of George Kambadais.
Alex Segura: George is fantastic and a dream to work with. He brought a dynamic and style to the book we weren't expecting, and it fit perfectly. His facial expressions, panel layouts, and general eye for detail blow us away. I sound like a broken record, but we're very lucky to have him. The whole team is fantastic. Monica, our rising star colorist Ellie Wright, our letterer and jack-of-all-trades Taylor Esposito, and our fearless leader, editor Greg Lockard. It's a dream team, and I repeatedly ask if we can work on this book forever, because it's been such a fun ride.
DF: Alex, what other projects are you involved with that you can tell readers about, inside or outside comics?
Alex Segura: I'm working on an Archie one-shot, Archie Meets the B-52s, with Matt Rosenberg and Dan Parent, in the same vein as our previous work on The Archies and Archie Meets KISS. I'm also working on my next novel, which will be a standalone. I have some other comic book stuff percolating too, but it's too early to talk about it!
Dynamic Forces would like to thank Alex Segura for taking time out of his busy schedule to answer our questions. The Black Ghost #3 (of 5) is available on comiXology as part of its Originals on Nov. 1st!
For more news and up-to-date announcements, join us here at Dynamic Forces, www.dynamicforces.com/htmlfiles/, "LIKE" us on Facebook, www.facebook.com/dynamicforcesinc, and follow us on Twitter, www.twitter.com/dynamicforces.
---
NEW! 1. 05/24/2023 - DOUG WAGNER
3. 02/10/2022 - SIMON SPURRIER