BRANDON THOMAS

SEND THIS TO A FRIEND!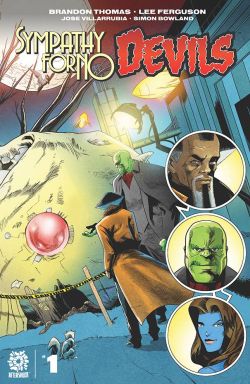 DF Interview: Brandon Thomas mixes crime, horror genres in 'Sympathy for No Devils'
By Byron Brewer
Winston Wallis has a secret. He is all that remains of mankind, and is surrounded on all sides by demons, monsters and ghouls that picked up where humankind left off – lying, stealing, cheating and killing.
Years ago, it was Winston's job to investigate such things. Now his ex-partner needs help solving the brutal murder of the world's largest Colossal. Because he knows the secret. He knows about the magical curse that gives Winston the ability to survive a world where everything is bigger, stronger and angrier than he is. But how long can Win's impossible luck last, and will this new case finally be the death of him?
He certainly hopes so…
From Brandon Thomas (Excellence) and Lee Ferguson (Sam and His Talking Gun), the critically-acclaimed creators of The Many Adventures of Miranda Mercury, comes Sympathy for No Devils, a new series filled with murder, mystery, monsters and magic!
DF wanted to jump aboard this train from its beginning, so we sat down with writer Brandon Thomas.
Dynamic Forces: Brandon, this new book, Sympathy for No Devils, even from its brief solicit seems to have so many twists it is hard to know where to begin the interview. Let's try the genesis: Tell readers where the concept for this new series came from. Is it something you've had on the Brandon backburner awhile?
Brandon Thomas: I've always wanted to tell a detective story, but because it's me, I didn't want to tell a straight, hard crime story, so instead created this genre mash-up that mixes crime, horror, and buddy cop stories altogether. Sympathy For No Devils is the blend of all that, plus my common focus on characters of color, and injecting them into stories and environments we don't often see them heavily featured in.
It's also an opportunity to create a new world with artist Lee Ferguson, and recapture some of that Miranda Mercury magic. For those familiar with that book, you know Lee and I are all about making memorable characters (with cool names) and putting them into crazy, high stakes situations, and watching them escape against all odds. We still LOVE making comics together, and think it definitely shows.
DF: Tell us about this fantastical world you and artist Lee Ferguson are building.
Brandon Thomas: It takes place in Nevada, but a version of it that's skewed and stretched to accommodate the new larger residents. That's something Lee had a lot of fun with—figuring out how big buildings and streets and bridges needed to be so that monsters and trolls could use them for the same things we're using them for now. The environment is a bit like a funhouse, where everything is slightly off-kilter, and he's been loving coming up with new creatures to populate the world.
If you're already familiar with Miranda, Lee's talent for character design won't be a big surprise, and I've learned that the more design choices left in his hands, the better everything will look and feel. Anyone experiencing his work for the first time is in for a real treat, and though it's hard picking a favorite, his inspired design for a mummy-like creature might be my favorite design of his ever. The man LOVES drawing monsters, and his presence on this book added so much to the story, and there are some visual moments that I've been so ready to share with people for months and months. Some of the best artwork he's ever done is in this book, so expect more than a few jaw-dropping pages.
DF: Can you explain our background Greek chorus of demons, monsters and "Colossals"? What they are and how they came to be the dominants of this world's society?
Brandon Thomas: Honestly, we don't delve too deeply into the larger whys of this world, and just function as if this is the way it's been for a very long time, and past the point where anyone is really questioning it. Most of the characters have complicated lives, demanding jobs, and families to look after, with the mundane concerns of modern life occupying their every waking thought. The cops finding (another) dead Colossal in the park registers for them about as much as a high profile killing does for us, unfortunately. There are corners and contours of the world that normal people simply can't see or access, and that's the space most of this story takes place inside of.
DF: Introduce us to Winston Wallis. Who was he, who is he, and what a lonely life is it to be the last human being – not the last man, but the last human, right? – on the face of this world?
Brandon Thomas: Winston has mostly made peace with his status within this world, but what he's still struggling with is not being a detective anymore. There was a sense of purpose and focus that position provided him that's gone now, and so he's spiraling a bit when we catch up to him. Being cut off from those relationships and that emotional stimulation has left him a shell of himself, and as much as his return is meant to help his former partner, he desperately needs it too, which he'll be forced to admit over the course of the book. The story deals with the cost of intense isolation, and feeling ostracized from the world around you, which are themes that should hit even harder for people given the current state of the world.
DF: And do I understand correctly that Win is magically cursed?
Brandon Thomas: Yeah, that's one of the coolest, most interesting aspects of the entire series. Because Win is a very normal man facing down things that are way stronger and meaner than he is, he's been given an edge to help him survive some of the more…intense interactions that his job often inspires. Who has done this to him and why is one of the central mysteries of the book, and it's also brilliantly displayed on the issue #2 cover that Lee did for the book that shows what happens when Win is pushed off a building. There's a reason his ex-partner calls him "Lucky Win," and it's another great thing that makes Winston such a fun character to write.
DF: Give us an extended pitch for this book.
Brandon Thomas: Humanity is gone, killed off in some fantastically dramatic (but unknown) fashion, and all the monsters are here in our place. They're using our structures and systems, and have remade the world in their image, adopting many of the same problems and issues that led to our inevitable demise. So the world looks and feels a lot like this one, except it's populated by monsters, ghouls, goblins and the like.
Right in the middle of all this is Winston Wallis, the last man on Earth, trying to navigate a world that either wants him gone once and for all, or is pretty indifferent to his existence. When the story begins, he's a former detective turned private eye, but it's not long before he's pulled back into a consulting role on a big case by his ex-partner, because it shares some curious similarities with the case that got him pushed off the force in the first place.
Some big-time secrets and conspiracies open up during their investigation, and these two former friends have to survive that amidst their fractured relationship. There's action, suspense, mystery, a little magic, and some serious emotions all at play, and we're trying to take three awesome books and genres, and smash them all into one to make something unique and really unexpected.
DF: Brandon, are there any other projects in which you are involved, inside or outside comics, that you can tell readers about?
Brandon Thomas: Yeah, it's a little weird, this has been one of the most screwed up and tumultuous years on record for so many people, but I've been freakishly busy throughout it. My involvement with DC's upcoming Future State event has been announced. I'll be writing Outsiders and a separate Aquaman mini-series for that, and there are also a couple other big things that need to remain under wraps.
2021 should be a packed year of releases for me, and this is an extremely exciting time professionally; it feels like all the hard work over the past decade or so is coming to fruition. Appreciate all the support, and there are some really cool things on the horizon. Stay tuned!
Dynamic Forces would like to thank Brandon Thomas for taking time out of his busy schedule to answer our questions. Sympathy for No Devils #1 from AfterShock Comics is slated to hit stores Oct. 28th – Wednesday!
For more news and up-to-date announcements, join us here at Dynamic Forces, www.dynamicforces.com/htmlfiles/, "LIKE" us on Facebook, www.facebook.com/dynamicforcesinc, and follow us on Twitter, www.twitter.com/dynamicforces.
VOLTRON VOL. 1: THE SIXTH PILOT TP
THE KING COLLECTION TRADE PAPERBACK
TUROK: DINOSAUR HUNTER VOL. 3 TRADE PAPERBACK
FLASH GORDON OMNIBUS VOL. 1: THE MAN FROM EARTH TRADE PAPERBACK
---
NEW! 1. 12/04/2020 - JOSH BLAYLOCK
3. 11/30/2020 - SKYLAR PATRIDGE