KYLE STARKS

SEND THIS TO A FRIEND!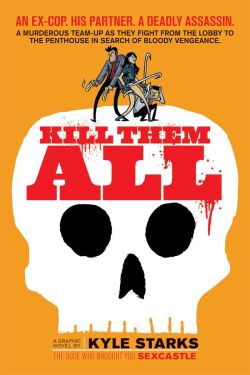 DF Interview: Kyle Starks talks 'Kill Them All' film development, Kickstarters, more
By Byron Brewer
Paramount Pictures is developing Kill Them All, a graphic novel from comics creator Kyle Starks (Rick and Morty, Assassin Nation, Mars Attacks), and has set the action project up with Tom Clancy's Without Remorse producers Josh Appelbaum and André Nemec.
The story, first published in 2015, centers on a betrayed murderess seeking revenge who partners up with a hard-drinking former cop who wants his job back. They have to fight their way through 15 floors of criminals, assassins, drug lords, murderers and accountants in a Miami high rise.
DF wanted to catch up with the project and so chatted with creator Kyle Starks about the film adaptation and a few other things.
Dynamic Forces: Kyle, it has been several months since your great graphic novel Kill Them All has been in development by Paramount Pictures for life on the big screen. What is the latest (that you can divulge, of course)?
Kyle Starks: The last I heard, there was a script that the studio was pleased with but if you're just the guy that made the thing someone else wants to make they don't really tell you all that much. The only things I ever hear are from my editor on the book and even they only tell me what they feel like telling.
DF: For those under a rock (and you know who you are), give us a summary of your OGN which was certainly a love letter to the high-octane action genre.
Kyle Starks: Kill Them All is a love letter to '90s action films leaning pretty heavy into John Woo's classic trope of a try-hard cop teaming up with a reforming criminal. In Kill Them All, a recently fired, alcoholic cop teams up with the best lady hitman in the world to fight their way up the top crime boss's tower of evil -- sort of a reverse Die Hard, if you will.
DF: Are you taking any active role in the film?
Kyle Starks: Nope.
DF: Looking back on the 2015 graphic novel, on your personal wish list is there anything you would like to change about the story for the big screen?
Kyle Starks: Not at all, I made a great original graphic novel -- I wasn't writing a screenplay for adaptation to film. Hollywood came to me for my book, I'm not making books for them. I'm certain they will make changes -- based on what I've seen, they already have and their reasoning makes sense for the difference between how one consumes film versus comics. But my intentions aren't to make properties for film, my intentions are to make great comic books.
DF: If memory serves, you took Kill Them All the Kickstarter route and then it got picked up by Oni Press. You have a new Kickstarter now. Tell us about it.
Kyle Starks: My current Kickstarter, Old Head, is about the world's toughest former pro basketball player going home with his daughter to bury his mother only to find that next door is Dracula and his monstrous hitman. Like all of my books, it's full of action and laughs but also a lot of subtext about perceived destinies, failure, regret and the journey of being a parent and a child. And also, you know, again punches and jokeses. It's real good. You will all like it a lot.
DF: Kyle, what else is on the Starks backburner that you can tell readers about?
Kyle Starks: I've got a handful of things but nothing I'm able to announce yet. I can promise fans of mine there will be more great Starks books to come!
Dynamic Forces would like to thank Kyle Starks for taking time out of his busy schedule to answer our questions. His Kickstarter for Old Head runs through Nov. 2nd. Check it out here: https://www.kickstarter.com/projects/505163091/old-head
For more news and up-to-date announcements, join us here at Dynamic Forces, www.dynamicforces.com/htmlfiles/, "LIKE" us on Facebook, www.facebook.com/dynamicforcesinc, and follow us on Twitter, www.twitter.com/dynamicforces.
MARS ATTACKS #1 BLANK AUTHENTIX EDITION
---
NEW! 1. 11/25/2020 - STEVE SKROCE
4. 11/16/2020 - RYAN O'SULLIVAN
5. 11/16/2020 - RYAN O'SULLIVAN