ED LAROCHE

SEND THIS TO A FRIEND!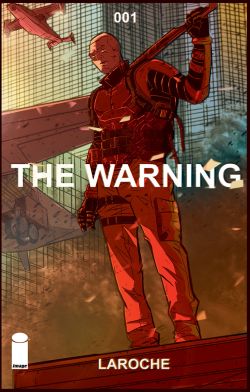 DF Interview: Ed Laroche returns military science fiction to comics with The Warning
By Byron Brewer
An enormous machine slowly materializes in a major West Coast city. Who sent it and why are mysteries, understood only by the malevolent beings gliding silently toward Earth through the inky vastness of space. In response, a multi-national combat brigade called Gladiator Two-Six is deployed. Outfitted with next-generation military science and weapons, they're tasked with stopping any extraterrestrial threat that emerges.
From artist/writer Ed Laroche comes The Warning. And to find out more about this coming Image Comics title, DF spoke to the one-man creative team: Ed Laroche.
Dynamic Forces: Ed, it's good to again see there will be a military science fiction series headed our way from Image Comics in the form of The Warning. What can you tell readers – especially those of us who love sagas like this ala Star Trek, Marvel's Nova, DC's Green Lantern, et al – about the genesis of this series?
Ed Laroche: The genesis of The Warning has two aspects to it. One, I like the genre and I felt that I could contribute a different take on it. I had a simple desire to make something that would allow the reader to get caught up in a story about a conflict that isn't mired in murky motivations and politics: a straightforward existential crisis where the only focus is survival. Two, The Warning is also part of an escalation of scale I'm exploring in my work. My first book, Almighty, is a white knuckle pursuit story set in a dystopian future, but at its core it is really a small scale story about will to power and intestinal fortitude. My second book, Waveform, is set a bit wider. It's a contemporary tale set in Los Angeles about an alternative lifestyle guru who has created a philosophy about male sexuality that is on the verge of sweeping the planet with ominous repercussions, and the small cell of radicals and a cultural futurist tasked with stopping him. After finishing those two books, I was ready to up the ante and tackle an ambitious project like The Warning.
DF: Tell us about the main storyline for The Warning.
Ed Laroche: The main story of The Warning is a straightforward invasion story. Aliens from beyond known space invade the planet, and a multi-national military responds; it's pretty standard stuff. Where The Warning strives to be a singular experience is in how the story unfolds. The visual language is informed by cinema, manga and anime, so it's not laid out like a traditional comic book. Instead, I present it simply like a series of storyboards linked together to tell the story. This allows me to attract people that may be interested in reading comics, but are put off with the typical comic book page layout.
DF: Can you introduce us to the joint multi-national combat brigade called Gladiator Two-Six and the essential characters therein?
Ed Laroche: Gladiator Two-Six is comprised of four specially enhanced soldiers and their individual support teams. Each of these enhanced soldiers pair up with Next Generation weapons and support craft. One is an infantryman paired to a prototype smart rifle, another is a pilot paired to the most advanced strike fighter on Earth. There's also a sniper, and a heavy weapons unit. Each soldier also represents different tactical functions in the military, and specific to this one mission.
DF: What other characters will be important to The Warning outside the Two-Six?
Ed Laroche: The supporting cast is filled out by various scientist and military commanders tasked with the successful implementation of Operation: All Weather, the mission designed to neutralize the alien threat. Some of these characters will survive and become important players in subsequent volumes.
DF: I am intrigued by something you said about the series, about it being "the first act of [an] opera"? Can you explain further?
Ed Laroche: With this story, I created it to be an epic experience. It's like the difference between listening to a pop song, versus a song from an opera. Pop songs are great and get the job done, but an opera has more depth and grandeur.
DF: I don't want to create spoilers here, but is there any hint you can give readers about "the malevolent beings gliding silently through the inky vastness of space toward Earth" please? [Image solicit copy]
Ed Laroche: I can say that they are probably what you expect, but at the same time, they are unlike anything previously encountered. I can also reveal that they look like people from afar, but upon closer inspection, you would know you were in the presence of an apex predator, a creature capable of sadistic casual violence without the slightest hint of human empathy.
DF: So … advantage or disadvantage of being writer AND artist?
Ed Laroche: Being a writer/artist in comics is creatively fulfilling in a way that being just an artist is not. So, it's all advantage.
DF: Ed, any other projects, inside or outside comics, you can tell readers about?
Ed Laroche: There's the next volume of The Warning that's already been fleshed out and I'm also in the process of remastering and coloring my first two books, in the hopes that people who like The Warning might be interested in my other work, which they probably haven't had a chance to read yet.
Dynamic Forces would like to thank Ed Laroche for taking time out of his busy schedule to answer our questions. The Warning #1 from Image Comics hits stores Nov. 28th!
For more news and up-to-date announcements, join us here at Dynamic Forces, www.dynamicforces.com/htmlfiles/, "LIKE" us on Facebook, www.facebook.com/dynamicforcesinc, and follow us on Twitter, www.twitter.com/dynamicforces.
---
NEW! 1. 11/25/2020 - STEVE SKROCE
4. 11/16/2020 - RYAN O'SULLIVAN
5. 11/16/2020 - RYAN O'SULLIVAN