LOWELL DEAN

SEND THIS TO A FRIEND!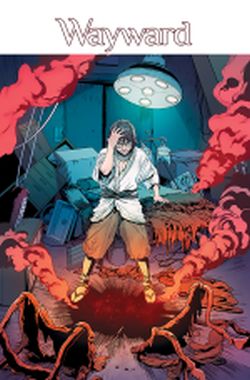 DF interview: Here comes the fuzz! Director Lowell Dean returns with new WolfCop sequel film
By Byron Brewer
In 2014, film writer/director Lowell Dean released his indie horror comedy, WolfCop. Starring Jesse Moss, Amy Matysio, Jonathan Cherry, Sarah Lind, Aidan Devine, Corinne Conley and Leo Fafard, the plot revolved around an alcoholic small town cop who transforms into a werewolf after being cursed. However, he still possesses his human intelligence and continues his work as a police officer …in wolf form! And with a renewed passion!
Dynamite Entertainment is releasing a comic book by writer Max Marks with art from Arcana Studios based on the WolfCop film universe created by Dean, and a sequel to the film is nearly completed.
Since the comic book debuts this week, DF thought we'd talk to the film writer/director himself, Lowell Dean.
Dynamic Forces: Lowell, as I recall, the mind-bending news from the Film World two years ago was that, even before WolfCop had hit theatres, a sequel had already gotten the greenlight from CineCoup. So exactly what stage is that sequel, titled Another WolfCop, in now, as we speak?
Lowell Dean: We don't have an official release date yet, but Another WolfCop recently premiered at Fantastic Fest in Austin and got some pretty great reviews. We are doing the last bit of post-production now and the film should be in theatres and VOD in early 2017.
DF: For those who have been in hibernation, give us a capsule summary of your first WolfCop film.
Lowell Dean: WolfCop is the story of a bad cop who, after a strange string of events, transforms into a booze-fueled werewolf. In a nutshell, WolfCop is a ridiculous horror comedy inspired by my love of '80s films, superhero films and monster films.
DF: You were director and writer on the first movie. Are you shouldering those responsibilities again on the sequel, and, if so, is that a blessing or a (no lycanthropy pun intended) curse?
Lowell Dean: Definitely a blessing. WolfCop is my "baby", so I was very happy to return for Another WolfCop as the writer and director. On the first movie, there was very little expectation. No one knew what WolfCop was! On the sequel, I feel far more pressure to make it bigger and better while still dealing with the restraints of an indie film budget. So Another WolfCop was definitely a big challenge ... in every sense.
DF: What more can you tell us about Another WolfCop?
Lowell Dean: Another WolfCop picks up a couple of months after the events of the first movie. It's a direct continuation of the story: Officer Lou is dealing with his newfound lycan powers, Officer Tina is now the Chief, and a shady new character is descending on the town with designs of taking them down. That's all I can say. Anything more would be a spoiler!
DF: I always marvel at how writers can combine comedy with horror, and WolfCop did so excellently. What are the joys/challenges in doing this in film, and will Another WolfCop follow the same recipe of horror/comedy?
Lowell Dean: Thank you! Blending the genres was the greatest challenge and greatest reward on the first WolfCop. It was a wonderful tightrope to walk, but the films I love the most often blended genres. Real life isn't one genre, it's messy and confusing and sometimes funny and sometimes really dark. So I love the opportunity to mix tones. Plus, since we were making a movie with an absurd title like "WolfCop" I knew we couldn't just make it dark and serious, it HAD to have humor in there too.
DF: Lowell, tell us about Lou Garou as a character. What part of the lawman is you?
Lowell Dean: Heavy question! Lou Garou is a screw-up, someone who isn't living up to his ambition or full potential. For me, I'd say -- if we wanted to go real deep with it -- Lou Garou would be a fear of failure or conforming to societal norms, living in the status quo. WolfCop is a "full animal release" of potential, going full force for your passions. Following your gut! That's the deepest I've ever gone into analyzing the character ...
DF: Well done, I'd say. Do we have any interesting new characters (and their actors) you can tell us about for the sequel?
Lowell Dean: There are several new characters in Another WolfCop, but I don't want to spoil too much just yet. Since it has already been revealed, I will say Yannick Bisson plays a big role in Another WolfCop. He's a wonderful actor and he plays a deliciously slimy character named Sydney Swallows. More will be revealed soon!
DF: Finally … what do you think of the WolfCop comic book being done by writer Max Marks with art from Arcana Studios for Dynamite?
Lowell Dean: I'm crazy excited for the upcoming WolfCop comic series. Max Marks works at CineCoup, the company that produces the WolfCop films, so he was well-versed in the character and the lore. What I love about the first three issues is that Max has found a way to remain faithful to the films while still doing something new. Specifically, things that would be a challenge on an indie film budget – like more giant monsters and explosions! I dream of scenes like WolfCop taking on several monsters at once and traveling the world – grand scale moments that are harder to pull off in an indie film, but certainly moments that belong in the growing "WolfCop universe". I hope people dig the series ... so we can make it ongoing!
Dynamic Forces would like to thank Lowell Dean for taking time out of his extremely busy schedule to answer our questions. WolfCop #1 from Dynamite hits stores Oct. 26th! Keep your eye on DF News for more on Lowell Dean's new film, Another WolfCop!
For more news and up-to-date announcements, join us here at Dynamic Forces, www.dynamicforces.com/htmlfiles/, "LIKE" us on Facebook, www.facebook.com/dynamicforcesinc, and follow us on Twitter, www.twitter.com/dynamicforces
---
NEW! 1. 11/25/2020 - STEVE SKROCE
4. 11/16/2020 - RYAN O'SULLIVAN
5. 11/16/2020 - RYAN O'SULLIVAN