SEAN LEWIS

SEND THIS TO A FRIEND!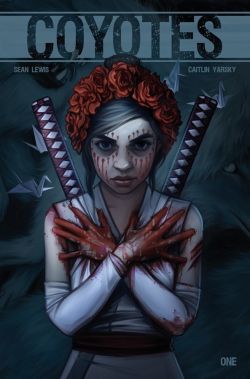 DF Interview: Sean Lewis transforms the everyday into a myth we can rally behind in Coyotes
By Byron Brewer
Hunted by a legion of wolves that roam the border, women are disappearing. The survivors band together to wage war. Detective Frank Coffey is trying to understand this mythic-level bloodbath when he comes across Red, a little girl with a secret and a sword.
Underworld meets Sicario in Coyotes, a new miniseries from Sean Lewis (Saints, The Few) and new artist Caitlin Yarsky. DF obviously wanted to know more (you know us!), so we sat down with writer Sean Lewis.
Dynamic Forces: Sean, if you have never had a person in your life go missing, such is sometimes hard for folks to imagine. I just had a friend go missing in August; luckily, he was found. Tell us how missing people – particularly women – became an impetus for Coyotes.
Sean Lewis: My wife is from Canada. She would always tell me about the Trail of Tears, where Inuit women in her country go missing. It got me thinking about how REGULAR the disappearance of women is… trafficking, murders, abductions. We all know this happens to such a degree that it's not really discussed anymore. When I was in school, there was a serial killer in my town. He was named Nathaniel White and he killed a girl I would have gone to high school with. It's still very surreal, the idea of that. To this day, if a woman in my family is late for something I immediately worry that something has happened to them, that something has been done to them.
It's nuts. And scary. And typical. So I wanted to take the powerlessness I felt about that and turn it into rage and then turn that rage into myth. That is where Coyotes comes from.
DF: Cool! So what can you tell us of the initial storyline?
Sean Lewis: It is Kill Bill meets The Howling. It is a revenge thriller where a group of women in a city known as the City of Lost Girls have banded together to fight a war against the monsters hunting them: local men who, when they don the pelts made from an ancient wolf, become werewolves themselves. Here in the desert heat, a war is fought.
DF: Describe Detective Frank Coffey to us as a character.
Sean Lewis: Coffey is new to the City of Lost Girls. He is a by-the-book cop, a noir type of fellow. Hard-nosed. Curt. Unsympathetic. In most books, he'd be the toughest guy on the block. In this book, he can't even comprehend what is going on. He is a classic male trope upended: the hard-boiled detective who has become powerless. He meets Red, the young woman at the start of our story, and he wants to help her. He really wants to save her. Which shows how naïve he is; he's the one being saved. He is pretty funny, though.
DF: And Red. What can you tell us about her? Can you give readers any hints at all (non-spoilery, of course) about her "secret." And she carries a sword? Her real name isn't Sonja, by chance? (laughs)
Sean Lewis: No, no Sonja. I love Lone Wolf and Cub. I love The Professional with Jean Reno. I love Kurosawa and samurais and Kill Bill and all that sh*t. Red comes from that tradition. She is a normal girl who is thrown into an unfair situation, a situation where the women around her are dying or disappearing. Specifically, her sister and mother.
What can you do in that situation? What do you do with the fear and the rage? When she meets a group of women who have also survived these werewolves (or in our book "Coyotes"), she leaps at the chance of fighting back. She trains by watching old samurai films while listening to mix-tapes of bad ass women: Aretha, Dolly, Missy Elliott…
She's going to come to be something these wolves fear.
DF: What other characters are in the "band of survivors"? Sounds like some bad-ass women!
Sean Lewis: The women live in the Queen Victoria station. They dress like punk rockers but with touches of Victorian clothing laced through their outfits. Hence, they've been dubbed the Victorias. They are led by the Duchess.
The Duchess is bad ass. The Duchess has no moral quandaries. The Duchess is out for wolves' hides and the Duchess will not be denied. If Brad Pitt's character in Inglorious Bastards was a woman looking to decapitate werewolves, that character would be the Duchess.
DF: I am part of a group in my hometown combating human trafficking. I know we touched a little bit on it before, but tell me more about the subtext here of disappearing women.
Sean Lewis: That's great work you do.
I think… some things seem so much bigger than us that we don't know how to combat them, let alone talk about them. Literally every corner of the planet has a place where women disappear. Trafficking in Eastern Europe, school girls kidnapped in Uganda, Native women on a patch of highway in British Columbia. It's so huge, how do you even confront it?
I grew up obsessed with myths because I needed them. I needed them to take the largeness of life and turn them into a story that I could wrap my mind around, that I could identify with. I started down the path of this book and I wanted a champion. Not victims but warriors.
There's a woman who makes dolls with the faces of girls who go missing in Juarez, Mexico. A remembrance. I think those things are important. I think myths save us.
Maybe they can save others.
DF: That is a really, really great concept for comics or any medium these days, I think. Cool. ... Talk about partnering up on this series with artist Caitlin Yarsky. What does she bring to the Coyotes table?
Sean Lewis: Caitlin is incredible. Caitlin is going to be a star. Like a big star. This is her first comic and people will see -- her abilities are next level. And she's been an amazing partner. It's the great thing with creator-owned work, they are real partnerships. We go over the story together. We go over the arc. We go over paneling and dialogue. We give each other notes. And most importantly, she brings a perspective I don't have. How she views men, how she sees the world, how she feels vulnerable or not as a woman are huge to the influence of the story.
Her passion for it comes through in the art. It's incredible.
DF: Sean, what other projects current or near-future might you be able to tell readers about?
Sean Lewis: I have a book I am about to do with Aftershock Comics that will come out in March, I believe. It's kind of a sci-fi/fantasy book with YA overtones. And then me and Hayden Sherman, who I did The Few with… we got a new sci-fi miniseries that is pretty insane. I just saw the art the other day for issue #1. I'm just gonna say, if you liked The Few, Hayden is tossing the gauntlet.
Dynamic Forces would like to thank Sean Lewis for taking time out of his busy schedule to answer our questions. Coyotes #1 from Image Comics hits stores Nov. 8th!
For more news and up-to-date announcements, join us here at Dynamic Forces, www.dynamicforces.com/htmlfiles/, "LIKE" us on Facebook, www.facebook.com/dynamicforcesinc, and follow us on Twitter, www.twitter.com/dynamicforces.
---
NEW! 1. 11/25/2020 - STEVE SKROCE
4. 11/16/2020 - RYAN O'SULLIVAN
5. 11/16/2020 - RYAN O'SULLIVAN