CW COOKE

SEND THIS TO A FRIEND!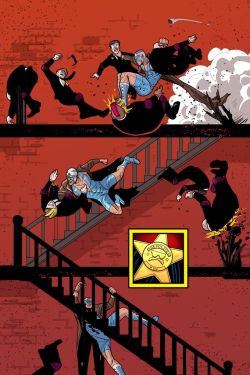 DF Interview: CW Cooke wants to bring to readers a horror wrestling extravaganza in L.U.C.H.A., now on Kickstarter
By Byron Brewer
L.U.C.H.A. is the story of Agente, a luchador detective who spends his life solving low level crimes and murders, taking on any job that falls in his lap. He just so happens to get wrapped up in a murder campaign that involves vampires, wrestlers and other notorious figures before the rug gets pulled out from under him … and the readers!
Co-created with artist Travis Hymel and with colors by Jeremy Kahn and letters and logo by Micah Myers, writer/co-creator CW Cooke is working hard to bring this new idea, L.U.C.H.A., to life on Kickstarter.
DF spoke with the scribe about the book and its potential future. Learn more with us now about L.U.C.H.A.
Dynamic Forces: CW, before we get into the book proper and for non-wrestling readers (unlike myself, going all the way back to Nature Boy Ric Flair's first NWA belt wins and challenges – Woooooo!), explain what a luchador is and the very cultural importance of their masks.
CW Cooke: A luchador is usually a wrestler in lucha libre and is usually masked, wearing a mask that rarely comes off. They're not always masked, though. Culturally, the masks probably date back to or are the product of Mexico's Aztec heritage, reflecting the colors of animals and gods and things like that. It's not always the case, but a lot of the times, the masks symbolize the character that the wrestler/luchador would become.
DF: Captain Obvious Q: Are you a wrestling fan in general and a lucha libre fan in particular? If so, favorite pro wrestlers and favorite luchadors, and why?
CW: Fan of both. Growing up, I was kind of a fan of the big name wrestlers like Macho Man and Flair and Ultimate Warrior and folks like that. I loved the El Santo movies which is why I got into luchadors and then obviously folks like Rey Mysterio and others like him I became a huge fan of. Wrestling was a big part of growing up with my older brother who was a big fan, so we played all the video games and saw all the Hulk Hogan movies and stuff like that. It wasn't until I got older that I started to see the fun in wrestling again and how it was like a soap opera, just like my favorite comics growing up. And El Santo films are just amazing. If you've never seen them, you've got to check them out.
DF: So besides the obvious, tell readers the concept behind L.U.C.H.A. How did this book come into being?
CW: L.U.C.H.A. began as a short story called "Agente Luchador," for the anthology Kayfabe, put together on a yearly basis by Micah Myers and a group of wrestling fan comic creators. Travis Hymel and I got matched pretty quickly on it and discussed what we liked in wrestling and in comics and came up with the story of Agente, with him as a luchador detective in a noir world fighting vampires. It was a fun, fast short story that we worked out together and then from there, and from the audience reaction to the story, we decided to attempt to pitch it. We didn't want to rest on the laurels of the first story and just continue forward with the same concept and idea, so we took it and flipped it and went insane with the way the story grew. The concept started out very simply as a luchador detective fighting vampires, and we added a crazy twist that people are going to go nuts for. If it hadn't been for the original concept and the audience reaction from
creators and fans alike, we might have just stopped there and tried something else. But this all grew from a very simple idea and became something immense and wonderful.
DF: Who is Agente?
CW: Agente is the hero of our story. He's a luchador detective living in a horrific world filled with all kinds of monsters. He's been around quite awhile and has built a reputation as someone who can get things done and get answers in any situation thrown his way. He's strong, fast, agile and adept at just about everything. He's the prototypical hero type, the superhero in a strange world, except his story is NOT at all what it seems.
DF: Give me an extended pitch for L.U.C.H.A.
CW: L.U.C.H.A. is the story of Agente, first and foremost. It is an acronym which the story will tell you about quite quickly, but I don't want to spoil that here. Agente is a luchador detective, as I mentioned, and the story starts with him being framed for murder by one of his lifelong villains, Orloff the Vampire. Orloff has found a way to infiltrate the local police in the city and has brought these police and vampires down on Agente's head, trying to ruin his good name. Agente takes the fight directly to Orloff and his henchmen, but is immediately kicked in the gut when the story takes a very different tack and the twist hits the reader and Agente and everyone. The story changes pace quickly and we learn what this world really is and who Agente really is.
DF: Talk about how you and artist/L.U.C.H.A. co-creator Travis Hymel came together, about your collaboration and about his epic art.
CW: Travis is a blessing and just an incredible artist that I am lucky to be working with. He and I came together through the Kayfabe anthology and just kind of clicked on a short story together which allowed us to grow this thing and start pitching it out to others to get their thoughts on it. When that happened, our world kind of exploded outward, to say the least. We work really well on this, like a Kirkman/Ottley on Invincible or Claremont/Byrne on Uncanny (before their breakup), working as one mind in two bodies that have crazy ideas trying to one up the other and we've found a way to work that into the series. We are co-creators and this is his baby as much as it's mine, and I'm lucky to have him on this and have him devoted to telling the tale of Agente. It's incredible and his work just gets better with every page.
DF: L.U.C.H.A. is currently on Kickstarter, correct? How far have you come to the book seeing reality [as of this writing] and where might would-be supporters/readers go to find out more and how they might jump on the L.U.C.H.A. bandwagon? What is the deadline?
CW: The deadline for the book is November 12th, but people can pledge often and share every day as it builds higher and higher. We are fully funded now and made the funding within five days, which is incredible. But now we have to keep building it up higher and higher so people can get more amazing rewards and add-ons to the Kickstarter. To find out more about the Kickstarter project and to share it and pledge, here's the link below. Watch that video as it's kind of a sizzle reel/movie trailer made by a wonderful friend that shows you how amazing this book is and then go check out the rewards and art for this thing. I love this book and I want everyone to experience it.
https://www.kickstarter.com/projects/1016350946/lucha-a-wrestling-sci-fi-thriller
DF: CW, any other projects in which you are involved that you can tell our readers about?
CW: It's been unbelievable all the fun and exciting things that have happened to me this year and just this month. L.U.C.H.A. getting fully funded in five days, Solitary got picked up for a development deal for movies/television, we might be announcing a Solitary Vol 2 finally, and I've gotten two comics picked up since the announcement of the movie deal alone. I've got a few other things in the works, a few anthologies that I'm writing for or putting together, a new project or seven that I'm pitching or have had picked up that I can't talk about yet as well (as they're not officially announced), and just so much more. This has been a crazy ride so far and I don't want it to ever end. I can't wait until I can share more news with you all about the Solitary movie/TV stuff we're working on and I can't wait to talk more about the future of L.U.C.H.A. and everything else I've got going on. Comics is a passion of mine, it's been my dream for as long as I can remember, and I'm never going to give up or stop making them. I've been blessed with wonderful collaborators and fans and friends, and I'm going to keep doing right by all of them.
Dynamic Forces would like to thank CW Cooke for taking time out of his busy schedule to answer our questions. Keep your eyes on DF NEWS for updates on L.U.C.H.A.!
For more news and up-to-date announcements, join us here at Dynamic Forces, www.dynamicforces.com/htmlfiles/, "LIKE" us on Facebook, www.facebook.com/dynamicforcesinc, and follow us on Twitter, www.twitter.com/dynamicforces.
---
NEW! 1. 11/25/2020 - STEVE SKROCE
4. 11/16/2020 - RYAN O'SULLIVAN
5. 11/16/2020 - RYAN O'SULLIVAN