RAY FAWKES

SEND THIS TO A FRIEND!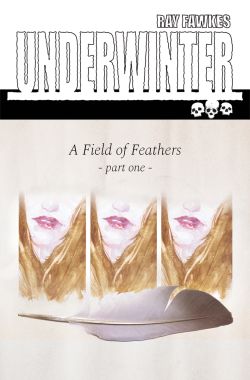 DF Interview: Ray Fawkes tickles the horror habitué in us with Underwinter: A Field of Feathers
By Byron Brewer
A family is torn apart by a terrible curse. This horrifying new volume in the world of the critically-acclaimed Underwinter features lush, fully-painted artwork by illustrator/writer Ray Fawkes, named by Paste Magazine as one of the "ten best comic artists of 2017."
To get the full 411 on this seductive sequel series, DF went to the members of the creative team entire: Ray Fawkes.
Dynamic Forces: Ray, how did you conceive of this continuation of your well-received horror series, Underwinter? Was this something that was planned at that comic's first launch, or did this develop as you did the original series?
Ray Fawkes: A Field of Feathers was always an intended second story for Underwinter, just as there is a planned third story already in the works! There's a lot to explore in the world I'm putting together in this title, and each story will add a piece to the puzzle.
DF: I understand you are going to be a one-man-band again on this unique Image comic. Do you prefer this to collaboration with either a writer or artist, and how do you handle your approach to a book differently when it's all up to you?
Ray Fawkes: I love to collaborate and I love working alone -- they're each different beasts, really, and I tend to make my working choice based on the projects. Underwinter, in particular, is a very idiosyncratic piece, so I've wanted to illustrate it as well as write it from the first moment I came up with the idea.
In general, I'm a lot more free-form when I work alone. Since I don't need to communicate the ideas to a collaborator, I'm free to be as vague or as direct as I want to in the scripts. I do a lot more reworking of ideas as the pages unfold when I'm working by myself.
DF: Did I hear correctly that Underwinter: A Field of Feathers again features pages that are all hand-painted by you? Tell us about that process. I know you've always loved using diverse media in your art.
Ray Fawkes: Yes, Underwinter: A Field of Feathers is all painted, just as Underwinter: Symphony was. I do have a love of diverse media, and take a kind of kitchen-sink approach -- there's watercolor, gouache, ink, pencils, acrylics… really, whatever I've got within reach and whatever I think will give me the expressive emotion I want on the page. I generally pencil everything with a watercolor pencil (some of which remains visible in the final artwork) and paint over top of the pencils.
DF: And by the way, congratulations on being named by Paste Magazine as one of the "ten best comic artists of 2017." Well deserved, sir! How does that honor hit you?
Ray Fawkes: Thank you! I was thrilled and a bit surprised by it. I know that my work is very unusual in the comic book field, and I'm always over the moon to hear that people appreciate it.
DF: So what can you tell us about this new tale, A Field of Feathers? What can you tell us about the protagonist family and its horrific curse?
Ray Fawkes: A Field of Feathers is about a desperate act of magic that goes horribly wrong. Its perpetrator is a father who has decided to steal his children away from their mother, who is… not always human. Whether his attempt is right or wrong is something I'll leave up to the readers' interpretation…
DF: We've discussed this before, but there is a fine line between the brilliant and the perverse, between the classic and the cruel. This book will be addressing the dark, twisted side of our world, like its predecessor I assume, while presenting said horror in your gorgeous paints. How does a writer/artist handle such a juxtaposition that keeps the book taught, the audience keenly interested (as you obviously did in Symphony)?
Ray Fawkes: Thank you! I'm fascinated (to a point of near obsession) with the bittersweet quality of life -- the fact that the wondrous and the horrifying seem to exist hand-in-hand, and that I'm never aware of one for long without seeing and feeling the other. I try to express that in books like Underwinter: in its painful beauty and awestruck monsters.
DF: Ray, this series is clearly a labor of love for you. What other projects current or near-future can you tell readers about?
Ray Fawkes: I'm currently writing Ragman for DC comics, which is another dark piece, but of course attacked from a superhero angle. And there will be other announcements soon!
Dynamic Forces would like to thank Ray Fawkes for taking time out of his busy schedule to answer our questions. Underwinter: A Field of Feathers #1 from Image Comics hits stores Oct. 25th!
For more news and up-to-date announcements, join us here at Dynamic Forces, www.dynamicforces.com/htmlfiles/, "LIKE" us on Facebook, www.facebook.com/dynamicforcesinc, and follow us on Twitter, www.twitter.com/dynamicforces.
PATHFINDER: GOBLINS! #3 (OF 5) EXCLUSIVE SUBSCRIPTION VARIANT COVER
---
NEW! 1. 11/25/2020 - STEVE SKROCE
4. 11/16/2020 - RYAN O'SULLIVAN
5. 11/16/2020 - RYAN O'SULLIVAN