RON MARZ & DAVID RODRIGUEZ

SEND THIS TO A FRIEND!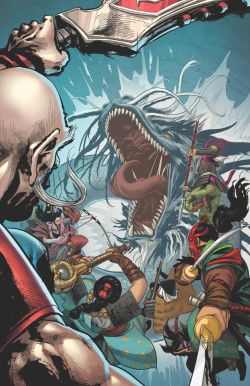 DF Interview: Ron Marz & David Rodriguez unleash legendary warriors, monsters of feudal Japan in 'Rising Sun'
By Byron Brewer
Chiyoko of the Koi Clan leads a group of powerful warriors, the best each clan has to offer, on a mission to save Japan from dragons and monsters. But perhaps the greatest threat she faces is not the many monsters who are ravaging the country, but her own team.
From IDW Publishing comes Rising Sun, co-written by Ron Marz and David Rodriguez (the creative team behind IDW's Skylanders) and illustrated by Martín Cóccolo (Star Trek: Year Five). DF was anxious to discuss this new mini-series, so we sat down with the scribes.
Dynamic Forces: Ron and David, tell readers a little about how the great board game Rising Sun published by CMON Limited has become this new comic book from IDW, and how each of you became a part of it.
Ron Marz: I remember when I first saw the Rising Sun game on Kickstarter, I thought it looked brilliant, right up my alley. Even then, comics set in that world seemed like a natural, so I'm thrilled that we're getting to tell these stories. I've apparently bamboozled David Hedgecock at IDW into thinking I have some small ability at world building, so he reached out to me to see if I'd be interested in the project. Bringing in my pal David seemed like the obvious next step, since Dave and I co-wrote the Skylanders line for IDW, and Dave has a wealth of experience in games.
David Rodriguez: I've been lucky enough to have worked with Ron, IDW and Eric Lang on several great projects. When David Hedgecock told me they were working on a Rising Sun comic series, it seemed like all those universes had decided to collide in one awesome opportunity and I could immediately see all the possible directions we could go in with stories. I've also spent a large amount of my career translating properties into games and games into comics. So it didn't take much convincing for David to add me to the team. (Though donuts were involved.)
DF: How do you even begin as writers to go about translating another property's epic setting, feudal combat and political intrigue into a comic?
RM: The world the game established, and the visual design of everything, is great. So I think we felt like our task was to create compelling characters to populate that world, and tell a story that explored the world.
DR: It's true. Eric Lang puts a lot of thought and consideration into the world and setting of his games and, fortunately for us, Rising Sun is no exception. So we looked at all the Clans, their histories, how they approached the world and then started shaping characters that reflected those ideas. We wanted players to be able to see the game world reflected in each one.
DF: Please introduce us to Chiyoko of the Koi Clan.
RM: We wanted to make sure we had a point of view character, so readers have a way "into" the story.
DR: The world is not small, we have quite a few Clans running around, a representative from each Clan and all kinds of madness being thrown at the reader. Like Ron said, we needed someone to guide the player into the story and help them navigate through in a way that feels natural. Chiyoko has never really worked with all of the other warriors, and so we are introduced to them through her.
DF: Who are some of the other Clan representatives in Chiyoko's group of warriors AND their Clans? What is the purpose behind this alliance?
RM: Chiyoko is from the Koi Clan. Yumiko is from the Fox Clan. Katsuo is from the Lotus Clan. Takara is from the Bonsai Clan. Hotaru is from the Dragonfly Clan. And Jun is from the Turtle Clan. The clans are natural rivals, and not prone to trusting each other, but they have to form these alliances if they're going to save their land.
DR: Traditionally, the Clans have their own goals and agendas but they ally when necessary. The danger in this story is so great that it causes the clans to set aside any specific issues they have with each other to bring them all together. Chiyoko is from the Koi clan, the most honorable one, so it made sense to us that she would have been selected as leader for this mission.
DF: What can you tell us about the storyline of Rising Sun?
RM: The Kami, or spirits, have reshaped the world of Rising Sun. But now they have gone silent, throwing the world into chaos. So our clan warriors have to band together to uncover what's happened, and set things right. But they have to deal with the complication that none of them trust each other.
DR: If you've played Rising Sun, you know how important the Kami can be. They grant the players different powers/boons based on which Clan has the most force at the shrine. But now the Kami have stopped responding. And that has rightfully started to freak people out enough that the Clans want an answer.
DF: Just curious: Will game designer Eric Lang have any role with this series?
DR: Of course! I've known Eric for years and he was co-designer on the game Arcane Academy based on one of my books. He has been involved in the Rising Sun comic from the start and he was gracious enough to take time out of his super busy schedule to give us a full download and Rising Sun narrative boot camp.
DF: Monsters and dragons, monsters and dragons!! Tell us, tell us!
RM: This is obviously a visually spectacular game, and we wanted to make sure that comes through in the comics. So, yes, every issue is going to have cool stuff like monsters and dragons.
DF: Talk about the stunning art of Martin Coccolo.
RM: We looked at a number of different artists for the series, but when we saw Martin's work, we all agreed he was the guy to capture the look. His storytelling and his ability to lavish believable detail are tremendous.
DR: Not only is Martin a top-notch fantasy artist, he is able to capture great emotional range in his characters, which was a huge win for this large cast. Recapturing the spirit of the gorgeous artwork from the board game is no small feat, and I think Martin totally nails it.
DF: David and Ron, what other projects are you working on which you can tell readers about?
RM: I'm just finishing up my Turok run for Dynamite, and digging into a few writing projects that haven't been announced yet, including a couple of original graphic novels. I'm also, of course, still editor-in-chief at Ominous Press/Creation.Ink, so I'm writing and editing a number of books there. No rest for the wicked.
DR: The Destiny 2 hardcover comic collection was recently released, and I worked on the Ana Bray issues in that. They did a beautiful job on the book and I'm really excited that it's available now. I've also just released a new card game called "Charmed and Dangerous: the Sisters Grimm" with Th3rd World Studios, featuring classic fairy-tale princesses re-imagined as RPG heroes. But most importantly, I have a great job as Narrative Director at Vicarious Visions where I'm currently working on some exciting things that I can't talk about yet. But when I get to, I'm going to yell about it from some tall buildings.
Dynamic Forces would like to thank Ron Marz & David Rodriguez for taking time out of their busy schedules to answer our questions. Rising Sun #1 from IDW Publishing hits stores Nov. 27th!
For more news and up-to-date announcements, join us here at Dynamic Forces, www.dynamicforces.com/htmlfiles/, "LIKE" us on Facebook, www.facebook.com/dynamicforcesinc, and follow us on Twitter, www.twitter.com/dynamicforces.
MAGDALENA #1 DF EXCLUSIVE COVER! - SIGNED EDITION BY RON MARZ
TUROK: VALLEY OF THE LOST TRADE PAPERBACK
PATHFINDER: GOBLINS! TRADE PAPERBACK
JOHN CARTER: WARLORD OF MARS #1 RARE J. SCOTT CAMPBELL "MARS RED" EDITION
THE SHADOW OVER INNSMOUTH (ONE-SHOT)
JOHN CARTER: WARLORD OF MARS VOL. 2: MAN-MADE MONSTER TRADE PAPERBACK
JOHN CARTER: WARLORD OF MARS VOL. 1: INVADERS OF MARS TRADE PAPERBACK
RED SONJA VOLUME SIX HARDCOVER
---
NEW! 1. 11/25/2020 - STEVE SKROCE
4. 11/16/2020 - RYAN O'SULLIVAN
5. 11/16/2020 - RYAN O'SULLIVAN