MATTHEW ROSENBERG

SEND THIS TO A FRIEND!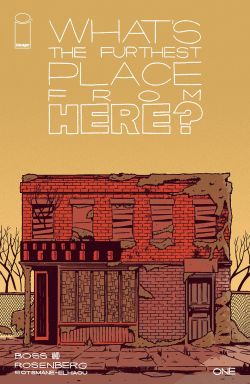 DF Interview: Matthew Rosenberg relates how vinyl records can save you during decimation in 'What's the Furthest Place from Here?'
By Byron Brewer
The world has ended. All that remains are gangs of children living among the ruins. But Sid believes there must be something more out there. When she disappears into the wastelands, her gang will risk everything to bring her home. A story about the things that matter most: your survival, your loved ones, and your record collection.
A post-apocalyptic coming-of-age story from 4 Kids Walk into a Bank's Tyler Boss &
Matthew Rosenberg. To get to the heart of this epic tale, I sat down with scribe Matthew Rosenberg.
Byron Brewer: Matt, after the success of 4 Kids Walk Into a Bank, how does it feel to be reunited with artist Tyler Boss on this new cover-busting comic, What's the Furthest Place from Here?
Matthew Rosenberg: I'm so excited to work with Tyler again. He is one of my closest friends and also one of my favorite artists, and most of the time he doesn't make fun of all the weird stuff I do. And honestly, in between 4 Kids and Furthest Place he wrote and drew the brilliant Dead Dog's Bite for Dark Horse and really leveled up in every way. So now we're back working on this and he's gotten so much better that it's obnoxious.
Byron: Is this something Tyler and you have had in the works? Tell us how this coming Image Comic came about.
Matthew Rosenberg: We actually knew we were going to do this book since before we finished 4 Kids. We started working on an early version of it while we were still working on that. Life stuff and other work got in the way, but this was always being tinkered with. And when Tyler finished Dead Dog's and I cut back on my Marvel work, we could finally focus on this. And of course then we really wanted to take our time to make something special. So what feels like a reunion to everyone else is still us continuing what we've been doing for years. But it's a nice feeling to get to share it with other people now and not just annoy each other about it.
Byron: I am not sure most of our readers know you are a musician as well as a comics writer, one that has put out records and toured the world. (Matt even co-wrote an album with Ghostface Killah from the Wu-Tang Clan!) Talk a little about the importance of music in your life and its importance in this new comic.
Matthew Rosenberg: I would never call myself a musician really. I am always around music and used to work in the music business, though. And I did co-write that album, yeah. Music has always been a crucial part of my life, just like comics. And to me they are two sides of the same coin really. They compliment each other so well and they are so important in a person helping formulate their taste and their identity early on. So when we started making a comic about kids trying to figure out who they are and protect the things they love at the end of the world, it made sense to me that it would be about music.
But the music connection actually goes beyond just the story. When the pandemic hit and shops closed we held the book back to really make sure we were putting something really special into shops when they reopened. So we reworked the issues to make them extra long (but keep the price the same) and then we made our deluxe versions. Each deluxe version of the book has an exclusive cover by Tyler and a 7" record featuring two songs by some of our favorite bands and musicians. It's a really fun thing for us because we reached out to a lot of bands we listened to while making the book, so they're an influence, but also their songs serve as a sort of soundtrack to each issue. So it's both a behind the scenes bonus thing, but also augments the experience in a really fun way.
The first 7" has a song from the amazing band Joyce Manor and a song from legendary Jawbreaker/Jets To Brazil frontman Blake Schwarzenbach. Each song was recorded specifically for this release and it's only available in comic shops.
Byron: What can you tell us about the world you and Tyler created here… the stage this story plays out on?
Matthew Rosenberg: Our story takes place after the world ends. There are pieces left behind though – buildings, food, and for some reason, children. So what's left is theirs to explore and use, and try to rebuild as they want. From that the kids have formed sort of gangs that each live in old abandoned buildings and sort of embrace the memories of that building. So the kids that live in the police station try to make and enforce rules. The kids that live in the bank collect and trade items. But our story really follows the kids who live in an old record store and they feel the need to protect the records with their lives. It's got elements of Mad Max, bits of The Warriors, Lord of the Flies, and a ton of other things like that, but we've sort of blended it all together to be very much its own thing.
Byron: Introduce us to Sid. Also, can you spotlight some of the key members of her gang?
Matthew Rosenberg: Our gang of record store dwellers are led by Alabama, the oldest and the smartest. But she also knows the most about the world around them and what is going on. Her second in command is Prufrock. He is a little less patient and a little less sure about things than her, but he is someone they all rely on. But the heart of the group is Sid. She's young and idealistic, she believes a better world is possible even if she can't imagine what it is. But she's sick and nobody knows why. So while the rest of the group always lets Sid have her dreams about a future, they all know there isn't one.
Byron: What is the overall storyline about in What's the Furthest Place from Here?
Matthew Rosenberg: When Sid disappears into the wastelands, the group must choose whether they risk everything to go after her or do nothing and lose the heart of their group forever. What follows is a little bit of a sci-fi, post-apocalyptic mystery, a bit of a fantasy adventure, with some elements of horror and comedy thrown in because we like that stuff too.
Byron: Tell readers about the awesome art of Tyler Boss.
Matthew Rosenberg: Tyler is amazing. I really don't know what else to say other than that. He studied under David Mazzucchelli, was influenced by everyone from Adrian Tomine to Alex Toth, Chris Ware to Wally Wood. He pencils, inks, and colors the book and I really don't think there is another artist out there working like him. He is a master at framing a shot and laying out a page, his characters are always so interesting and expressive that they feel familiar immediately, his comedic chops are perfect, and he just has such a great feel for guiding the eye through a page. He really is one of the best around.
Byron: Matt, what other projects, inside or outside comics, can we expect to see from you next?
Matthew Rosenberg: Well, besides What's the Furthest Place from Here? I'm currently doing a bunch of really fun stuff at DC. The Joker Presents: A Puzzlebox is a very weird and fun short story anthology collection that actually serves as one big mystery featuring all of Batman's big bads. In October myself and Eddy Barrows launch Task Force Z starring Red Hood as he leads a zombified suicide squad featuring Bane, Man-Bat, and others. Also in October, myself, James Tynion IV, and my Hawkeye Freefall partner Otto Schmidt launch DC vs. Vampires which is an alternate universe story about the last stand of DC's greatest heroes (and villains) in the coming vampire wars. And then in November, myself and Fernando Blanco begin a Batman story in Detective Comics that will contrast the two warring houses that loom large on the outskirts of Gotham – The House Wayne and The House Arkham. So a lot going on, I guess. I'm pretty excited!
Dynamic Forces would like to thank Matthew Rosenberg for taking time out of his busy schedule to answer our questions. What's the Furthest Place from Here? #1 from Image Comics is slated to be on sale November 10th!
For more news and up-to-date announcements, join us here at Dynamic Forces, www.dynamicforces.com/htmlfiles/, "LIKE" us on Facebook, www.facebook.com/dynamicforcesinc, and follow us on Twitter, www.twitter.com/dynamicforces.
TASK FORCE Z #2 SIGNED BY MATTHEW ROSENBERG
DETECTIVE COMICS 2021 ANNUAL #1 SIGNED BY MATTHEW ROSENBERG
JOKER 2021 ANNUAL #1 SIGNED BY MATTHEW ROSENBERG
TASK FORCE Z #1 ELITE GOLD SIGNATURE SERIES SIGNED BY MATTHEW ROSENBERG
DC VS VAMPIRES #1 SILVER SIGNATURE SERIES SIGNED BY MATTHEW ROSENBERG
JOKER PRESENTS: A PUZZLEBOX #1 SIGNED BY MATTHEW ROSENBERG
BATMAN: URBAN LEGENDS #1 SIGNED BY MATTHEW ROSENBERG
KING IN BLACK: THUNDERBOLTS #1 SIGNED BY MATTHEW ROSENBERG
FUTURE STATE: DARK DETECTIVE #1 SIGNED BY MATTHEW ROSENBERG
NEW MUTANTS DEAD SOULS #1 COMIC SKETCH ART VIRGIN EXCLUSIVE SIGNED BY MATTHEW ROSENBERG
AMAZING SPIDER-MAN #50.LR SIGNED BY MATTHEW ROSENBERG
---
NEW! 1. 12/06/2021 - VAN JENSEN & ERICA SCHULTZ
3. 11/29/2021 - DAVID ANDRY & TIM DANIEL