STONIE WILLIAMS

SEND THIS TO A FRIEND!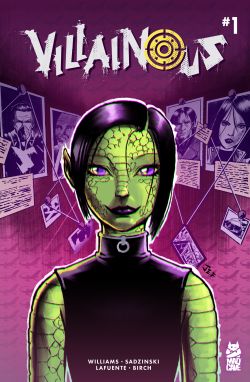 DF Interview: Stonie Williams demonstrates why it's a risk to meet our heroes in 'Villainous'
By Byron Brewer
Never meet your heroes, because they're usually not as amazing as you think. Tilly learns that the hard way when she joins the Coalition of Heroes in Villainous, a five-issue limited series from Mad Cave Studios by writer Stonie Williams, artist Jef Sadzinski, colorist Joana Lafuente, and letterer Justin Birch.
As Tilly quickly figures out, the CoH is hiding behind a shiny veneer of heroism and death-defying tasks. As a new initiate in the organization's sidekick program, she's tasked with all the typical things an intern would be asked to do – which means she's at ground zero for discovering how deep its corruption goes.
DF, in gathering all the 411 for you, sat down with scribe Stonie Williams.
Dynamic Forces: Stonie, tell readers the inspiration for your coming comic book, Villainous.
Stonie Williams: The initial idea for the story was a pitch that Mad Cave was sitting on, set in the superhero genre. As a late '80s/early '90s kid, superheroes have permeated everything I've ever done. So I was excited to take my crack at the genre. Mad Cave presented a unique opportunity, where it could truly be my take on the genre. We could take it all and manipulate anything we wanted – there were no preconceived expectations. I drew inspiration from a lot of classic superheroes, and a lot of parallels can be made to popular archetypes. But my biggest inspiration was The Protectors from Malibu Comics written by R.A. Jones and art by Tom Derenick, which was mostly public domain superheroes. So, even though there are similarities to more popular characters, the true inspiration for some of MY characters goes back further than what's popular today.
DF: Can you tell us a little bit about the world you and artist Jef Sadzinski are building here?
Stonie Williams: I really wanted a mix of classic golden era hero archetypes set in a modern setting. This world has seen what we see as classic superheroes rise in an age of higher technology. We wanted it set in the not-too-distant future, so the tech could be impressive while still repeatable. Social media is a thing, and prominent, as it is in our lives today. I feel like a lot of 'futuristic' stories tend to gloss over that aspect of future technology a lot. The world of Villainous mirrors our own in a kind of fantastical and exaggerated ways.
DF: Introduce readers to Tilly.
Stonie Williams: Tilly is in her early 20s. She's bright-eyed and excited about superheroing! She grew through her late childhood and teenage years with superhero posters on her wall. She's devoted her life to and idolized the ideas of what it means to be a superhero. Her physical differences might have proven to be an obstacle in her formative years, but as a superhero she has the potential to be an asset. To give meaning and purpose to these powers she's developed. When we meet Tilly, she's eager to get started with what she feels is the next big chapter of her life. Her dream job.
DF: What is the Coalition of Heroes? Who are some of its prime stars?
Stonie Williams: The Coalition of Heroes is THE superhero team of Villainous. Every superhero worth their salt is in the Coalition. The biggest branch and founding branch is in New York, ran by founding member Pillar – genius and high-tech whiz who saw the need for a unified group of super-powered people, and filled it. The CoH's strong man is Showdown – he's the jock of the group, the popular kid who never had a problem being liked. He can fly and has super-strength. Miss Nemesis is the newest member of the upper echelon of the Coalition. She's their speedster. She's not time-travel fast, but faster than any regular person. There are other characters we meet as the series progresses, including some leaders of the other branches of the Coalition.
DF: Give us an extended pitch for the book. What can readers expect when they pick up issue #1?
Stonie Williams: Villainous is the story of newly minted sidekick Rep-Tilly as she starts her dream job: working with the world's greatest superheroes. She's partnered up with Showdown, one of her personal favorites. It seems too good to be true! And it is. Tilly stumbles upon a secret she wasn't meant to know and is presented with a choice – fall in line with her idols or stand with her convictions. In the midst of coming to grips with her new reality, Tilly's troubles only snowball from there.
DF: Can you give us any insight as to the big-bad that might be behind the challenges Tilly faces?
Stonie Williams: Tilly's biggest villain from the outset is her own preconceived notions of how the world works, who is trustworthy, and the question of what to do when loyalties are tested. The vast majority of her problems stem from wearing rose-tinted glasses.
DF: Talk about the art of Jef Sadzinski.
Stonie Williams: I can't say enough about how impressed I've been with Jef's artwork. His work on Show's End was astounding to begin with, but I feel like he really blew the top off of what was expected of him with his work on Villainous. He contributed so much to the world building through his visuals. Any kind of suggestions I had he ran with and did more than I ever could have hoped for. His expressions are incredible, both when they're subtle and when they're over-the-top – it works for the characters and how he utilizes them. His style is the kind where you can read the book multiple times and see something new with every read through. That's true for everything I've seen from Jef, but especially with Villainous, in my not-so-humble opinion. His background characters, just existing conjures humor or drama and emphasizes everything else going on in the page. I've said this so many times now, but I honestly believe he elevated the story and really got the characters on a level I could've only dreamed of. I would happily, eagerly, and enthusiastically work with him again on anything. If he came to me and said, "Hey, I need dialogue for a hemorrhoid cream ad in the back of a comic book," I wouldn't hesitate.
DF: Haha! … Stonie, are there any other projects, inside or outside comics, in which you are involved that you can tell readers about?
Stonie Williams: I've got a couple of things in works, writing for indie endeavors yet to be announced. Stretching out into coloring, I worked on a story with Savage Bastard's David Galiano for an anthology called Cthulhu Invades Oz which is coming together nicely. I'm still writing an episodic comic with Nate Lindley from Ashcan Comics Pub called Vala The Beast Heart and I'm starting to branch out into lettering with another story with Nate and company. Finally, I'm working on a script that I hope to crowdfund within the next year.
Dynamic Forces would like to thank Stonie Williams for taking time out of his busy schedule to answer our questions. Villainous #1 from Mad Cave Studios is slated to hit stores Oct. 14th!
---
NEW! 1. 11/30/2020 - SKYLAR PATRIDGE
5. 11/16/2020 - RYAN O'SULLIVAN