STEPHANIE PHILLIPS

SEND THIS TO A FRIEND!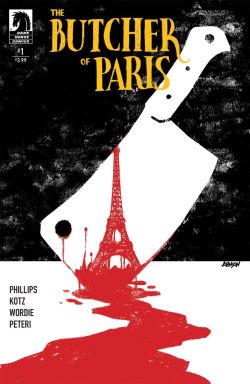 DF Interview: Stephanie Phillips explores the true-crime tale of a killer amidst WWII in 'The Butcher of Paris'
By Byron Brewer
In 1944, as Swastikas flew over Paris, one of the most notorious serial killers in history turned the occupied city into his personal hunting ground. Under the guise of opportunity and freedom, Marcel Petiot preys on those desperate to flee … until a gruesome discovery alerts the police. In a city under siege, the hunt for a serial killer begins as a French detective races to bring the heinous villain to justice before the Nazis beat him to it.
From Dark Horse Comics comes The Butcher of Paris, written by Stephanie Phillips (Descendant, Devil Within), drawn by Dean Kotz (Mars Attacks), colored by Jason Wordie (Penny Dreadful, Johnny Red), and lettered by Troy Peteri (Witchblade, The Darkness). DF wanted to know more about this wartime true-crime tale so we sat down with one of our favorite interviewees, author Stephanie Phillips.
DF: Stephanie, with the comparative ease of writing fictitious crime drama, why did you decide to anchor your latest work around the real-life mass murderer Marcel Petiot, dubbed the "Butcher of Paris"?
Stephanie Phillips: When I learned about Petiot, I knew the story needed to be told. You can read details about the case online, sure, but there is something I think case notes miss when simply presenting facts. We are talking about a serial killer hunting in a city occupied by Nazis -- one of the darkest periods in French history (really, world history writ large). This case is about so much more than a serial killer, and I think that's why it stood out to me. I just kept coming back to it.
DF: What is ironic is that while Petiot's crimes were ongoing, they were taking place in a land where one of the greatest atrocities in world history had taken hold. Does your script encompass this "crimes surrounded by crimes" World War II irony?
Stephanie Phillips: Absolutely. In actuality, both the Gestapo and the French police were invested in catching Petiot (how bad does it have to be when the Nazis want you arrested…?). As such, I really wanted to tell a story about the tensions of war and occupation, about a city once known as "The City of Light" going dark. Petiot happens to be in this city and in this story, but this is a story about victims, about a struggling city, and about complicity.
DF: Tell us more about the storyline.
Stephanie Phillips: Butcher takes place in 1944 towards the end of Petiot's murder spree. The story follows French detective Georges Victor Massu and his son trying to solve the case and find Petiot before the Nazis. As Massu tries to piece together clues and find the killer, we learn about a city under occupied leadership and Petiot's own, colorful past.
DF: Give us your take on Petiot … or at least the Petiot we will meet in this series. Are there any embellishments or take-aways you made to his character for story sake?
Stephanie Phillips: Petiot is truly a monster. The kind of monster that I couldn't have made up. Petiot has a long and sordid criminal past prior to WWII, but he saw the occupation as an opportunity. Under the guise of resistance, Petiot offered sanctuary to Jews trying to flee the city. Beginning in 1942, over 13,000 French Jews were forcibly collected and sent to Auschwitz concentration camp. And that was only the beginning… Offering Jews paperwork and a route to South America, those seeking their freedom would come to Petiot only to meet a horrific – and entirely unexpected – death at the hands of a different killer. I have to say, I am constantly stunned by this story.
DF: Introduce us a little more to your prime protagonist, Massu.
Stephanie Phillips: Georges Victor Massu was a real French detective working the Petiot case and I just really fell in love with the idea of him as our primary protagonist. He had a bit of a reputation for being a French Sherlock Holmes – he's seasoned, intelligent and has actually worked serial killer cases before. At the time of the Petiot case, Massu's son, Bernard, was a law student and would often accompany his father to crime scenes. Bernard became a kind of sounding board for his father's work, so Butcher features a lot of the relationship between Massu and his son. One of my absolute favorite parts of the book is seeing how Dean characterizes the father-son relationship between these two. One of my favorite panels in the entire series is Massu fixing his son's bowtie while they discuss details of the crime. Massu never stops being a dad, even during a murder investigation.
No matter how good a detective Massu is, though, he still has to contend with the occupied forces. This was truly a dilemma for the entire police force in France at the time. The options were to resist the intrusion of the Gestapo and potentially get thrown out, leaving the city to contend with only Nazis for crime and punishment; or, comply with the Nazis and hope that this leaves room for the French police to still operate judiciously within the city during its time of need. This is a really contentious issue for Massu throughout the entire series as he butts heads with his nemesis, Jodkum, a high-ranking member of the Gestapo.
DF: What kind of research did you and/or artist Dean Kotz do of the period, if any?
Stephanie Phillips: I'm a bit of a research fiend! Before ever starting on a script I spent about eight months doing nothing but researching the time period and the case. I am notorious for going down one rabbit hole after another, so it really took a friend to say, "stop reading and start writing!" I did my best to find any and every mention of this case, no matter how small. Despite its notoriety in French history, there are still a lot of unknowns about the case. I really wanted to do my best to play detective with the recorded history and try to fill some of those gaps.
When Dean came onto the project, I shared a lot of the historical details with him and I usually embed references into the scripts. Dean's job is hard enough, so I try to do as much researching as possible to help him out. That being said, I know Dean does his fair share of looking into uniform details and architecture too.
DF: Was there any familial thread involving WWII for you that was part of this saga?
Stephanie Phillips: I did take the opportunity to research my family history. I am Jewish and wanted to learn more about my own family while reading about the time period. The majority of my family was in Holland at the time, but I also had two relatives, both great-great uncles, who fought in the War. One was a B-25 bomber pilot killed in action in 1943, and the other was captured by the Japanese in 1942.
DF: Tell us more about your collaboration with Dean.
Stephanie Phillips: Working with Dean is seamless. He's an incredible storyteller and I think we work really well together (he makes me look good!). As we both get a feel for the time period and our characters, I think each new book, and even each new page, just looks (somehow) better than the last. Add colors from Jason Wordie, letters from Troy Peteri, and covers from Dave Johnson and this book is just an incredible piece of art. Not sure how I got so lucky with this team.
DF: Stephanie, what other projects in which you are involved can you tell our readers about?
Stephanie Phillips: So much! I have a book coming from Top Cow/Image Comics in 2020 called A Man Among Ye with artist Craig Cermak. As you might expect, this is another historical piece, this time featuring female pirates at the end of the Golden Age of piracy. I am working on about 4-5 creator-owned projects set to release in 2020, and another couple of licensed things, so I think it will be a great and busy new year!
Dynamic Forces would like to thank Stephanie Phillips for taking time out of her busy schedule to answer our questions. The Butcher of Paris #1 from Dark Horse Comics hits stores on Dec. 4th!
---
NEW! 1. 11/25/2020 - STEVE SKROCE
4. 11/16/2020 - RYAN O'SULLIVAN
5. 11/16/2020 - RYAN O'SULLIVAN