WALT FLANAGAN

SEND THIS TO A FRIEND!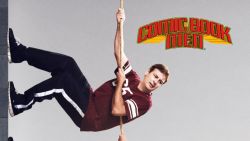 DF Interview: Walt Flanagan reflects on six seasons of AMC's Comic Book Men, talks Season 7
By Byron Brewer
Walt Flanagan is a comic book artist, podcaster, actor and longtime comics fanboy. But if you asked most people about him, they would tell you he is the manager of the comic book store Jay and Silent Bob's Secret Stash – on AMC's Comic Book Men AND in real life.
With a new season of the network's geek pleasure getting set to premiere, DF thought this would be an apropos time to catch up with Flanagan, reminisce about CBM seasons past and gather a little 411 on Season 7.
Dynamic Forces: Guys hanging out around a comic book store. I do it in Lexington, Ky., almost daily, but Walt, can you really believe a TV show about that has built such an audience that AMC has announced its seventh season will begin Oct. 22? Incredible!
Walt Flanagan: It really is hard to believe we've lasted seven seasons. I certainly realize that being lucky enough to be sharing Sunday nights with the lead-in of lead-ins that is The Walking Dead is the reason we have made it this long, but that doesn't take away one iota the pride I feel to have been a part of the show's success.
DF: For background sake, tell us how you met filmmaker/recent CW storyteller/comics genius Kevin Smith and got involved in this whole fantastic adventure?
Walt Flanagan: I met Kevin in 1988 at the Highlands Community Center where both he and I had jobs. We didn't talk for almost a year but one day Kevin mentioned the 1966 Batman TV show for reasons I don't recall. I uncharacteristically engaged him and told him that if he wanted to experience a Batman that would change how he would view Batman forever, he should read Frank Miller's Dark Knight Returns. That conversation turned into daily talks on comics and planted the seed of our decades-long friendship and 10 years later Kevin would buy his own comic book shop and he asked me to manage it.
DF: As we know from the Comic Book Men episode "Stash-teroids," Kevin helped you propose to your wife. What do you remember about that?
Walt Flanagan: I remember being nervous, that's for sure. It's just another wonderful memory amongst a bunch I've been lucky enough to collect.
DF: If memory serves, your family home sustained catastrophic damage as a result of Hurricane Sandy in 2012. I recall being so sorry to hear about it. Do you mind talking about the incident and how you guys persevered, especially in light of the numerous hurricanes which have struck America this summer?
Walt Flanagan: Well, I have to correct you in that I received catastrophic damage. I had a half-foot of water in my downstairs, but thankfully my upstairs was left intact. I was out of my home for two months and that was very, very short compared to the rest of the community who was out of home far longer than I was. To anyone reading this who might be dealing with the impact of a hurricane at the moment, I can offer you the assurance that while it feels like "normal" will never return to your life, it will. My heart goes out to everyone who is dealing with the devastating effects a hurricane can inflict.
DF: My little cousin, a fanboy, has to know: "Does Walt still work as manager of Jay and Silent Bob's Secret Stash? Is there a 'real' comics store [still existing and operating outside the show]?"
Walt Flanagan: I do indeed still manage the Stash, a real and existing comic book store in central New Jersey.
DF: What's coming up for fans of Comic Book Men in Season 7? Any fantastic memorabilia or such adventures? My personal favorite will always be the cover you guys sought out and later a surprise visit by that cover's artist, George Perez, and with a gift for display! Mind-numbing!
Walt Flanagan: Lots of fun and great items, guest stars and hopefully some laughs.
DF: Who is on the guest roster for this season? Can you give us a hint?
Walt Flanagan: To be honest I'm not sure if I'm allowed to reveal any of the guests … and I don't wanna get in trouble. But rest assured there are PLENTY! [NOTE: The official synopsis for CBM Season 7 states "special guests … include 'Luke Cage' star Mike Colter, Rosario Dawson, Burt Ward, Method Man and Freddy Kruger himself, Robert Englund.]
DF: Walt, I was glad to hear that Burt Ward, Robin from the 1966 Batman, will be on the show. Can you tell us anything he might have said about Adam West, who portrayed the Caped Crusader and died this past year? (So sad.)
Walt Flanagan: Oh, well … I guess I could have mentioned guests, huh? But seriously, Mr. Ward was kind enough to tell us a heartfelt story regarding Mr. West's passing that will really show what kind of special friendship these men shared.
DF: I remember the episodes revolving around the comic Cryptozoic Man. What was it like to do the art and see that become a reality when it was published by Dynamite Entertainment?
Walt Flanagan: It was a blast. I'm very proud of that series. From the covers, art, colors and story, I was very pleased with how the series came out.
DF: Speaking of your art, are you doing anything in comics that may be coming out in the near future?
Walt Flanagan: I actually do have a couple of projects I'm working on. First up a comic book called Metro that I'm really excited about because I'm working on it with one of my best friends, Brian Quinn of TV's Impractical Jokers along with a writer who's work I really admire, Cullen Bunn. I'm also working on a 4-issue series called Knights of the Fifth Dimension for Blue Juice Comics. It's a book that is deeply personal for me and gives me an opportunity to draw everything that made me fall in love with comics when I was 4 years old. Both projects will be published in 2018.
DF: Finally, Walt, riddle me this: The best thing about doing and having done Comic Book Men is …?
Walt Flanagan: The best thing about doing and having done Comic Book Men would have to be being able to meet some of my childhood favorite actors and actresses. To have the opportunity to tell Jaime Sommers the Bionic Woman how much I loved her show face-to-face, drive the Batmobile with Adam West in the passenger seat, throwing a birthday party for Superman and having Dean Cain show up and cut the cake, and meeting so many many other TV and movie icons during the last seven years is truly the best thing about being on the show!
Dynamic Forces would like to thank Walt Flanagan for taking time out of his busy schedule to answer our questions. Comic Book Men Season 7 premieres Oct. 22 on AMC!
For more news and up-to-date announcements, join us here at Dynamic Forces, www.dynamicforces.com/htmlfiles/, "LIKE" us on Facebook, www.facebook.com/dynamicforcesinc, and follow us on Twitter, www.twitter.com/dynamicforces.
ARMY OF DARKNESS #1 RARE WALTER FLANAGAN "VIRGIN ART" EDITION FEATURING SILVER ELITE EDITION SIGNATURE BY WALTER FLANAGAN
ARMY OF DARKNESS #1 RARE WALTER FLANAGAN "VIRGIN ART" EDITION
CRYPTOZOIC MAN #1 DYNAMIC JET PACK LIMITED EDITION COVER!
CRYPTOZOIC MAN #1 ULTRA-LIMITED SPECIAL EDITION BLACK & WHITE COVER!
CRYPTOZOIC MAN #1 ULTRA-LIMITED SPECIAL EDITION BLACK & WHITE ALTERNATE COVER!
CRYPTOZOIC MAN #3 DYNAMIC JET PACK ULTRA LIMITED EDITION COVER!
CRYPTOZOIC MAN #4 DYNAMIC JET PACK ULTRA LIMITED EDITION COVER!
CRYPTOZOIC MAN TP VOL 01 DECAPITATION STRIKE
KEVIN SMITH'S KATO #2 - SIGNED AND REMARKED BY ALE GARZA
KEVIN SMITH - THE BIONIC MAN VOL. 1: SOME ASSEMBLY REQUIRED TP
BATMAN 66 MEETS GREEN HORNET #1 CGC GRADED 9.8!
BATMAN 66 MEETS GREEN HORNET #1 SECOND PRINTING VARIANT ULTRA-LIMITED ?HORNET GREEN? EDITION SIGNED BY ALEX ROSS!
KEVIN SMITH'S GREEN HORNET HC VOL. 1: SINS OF THE FATHER
---
NEW! 1. 11/25/2020 - STEVE SKROCE
4. 11/16/2020 - RYAN O'SULLIVAN
5. 11/16/2020 - RYAN O'SULLIVAN