RODNEY BARNES

SEND THIS TO A FRIEND!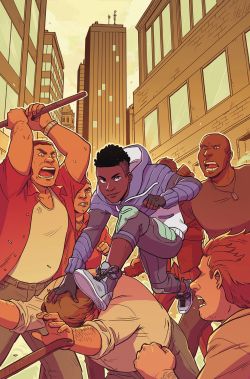 DF Interview: A young man discovers himself – and the hero within – in Rodney Barnes' Quincredible
By Byron Brewer
Rodney Barnes is a screenwriter and producer who has written and produced the likes of The Boondocks, My Wife and Kids, Everybody Hates Chris and Those Who Can't, among others. He is also co-executive producer on the Starz network drama, American Gods.
In 2017, Rodney ventured into writing comic books, authoring "Birth of a Patriot," a short story in Marvel Comics' Secret Empire spinoff, Brave New World #2. He then penned The Falcon and the Lando: Double or Nothing mini-series.
Now the award-winning scribe is writing the comic Quincredible, about Quin, a high school sophomore who's looking to live his best life by moonlighting as a superhero. The catch? His power is invulnerability … and that's the only power he has.
DF caught up with Rodney Barnes and chatted about the new Lion Forge series.
Dynamic Forces: Rodney, a year or so ago the Catalyst Prime Universe came about as part of Lion Forge's goal to produce "comics for everyone." How does this new series, Quincredible, represent that promise?
Rodney Barnes: Quincredible is set in the richly diverse city of New Orleans and includes a highly diverse cast of characters. These characters vary not only in skin color and gender, but also in their beliefs and points of view. The idea here is to tell grounded stories with people who reflect the world as it is.
DF: Can you tell readers what type of stories we will be reading in the book?
Rodney Barnes: The goal with Quincredible is to tell action-oriented stories that are both moving and poignant. Quin struggles with being a teen while being handed the opportunity to make the world a better place.
DF: If you will, introduce us to Quin. Who is he—as a character, as a hero?
Rodney Barnes: Quin has a strong moral base which is in large part due to the influence of his parents. So too, he walks with the insecurities that many young people his age have. Add a superpower to the equation and the hill of adolescence grows steeper. As a hero, he's committed to being the best he can be. Then again, he has no point of reference to the task at hand. So as his experience of being a hero evolves, he will as well.
DF: What about other characters to be featured in Quincredible?
Rodney Barnes: Noble makes an appearance or two. Towards the end of the first arc, lots of folks will show up.
DF: Talk about the art of Kelly Fitzpatrick and Selina Espiritu.
Rodney Barnes: "Incredible" (without the Quin) is the best way to describe their work. I'm honored to lend words to their great art.
DF: Rodney, do you have any projects, current or in the near future, that you can tell readers about?
Rodney Barnes: Season 2 of American Gods is coming in the spring of 2019. I have a book with Image Comics, Killadelphia, in the spring of 2019 as well. There's the Lando: Double or Nothing trade debuting in November, and a few more surprises I can't talk about!
Dynamic Forces would like to thank Rodney Barnes for taking time out of his busy schedule to answer our questions. Quincredible #1 from Lion Forge hits stores Nov. 7th!
For more news and up-to-date announcements, join us here at Dynamic Forces, www.dynamicforces.com/htmlfiles/, "LIKE" us on Facebook, www.facebook.com/dynamicforcesinc, and follow us on Twitter, www.twitter.com/dynamicforces.
---
NEW! 1. 01/21/2021 - RORY MCCONVILLE
5. 01/07/2021 - DARICK ROBERTSON