SHAWN KITTELSEN

SEND THIS TO A FRIEND!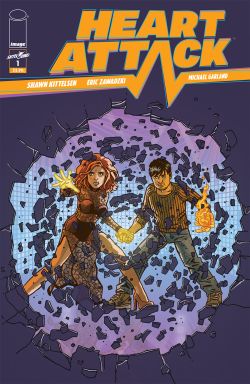 DF Interview: Shawn Kittelsen explores superhuman teens in revolt in 'Heart Attack'
By Byron Brewer
Gene therapy has saved Americans from disease, only to give birth to Variants – people with powers so unique, the government denies their human rights. But a rebellion has begun.
Charlie North is on the run from the police when he crosses paths with Jill Kearney. Instant attraction becomes mass destruction when they unlock powers neither knew they had. Now, the question isn't how to use them but how far they're willing to go.
Superpowers and teenage romance collide in the newest Skybound original, Heart Attack, from Shawn Kittelsen (Mortal Kombat 11) and Eric Zawadzki (The Dregs, Eternal). DF wanted to get to the "heart" of this book, so we spoke with scribe Shawn Kittelsen.
Dynamic Forces: Shawn, tell us the genesis of Heart Attack. What was the inspiration behind this sci-fi love story?
Shawn Kittelsen: I spent the last four years writing fighting games, and I loved writing every last fight, but I'm a hopeless romantic at heart. The first long-form script I ever wrote was a teen romance feature back when I was 17. So for as long as I've been writing, I've wanted to tell love stories that felt authentic and honest to me, and that led to this story about a pair of star-crossed super-powered teenagers.
DF: Even though the text is about the future, certainly the subtext could be ripped from any headline today. Beneath the surface, the hatred, disparity, violence … how do you as a writer work these subtlies into what may appear to some to be a romance comic?
Shawn Kittelsen: I focus on the relationships and emotions first. Jill and Charlie literally have the world stacked against them, because that's what young love feels like. If you can't be with the person you want to be with, the whole world is against you. And in America today, a lot of people share that feeling, that the world is against them.
Everyone's waking up to the fact that America systematically exploits and disadvantages the many for the benefit the few. Some people are channeling their dissatisfaction with the system into reforms and revolutions, while others are channeling their fear and anger into acts of hatred and destruction.
DF: Tell readers a little about the world you and artist Eric Zawadzki are creating here. And who or what are the Variants?
Shawn Kittelsen: In the future of Heart Attack, some things are better than we have them today. Fewer people own cars and fossil fuels are a thing of the past. America still exists, so we've avoided World War III. Perhaps the biggest difference is that disease has been all but eradicated by genetic editing technologies… and it's that miracle that led to the births of Variants. They are the children of patients who were saved by genetic therapies. As a result, they were born with DNA that is mostly human but contains a significant portion of non-human, variant segments -- hence the name. Variants don't have superpowers in the grand sense, but they have unique abilities, called their Variations. This has terrified the majority non-Variant population. A conservative Supreme Court has ruled that because Variants are not technically human, they possess no legal human rights. Variants are being systematically mistreated, kidnapped and imprisoned all over the country.
DF: Introduce us to Charlie North and Jill Keamey.
Shawn Kittelsen: Charlie and Jill are two Variants who couldn't be more different. Jill is a high-profile streamer and activist for the Freebodies, the most popular organization in the Variant rights movement. Charlie is a foster kid on the run from the Department of Family Services. Jill wants to be a leader and change-maker for her generation; Charlie wants to flee the country in search of peace. They have nothing in common, but every time they touch, they have this overwhelming, undeniable connection pulling them together.
DF: What other characters are important to Heart Attack going forward from issue #1?
Shawn Kittelsen: Jill's friends and streaming crew, the Freebetties (a sub-brand of the Freebodies), and her little sister, Ash, are a strong family unit that keeps Jill anchored to her roots, even as she and Charlie get wrapped up around each other. Each of the Freebetties is a special character to me, especially Jill's BFF, Face. If we had more pages, I'd put them in their own backup stories every issue. Beyond the Freebetties, I'm reluctant to spoil much... But let's just say that no one fits neatly into the hero or villain category. Everyone is working an angle of some kind, for their own reasons, so you may be surprised which characters turn out to be allies or obstacles as the series progresses.
DF: Can you give us an elevator pitch for the plot of the series?
Shawn Kittelsen: X-Men meets Romeo + Juliet, with crispy bits of The Wire and The Battle of Algiers sprinkled on top.
DF: That's some mix! … Talk about Eric's art and your collaboration here.
Shawn Kittelsen: Eric is a dream collaborator. He always goes the extra mile to perfect his character performances, layouts and even tiny little background details. I send off scripts with suggested panel layouts, but I've always believed in giving my collaborators the freedom to improve upon whatever I'm seeing in my mind's eye. Page for page, panel for panel, Eric's mind has better taste than mine. He portrays all the little facial subtleties in longer conversations, and he amplifies action beats when the pace picks up. The longer I've worked with him, the bigger risks I can take with scripts, because I trust his talents implicitly. That's a profoundly freeing experience, as a storyteller. I could gush about Eric on and on... He's a superstar, and this book is elevated by his talent.
DF: Shawn, what other projects might you be able to tell our readers about in which you are involved?
Shawn Kittelsen: Heart Attack is my only comic book series for now, mostly because I'm writing and directing games full-time for Skybound Stories. Can't say what exactly I'm working on at the moment, but it's a dream project, and I can't wait to show it off. Beyond that, don't miss Mortal Kombat 11 and all its insanely cool DLC characters (shout-out to Keith David voicing Spawn!), which I remain bloody proud to have written with Dominic Cianciolo.
Dynamic Forces would like to thank Shawn Kittelsen for taking time out of his busy schedule to answer our questions. Heart Attack #1 from Skybound and Image Comics hits stores in Nov. 20th!
For more news and up-to-date announcements, join us here at Dynamic Forces, www.dynamicforces.com/htmlfiles/, "LIKE" us on Facebook, www.facebook.com/dynamicforcesinc, and follow us on Twitter, www.twitter.com/dynamicforces.
---
NEW! 1. 11/25/2020 - STEVE SKROCE
4. 11/16/2020 - RYAN O'SULLIVAN
5. 11/16/2020 - RYAN O'SULLIVAN