ELIOT RAHAL

SEND THIS TO A FRIEND!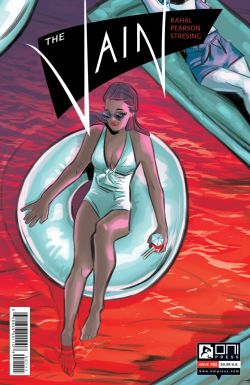 DF Interview: Eliot Rahal mixes heist & history with vampire drama in 'The Vain'
By Byron Brewer
Chicago, 1941. A blood bank is held up in a robbery, but no cash is taken – only blood. It's the latest in a string of similar crimes and FBI Agent Felix Franklin is certain it's part of a wider plot. But the truth is much more sinister than he could imagine. The four robbers – who call themselves The Vain – are vampires: immortal, physically powerful, and after decades of honing their skills, practically untraceable. But in a world that is rapidly changing, stealing blood is harder every day and with each decade that passes, Agent Franklin inches closer to the truth.
Eliot Rahal, Emily Pearson and Fred C. Stressing kick off The Vain, an Oni Press series that spans nearly a century of wild eternal youth and reckless abandon across history. DF wanted to drain a little information about the new comic, so we staked ourselves out and caught up with writer Eliot Rahal.
Dynamic Forces: Eliot, it's not often you find a vampire-centric crime story, which this new series The Vain seems to be. Tell readers about what inspired it. Is it more noir or horror?
Eliot Rahal: Honestly, the whole idea spurned from that dumb popscicle stick joke: "What kind of bank do vampires use? A blood bank." I just remember playing around with this idea one day, taking it really seriously. I'd say it's a noir first. Only because by focusing on the bank robbing element it automatically puts me in that space. And I always try to tell my stories through my characters, so I decided to lean into the genre. Really pick a lane and focus. That decision informed the tone of the entire series. The horror elements, I think, are delicious flavoring.
DF: Give us an expanded pitch for this coming series from Oni Press. What can readers expect as they pick up the first issue?
Eliot Rahal: The Vain is a story about wild youth, reckless rebellion and eternal love. This story is about taking all of that nihilistic freedom I felt in my early 20's and channeling into this weird crime story about beautiful vampires. Also, it's a story about obsession. And aside from that… the art, of course. Emily's work is delicate and brutal. Fred's colors paint the art like a portrait. And Cranks! letters are tight.
DF: Introduce us to FBI Agent Felix Franklin. What can you tell readers about this 1940s investigator?
Eliot Rahal: So Felix is the human element of the story. He is us. He is the one who discovers the Vain. I've always seen him as like 1940's Fox Mulder. Super hot guy driven mad by the truth!
DF: This series takes place over almost a hundred years of time. Will this be a straight chronological telling of progression, or will we be subject to flashbacks and -forwards perhaps?
Eliot Rahal: It's a very fun and easy ride, but we are going to go all over the place. Some of it is chronological to get people used to rules. Some of it isn't. Super helpful, I know. Don't worry, I had no idea what I was doing but my editors did.
DF: Haha! … What type of research for these differing periods did you and artist Emily Pearson do for the series?
Eliot Rahal: Oh, well. I just love history. It's one of my favorite hobbies to study. And so a lot of this is accrued from past knowledge. However, when I did pick a genre, I would focus and expand my research. Specifically on J. Edgar Hoover. Emily, couldn't say. All I know is that her designs and choices are incredible. This book sometimes feels like a fashion catalogue when I'm looking at the pages.
DF: Speaking of Emily, talk about her art for The Vain.
Eliot Rahal: It's pure romance. Pretty and deadly. This book required the strength of a delicate touch. Someone who could draw emotion and fantasy. Emily brings all of this to her art. She brought everything she had. I love it.
DF: Eliot, are there any other projects coming up for you that you can tell readers about?
Eliot Rahal: YES! So… there is my other vampire (this one has a ninja in it) series from Vault Comics, Bleed Them Dry, that's coming out right now. Dike Ruan's, Miquel Muerto's, and Deron Bennot's art is worth the price alone. Also in October is my Archie Comics debut, the Madam Satan one-shot. The beautiful interiors are by Julius Ohta, Matt Hearms and Jack Morelli. And finally, you can order my new creator-owned book, Knock 'Em Dead, from AfterShock Comics with art by Mattia Monaco, Matt Milla and Taylor Esposito.
Dynamic Forces would like to thank Eliot Rahal for taking time out of his busy schedule to answer our questions. The Vain #1 from Oni Press is slated to hit stores Oct. 14th!
For more news and up-to-date announcements, join us here at Dynamic Forces, www.dynamicforces.com/htmlfiles/, "LIKE" us on Facebook, www.facebook.com/dynamicforcesinc, and follow us on Twitter, www.twitter.com/dynamicforces.
---
NEW! 1. 11/30/2020 - SKYLAR PATRIDGE
5. 11/16/2020 - RYAN O'SULLIVAN