RUSS LEACH

SEND THIS TO A FRIEND!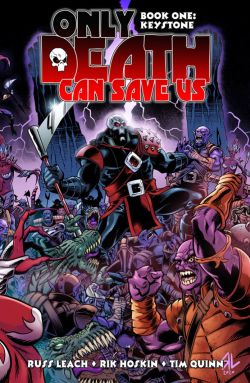 DF Interview: Russ Leach love letter to Bronze Age, the 'Only Death Can Save Us' OGN, up now on Indiegogo
By Byron Brewer
With a vast cosmic backdrop framing a fledgling friendship, a dramatic chase and confrontation takes center stage. This world runs deep with cosmic and ancient mythologies constantly crossing streams, focusing on the titanic struggle between order and chaos!
Only Death Can Save Us, despite its ominous title, firmly plants itself in the all-ages readership audience, like the comics of the Bronze Age, with ex-Marvel editor Tim Quinn guiding the art and story duties of Doctor Who and Marvel artist Russ Leach and script writer Rik Hoskin, in a tale that is in many ways a love letter to the way comics used to be. The crowdfunding campaign for the graphic novel is up now on Indiegogo.
DF wanted to find out about this nascent graphic novel even as it is underway, so we chatted with creator Russ Leach.
Dynamic Forces: Russ, I know you best from your work on Doctor Who, but tell us just briefly – before we discuss your new project – how you became interested in art, and comics art.
Russ Leach: I would imagine my story is very similar to other artists of my age. An ability recognized by supportive teachers at school, a heavy interest in sci-fi and fantasy and childhood friends in the shape of comic books! My first regular comic book purchase with my own money was Captain Britain by Marvel UK. In addition to the fantastic art and story in the main feature, it had wonderful re-runs of Fantastic Four, Nick Fury, Avengers and more. From this title I got to sample Kirby, Sinnott, Buscema, Palmer and Steranko which led me on to Adams at DC Comics as well as sampling great British artists of the time in 2000AD and Starlord. Those were the real formative inputs for my appreciation of comic book art and shaped the way I wanted to create sequential stories. I'm a huge Bronze Age fan, partly nostalgic, partly in awe of the sheer quality of the work produced, but I keep an open mind to all comic book art.
DF: How did this new graphic novel come about? What inspired it for you?
Russ Leach: It's a 60-page story with 20 pages of additional content and is the first part of a graphic novel series. The first arc is comprised of 4 books and once that arc is done the characters and world have the ability to go on in multiple directions opening up other arcs.
My main inspiration were the comics I grew up with... Bronze Age. I love the way the stories are deep and wild and yet at the same time a little cheesy. Never afraid to use long words or concepts that are complex, but at once easy to pick up and fun to read. Throw in some 90's Marvel and Image love as well and my art sort of gets spat out the other end of that mix!
DF: Why did you choose the crowd-funding route for Only Death Can Save Us?
Russ Leach: Well, we all see as fans and creators the mainstream comics publishing world changing radically around us. As a boy all I wanted to do was draw pages in the Bullpen with the likes of John Buscema, Joe Sinnott, Jim Starlin and alike. Stan Lee was the uncle you always wanted! When I got the opportunity to do something along those lines in the UK with Doctor Who, I realized that 1. It wasn't quite the way I'd envisioned it and 2. Even if it had been, it could never be that way again. Then when it became obvious that page rates and gigs were not as reliable or viable as I thought they were and seeing the comic book publishing landscape shifting around me, I realized I needed to make my own IP and take the passion I always had for comics and sink it into something that was just for me... at least me and the readers of any stories I created!
I think connecting directly with an audience is the way to go. I'm trying to do just that with my Youtube channel where you can see me produce art for the book as well as publications I've been involved with in the past. On top of that, the act of crowdfunding is in itself a more personal route to a product's development and audience participation. I think that a crowdfunded book is the cinema premiere and that you can then put out the network premiere later on. So a crowdfunded book should be a premium product for those willing to invest in it and if it proves to be popular then perhaps it can be published later on and distributed more widely, but without the extras and the added content from the original product launch. That should be a special event for those willing to trust in your work!
DF: What can you tell readers about the world in which this takes place, the one you are creating here?
Russ Leach: I am completely enamored by the connections between quantum theory, physics, astronomy and the more esoteric theories about existence, mind and consciousness. The idea that we may live in a natural, digital reality and that consciousness itself may be the real base of all reality is a heady concept. That all has its part to play in the world this book inhabits!
Added to that my was my love of cosmic-based Marvel stories. Characters and concepts like Thanos, The Cosmic Cube, Silver Surfer, Galactus, Fantastic Four, the Negative Zone …. too many to list. I love a good cheesy sci-fi adventure and wanted to do something like that myself!
DF: Introduce us to your protagonists.
Russ Leach: The duo that the story follows is Death and Chrissy. Death, The Grim Reaper nicknamed by Chrissy as Dee, is not what we as a culture or even race think he is. He is the ancient leader of the warrior group known as "the Pillars of Creation". The Pillars of Creation (or Four Horsemen) group are loyal ambassadors and warriors of light under the jurisdiction of "The Supreme". Death's skull appearance is strictly coincidental to human biology and culture and leads to many names being attributed to him in error including "Death".
Chrissy is the other half of the partnership. She brings humanity and naivety to the story, quickly taking to Dee and keen to do the right thing after her hapless involvement with the two villains of the piece Namtar and by association Saytanah. She becomes the pivotal element to the story moving forward into book 2. The girl next door in a wildly expanded universe.
DF: What is the overall plot of Only Death Can Save Us?
Russ Leach: Well, I don't want to give too much away. You can read the first 8 pages on the website or on the Indiegogo campaign page.
Loosely, Death and Chrissy need to fix a situation that could easily lead to the end of existence if not attended to. To be honest, Death is looking to do something a little more interesting and Chrissy becomes a part of his story in a very influential way by the end of the book!
DF: I hear my old buddy, Rik Hoskin, is doing some scripting for this work?
Russ Leach: Yes he is. Rik and I bumped into each other working on Doctor Who Adventures and we've done some submissions and pitches together. Rik kindly offered to help out after I showed the project to him. He really enjoyed the story and he offered to do some simple proof reading for me. It ended up being a broader contribution and I asked him to take a look at the dialogue for me. So he's making my script shine and even adding to concepts as he goes, which is always welcome. Once done I'll run it under the nose of Tim Quinn for editing.
DF: Russ, tell us about the Indiegogo campaign.
Russ Leach: The campaign has been live since September 1 and at the time of this interview is at 51% of its goal. It had a stellar start which I am so grateful for and also the support I've received.
There are 9 tiers in total ranging from a single graphic novel, to ink sketches, guest art prints and original page art. The featured tier "Full print set + book" is great value I think, as you get a range of great art prints as well as the book.
There are also some cool stretch goals in the future if I can secure enough support. The first one checks in as soon as the campaign target is reached. I'll add in a color postcard of "Pestilence" - one of the Four Horsemen. This is the first of a four postcard set that I will add to as the total rises. I also have fabric patches, Spot UV on the cover and a potential 5 page back up story if the campaign hits giddy heights! But nothing is taken for granted and hitting the campaign target would be a truly appreciated achievement!
links
twitter @ComicBBlackBelt
http://www.onlydeathcansaveus.com/
https://www.indiegogo.com/projects/only-death-can-save-us#/
http://www.russleach.com/
http://www.youtube.com/kre8ukTrailers
Dynamic Forces would like to thank Russ Leach for taking time out of his busy schedule to answer our questions. The Only Death Can Save Us OGN crowdfunding campaign is up now on Indiegogo! Watch DF News and comics-related media for further updates!
For more news and up-to-date announcements, join us here at Dynamic Forces, www.dynamicforces.com/htmlfiles/, "LIKE" us on Facebook, www.facebook.com/dynamicforcesinc, and follow us on Twitter, www.twitter.com/dynamicforces.
PIERCE BROWN'S RED RISING: SONS OF ARIES VOL. 2 - WRATH SIGNED EDITION HARDCOVER
BRANDON SANDERSON'S WHITE SAND VOL. 3 ORIGINAL GRAPHIC NOVEL HARDCOVER - SIGNED BY BRANDON SANDERSON
ALTERED CARBON: DOWNLOAD BLUES HARDCOVER - SIGNED BY RICHARD K. MORGAN
BRANDON SANDERSON'S WHITE SAND VOL. 2 TRADE PAPERBACK
PIERCE BROWN'S RED RISING: SONS OF ARIES OGN TRADE PAPERBACK
DEAN KOONTZ'S FRANKENSTEIN: STORM SURGE HARDCOVER
PATRICIA BRIGGS' MERCY THOMPSON: HOPCROSS JILLY HARDCOVER
---
NEW! 1. 11/30/2020 - SKYLAR PATRIDGE
5. 11/16/2020 - RYAN O'SULLIVAN