KATIE O'NEILL

SEND THIS TO A FRIEND!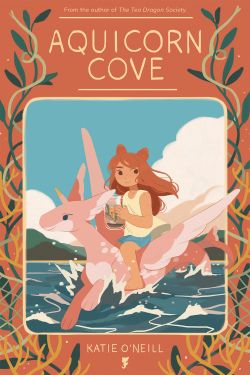 DF Interview: Katie O'Neill shows us how to stand up for the environment and for what we believe in Aquicorn Cove
By Byron Brewer
When Lana and her father return to their seaside hometown to help clear the debris of a big storm, Lana remembers how much she's missed the ocean – and the strong, reassuring presence of her aunt. As Lana explores the familiar beach, she discovers something incredible: a colony of Aquicorns, small magical seahorse-like creatures that live in the coral reef. Lana rescues an injured Aquicorn and cares for it with the help of her aunt, who may know more about these strange creatures than she's willing to admit. But when a second storm threatens to reach the town, choices made many years ago about how to co-exist with the sea start to rise to the surface. Lana realizes she will need to find the strength to stand on her own, even when it means standing up to the people who she has always relied on to protect her.
From the award-winning author of Princess Princess Ever After and The Tea Dragon Society comes Aquicorn Cove, a heartfelt story about learning to be a guardian to yourself and those you love. To learn more about the book, DF sat down with the author and artist herself, Katie O'Neill.
Dynamic Forces: Katie, before we discuss Aquicorn Cove proper, please tell readers how you became a writer and why you turned your focus to all-ages books (and thank you for that!).
Katie O'Neill: I've always loved writing and illustrating, and in 2012 or so I started making short comics and posting them to my Tumblr. Eventually I felt confident enough to make a longer webcomic, called Princess Princess Ever After, which went a bit viral and was eventually found by my editor at Oni Press who offered to publish it. I feel very grateful for that opportunity to have come my way, because it really started me down the path to creating comics full time. I love making all-ages books because it's extremely gratifying to create a world that immerses young readers so they can start imagining and fitting in their own ideas!
DF: And – AND – you have a coveted Eisner Award! How does that make you feel?
Katie O'Neill: Pretty amazing! It's a huge honor, and feels really amazing to achieve that recognition for a book [The Tea Dragon Society] that came from a very personal place for me. The fact that it resonated with so many people helps me feel more comfortable and accepted for what I make and want to make.
DF: What can you tell us about Lana and her father?
Katie O'Neill: Lana and her dad are two people who were born beside the sea, but have lost their connection to it after a devastating incident. They are each feeling their own grief, and so while they have a close bond and support each other, Lana has to learn how to be strong when a parent is going through their own difficulty and sadness.
DF: What are the Aquicorns? (I love that name!)
Katie O'Neill: Thank you! They're a mixture of seahorses and unicorns, and they are able to heal and protect the coral reef — so long as the ocean is a safe and healthy home for them.
DF: Can you give us the elevator pitch for the storyline of your graphic novel?
Katie O'Neill: When revisiting her storm-stricken seaside hometown, Lana discovers the existence of an underwater colony inhabited by magical Aquicorns, and begins to understand that saving the environment sometimes means standing up to those who have always protected you.
DF: Why is Aquicorn Cove a tale both my child and I would equally enjoy?
Katie O'Neill: As a kid, I absolutely loved marine biology and undersea creatures, and would have yearned for Lana's adventures by the beach. There's also an emotional journey between the older characters that ties into the fate of the reef, and my hope is that the book will be an aid in helping facilitate conversation between parents and children about the state of the ocean, the world children are going to inherit from us, and how we can protect it.
DF: Very cool. … As someone who used to do both myself, what do you enjoy most in telling one of your stories: writing or drawing?
Katie O'Neill: Definitely drawing! A lot of the time I brainstorm ideas for scenes by sketching them out — for me, writing is more a way of fitting together the jigsaw puzzle of ideas that I already have in my head into a proper story, and filling out bits in between to create more meaning.
DF: Katie, what other projects might you be involved in that you can tell our readers about?
Katie O'Neill: For those interested in The Tea Dragon Society, I can say there is lots more to learn about that world and its characters. I also have something for much younger readers on the way that I'm very excited to share!
Dynamic Forces would like to thank Katie O'Neill for taking time out of her busy schedule to answer our questions. The Aquicorn Cove OGN from Oni Press hits stores Oct. 17th!
---
NEW! 1. 11/30/2020 - SKYLAR PATRIDGE
5. 11/16/2020 - RYAN O'SULLIVAN