BEN PERCY

SEND THIS TO A FRIEND!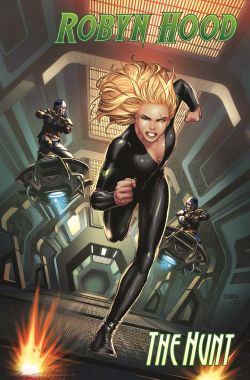 DF Interview: Ben Percy talks Teen Titans, Rebirth, Damian and … a new Titan?
By Byron Brewer
DC's Teen Titans returns in a Rebirth one-shot and a new ongoing from writer Ben Percy and artist Jonboy Meyers!
The Teen Titans are farther apart than ever before ... until Damian Wayne recruits Starfire, Raven, Beast Boy and the new Kid Flash to join him in a fight against his own grandfather, Ra's al Ghul! But true leadership is more than just calling the shots. Is Robin really up to the task? Or will the Teen Titans dismiss this diminutive dictator?
To get the 411 on those questions and more, DF sat down with scribe Ben Percy.
Dynamic Forces: So, Ben, how fun is it to be writing the sometimes-renegade son of millionaire Bruce Wayne (he's probably a billionaire these days, but I love the 1966 phraseology)?
Ben Percy: There's a line about Damian—a few issues into the first arc—I particularly like. Kid Flash says, "They say good things come in small packages. And they were wrong." Damian Wayne is Napoleon with a cape, a diminutive dictator. But even though he's a troublesome jerk, he's got cracks in his armor through which goodness seeps. He owns every scene he's in, and I absolutely love writing him. But here's the thing that makes him even more interesting than usual. He's changing. As you know from the DCU Rebirth issue, he's turned thirteen, which means he's tipping toward adulthood. Damian will remain Damian—but we'll watch him growing up.
DF: In Teen Titans: Rebirth #1, we see Damian Wayne making a grand stand against his own grandfather, Ra's al Ghul, and summoning the Teen Titans back together again. Why start out at what seems the top of Damian's villain mountain right away? Isn't this confrontation something that should have been built up to in the new series?
Ben Percy: Readers usually give you one shot. They check out what's going on—after a relaunch—and if they aren't blown away, you get tossed aside, lost among the many titles in this competitive market. I don't take for granted the fact that I'm writing a #1 issue, and I'm going to do everything I can to make people stick around. That means we open big.
And hey, you know one of the things that makes this group of Titans particularly interesting? They all struggle with and bond over their troubled histories. Ra's is a focusing agent for this central theme.
DF: With the Bat-family, like James Bond in some iterations, it's all about new gear and cool tech. Will we be seeing young Master Damian displaying any new Bat-tech in the TT Rebirth issue or #1? And if so, can you whet our appetites?
Ben Percy: You'll wet your pants when you see the jet and the new Titans Tower.
DF: Damian has always had a little al Ghul in him. How is he going to hold a team together?
Ben Percy: He's the son of the world's greatest detective and the grandson of the world's greatest crime lord. Which makes him a good guy/bad guy smoothie. This question of legacy—struggling with your past and determining your future—is central to DC's Rebirth more generally and this series particularly.
DF: Before we go any further, tell us the members of Damian's new Teen Titans.
Ben Percy: Starfire, Raven, Beast Boy, Kid Flash, and…Oh! You almost got me. Sorry, readers. You're going to have to wait on number six. We're keeping it a surprise. But it's a necessary and exciting character.
DF: Most everything in the solicits or online about these books has concerned Robin. Can you tell us what baggage/subplots the other team members might be bringing with them to Teen Titans?
Ben Percy: I've always struggled—as a reader—with team books. The crowd of characters often results in thinned characterization. So this is my mark on Teen Titans. I'm framing every story arc around a character. Teen Titans remains an ensemble series, but the characterization and theme are centrally focused on a different member each time. So the first arc belongs to Damian. And the second arc belongs to…our sixth, secret member.
DF: Jonboy Meyers' covers are awesome. What's it like working on Teen Titans with this artist on the interiors thus far?
Ben Percy: Jonboy is a top-drawer talent. He brings so much energy to the page. Every time I see a new panel, I lean back with a big, dopey grin on my face.
Dynamic Forces would like to thank Ben Percy for taking time out of his busy schedule to answer our questions. From DC, Rebirth: Teen Titans #1 hits stores today, with Teen Titans #1 arriving Oct. 26th!
For more news and up-to-date announcements, join us here at Dynamic Forces, www.dynamicforces.com/htmlfiles/, "LIKE" us on Facebook, www.facebook.com/dynamicforcesinc, and follow us on Twitter, www.twitter.com/dynamicforces
TEEN TITANS #23.2 DEATHSTROKE CGC GRADED 9.8!
TEEN TITANS #23.1 TRIGON CGC GRADED 9.8!
TEEN TITANS ANNUAL #1: DF SILVER SIGNATURE EDITION - SIGNED BY TOM DEFALCO!
TEEN TITANS ANNUAL #1 - SIGNED BY WRITER TOM DEFALCO!
TEEN TITANS #91 - SIGNED BY JT KRUL!
TEEN TITANS #88 (1:10 VARIANT EDITION) - SIGNED BY WRITER JT KRUL
TEEN TITANS #20 - SIGNED BY WRITER GEOFF JOHNS!
THE NEW TEEN TITANS ARCHIVES VOLUME 2 HARDCOVER
---
NEW! 1. 11/25/2020 - STEVE SKROCE
4. 11/16/2020 - RYAN O'SULLIVAN
5. 11/16/2020 - RYAN O'SULLIVAN