TIM SEELEY

SEND THIS TO A FRIEND!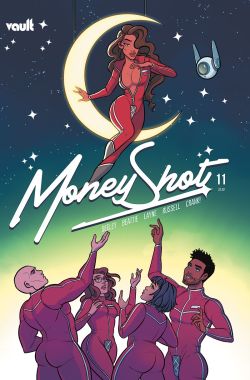 DF Interview: Tim Seeley explores the final frontier of funding space exploration in 'Money Shot'
By Byron Brewer
In the near future, space travel is ludicrously expensive and largely ignored. Enter Christine Ocampos, inventor of the Star Shot teleportation device. Her big idea: She'll travel to new worlds, engage – intimately – with local aliens, and film her exploits for a jaded Earth populace trying to find something new on the internet. Now, Chris and her merry band of scientists-cum-pornstars explore the universe, each other, and the complexities of sex.
From Vault Comics comes Money Shot, written by Tim Seeley and Sarah Beattie with art by Rebekah Isaacs and Kurt Michael Russell, a story about scientists having sex with aliens for the glory of mankind – and money. You know you wanna know, so DF chatted the book up with scribe Tim Seeley.
Dynamic Forces: Tim, my favorite quote from you about Money Shot is, "It's about porn but it ISN'T porn." Tell us what you endured to finally bring Money Shot to publication.
Tim Seeley: Ha, well, I mean, it's been turned down a few times. Everyone I sent the pitch to wrote back with "This is hilarious. We definitely can't touch it." And I mean, I feel like that line "it's about porn but isn't porn" comes from the pitch itself. There are just a lot of negative feelings about sex work in general in this country. But for those uncomfortable about porn, the book is also about science and the state of publicly funded research, and the human emotions and weird alien sh*t as well!
DF: Give readers a little insight into what Money Shot is about.
Tim Seeley: It's about a scientist driven to fund her space travel invention called Star Shot by starting an adult website wherein she records her, ahem...activities with her crew and alien beings. It's funny, and sexy and weird and sex positive and human.
DF: Introduce us please to Christine Ocampos.
Tim Seeley: Chris is our lead. a physicist who lives in an era where it's incredibly difficult to fund innovative science projects because no one gives a sh*t anymore. She's a really driven person though, and she won't sit idly by, ever. So she coerces her coworkers and ex-boyfriend to participate in a crazy ass idea. And immediately has to deal with the consequences.
DF: What other characters do we need to know about as we read issue #1? Can you spotlight a few here?
Tim Seeley: Omar Steinberg /Kneels Bore: 27. Chris' ex. Good looking, hipster astrophysicist who worked on Star Shot with Chris. Very concerned about looking 'uncool' or being embarrassed. He built "Little Shot" and occasionally treats it like a pet.
Doug Koch/Supermassive Blackhole: 32. Big, bald, idiot. A food /health biologist. Overconfident. Crude. A universal pervert. His quote "Yeah, whatever, I'm gonna f*ck it."
Annie Leong/Trinity Spheres: 24. An epidemiologist who likes to let her freak flag fly.
Bree Wander/ Constance Planck: 28. A physicist specializing in communications. Reserved and serious, she's now indulging her desire for 'control.' Worked on Star Shot with Chris and kinda hates her.
DF: Talk about the contributions of and your collaboration with co-scripter, comedian Sarah Beattie. How did her involvement come about?
Tim Seeley: Sarah and I have been internet buddies for like ten years, and very early on, I read some of her tweets and swore we'd work together. I've pitched her on EVERYTHING, and it took Money Shot to get her to finally come around. Sarah is my co-scripter, and idea board. She writes all the really offensive stuff, and all the really endearing stuff.
DF: Discuss the art of Rebekah Isaacs and Kurt Michael Russell.
Tim Seeley: Rebekah is one of my oldest friends in this biz...we first worked together on Hack/Slash like 11 years ago. I've been wanting to work with her for years, and for some reason, I felt like this pitch was perfect for her. I can't believe she agreed. She's an amazing artist, capable of drawing everything well, and telling stories with her characters alone.
Kurt is also an old H/S collaborator and he's another creator I wanted to work with because I knew he could tell a story. He's doing incredible work over Rebekah, and every choice he makes serves our story so well.
DF: After all that effort to get Money Shot to press, what do you think of how everything came together? Why should a new reader pick up Money Shot #1 in October?
Tim Seeley: Because it's goddamn good and everyone who has read it can't believe we took it this seriously and sincerely. Also, it's sexy, for everyone.
DF: Tim, no one knows you are a prolific writer and artist like I do. What other coming projects can you tell our readers about?
Tim Seeley: Well, I've still got Dark Red from Aftershock, Bloodshot from Valiant, and He-Man & the Masters of the Multiverse from DC. I've also got a one-shot called Tales from the Dark Multiverse: Blackest Night coming out at DC in November!
Dynamic Forces would like to thank Tim Seeley for taking time out of his busy schedule to answer our questions. Money Shot #1 from Vault Comics hits stores Oct. 23rd!
For more news and up-to-date announcements, join us here at Dynamic Forces, www.dynamicforces.com/htmlfiles/, "LIKE" us on Facebook, www.facebook.com/dynamicforcesinc, and follow us on Twitter, www.twitter.com/dynamicforces.
TALES FROM THE DARK MULTIVERSE: BLACKEST NIGHT #1 SIGNED BY TIM SEELEY
HE-MAN AND THE MASTERS OF THE MULTIVERSE #1 SIGNED BY TIM SEELEY
HACK/SLASH VS. CHAOS #1 SIGNED ATLAS EDITION - SIGNED BY TIM SEELEY
INJUSTICE VS. HE-MAN AND THE MASTERS OF THE UNIVERSE #1 SIGNED BY TIM SEELEY
HACK/SLASH VS VAMPIRELLA #1 (OF 5) ATLAS COMICS SIGNATURE SERIES - SIGNED TIM SEELEY EDITION
NIGHTWING #1 ULTRA-LIMITED NIGHTWING BLUE SIGNATURE EDITION SIGNED BY TIM SEELEY
GRAYSON #1 BLANK VARIANT SIGNED BY TIM SEELEY AND REMARKED BY KEN HAESER WITH A NIGHTWING SKETCH (BVS)
BLADE #1 ULTRA-LIMITED BLOOD RED EDITION SIGNED BY TIM SEELEY AND LOGAN FAERBER
DEADPOOL VS. THANOS #1 ULTRA-LIMITED BLOOD RED SIGNATURE SERIES EDITION SIGNED BY TIM SEELEY
---
NEW! 1. 11/25/2020 - STEVE SKROCE
4. 11/16/2020 - RYAN O'SULLIVAN
5. 11/16/2020 - RYAN O'SULLIVAN