MATT KINDT

SEND THIS TO A FRIEND!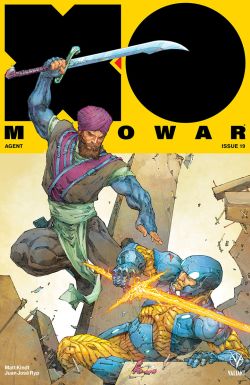 DF Interview: Matt Kindt has worlds collide as X-O Manowar celebrates 75 overall issues in comics
By Byron Brewer
Beyond time, space and reality, there lies the Unknown … and now it's coming here. When soldiers from a mysterious foreign realm arrive on Earth, it's up to the armored Visigoth known as X-O Manowar – newly returned to the planet and now the leader of his own elite G.A.T.E. unit – to deal with the intrusion. But are these otherworldly emissaries truly the threat they appear to be, or does a larger danger loom over the Valiant Universe still?
Worlds collide in X-O Manowar #19 as Eisner Award-nominated writer Matt Kindt (Eternity, Grass Kings) and artist Juan José Ryp (Britannia) bring a new plane of existence crashing down upon our own in a brand-new jumping-on point for fans new and veteran.
To learn more, DF took this opportunity to chat with scribe Matt Kindt.
Dynamic Forces: Matt, I know that issue #19 of your fantastic comic, X-O Manowar, also marks the armored barbarian prince's 75th overall issue at Valiant. What makes this character so special?
Matt Kindt: It's such a great and unique concept in comics. It sort of takes some things we've seen before but never in this combination. It's such a great combination of some of the best pillars of comics history with Jim Shooter, Steve Englehart, Bob Layton and Barry Windsor-Smith all coming together at Valiant and with this character. To put a barbarian in a suit of hi-tech armor – you can see that DNA in something like Iron Man and Conan. But it was genius to ground the barbarian in real history with the Visigoths and to make the armor something more than just a gadget – it has an alien origin, and in my run, it has become sentient. There really isn't anything else like it. With the massive amount of superhero and sci-fi comics that have come out, to have something still be this original is a feat in its own right.
DF: Why is issue #19 a good place for new readers to jump on, or longtime fans to return to X-O Manowar?
Matt Kindt: Aric is back on Earth, so if you missed the first year of the series (which, seriously – you shouldn't miss it!), you won't be lost. Aric has been through a lot so that history is going to be weighing on him. If you've been keeping up, you're going to know where he's at. If you're just beginning, the story is another great entry point into not just this series, but the Valiant Universe as a whole.
Aric gets asked to help Capshaw (the head of the government organization tasked with protecting us from aliens and what-not). Capshaw is one of those characters that can kind of get lost in the shuffle, but this arc is really going to humanize her. She's not just the government official that hands off the mission to the hero – she has a lot at stake here (especially in the aftermath of Harbinger Wars 2) and her fate is tied to the whims of this barbarian in a suit of alien sentient armor. We get to see Aric/XO through her eyes and I think that's a new and interesting way to really get at Aric's character – to both show the humanity of him and the alien-ness of his armor all at the same time.
DF: What can you tell us (non-spoilery, of course) about the storyline for your new arc, "Agent"?
Matt Kindt: This isn't going to just be a big smash-'em-up sci-fi story – although there is going to be a lot of smashing-'em-up, to be sure. Aric's mission (which he definitely chooses to accept) is to track down a mysterious ship that's landed in Australia. That ship just happens to be full of characters from the Unknown – which, if you've read any of Divinity (which you should!), you'll know that XO is in for some VERY cosmic conflicts.
The beauty of the shared universe of Valiant is that it allows you to sort of chain off stories from one to the next, so the end of Eternity #4 really directly leads into this storyline. Again, you don't have to read the other stuff to get this. But if you have, you might get a little more insight into the madness that's about to unfold. We're going to see the Brothers of the Bomb (introduced in Divinity and Eternity) and we're going to see a new team of characters introduced – some deadly "space cops" that we're calling the Titan Patrol.
DF: Going out on a spoilers limb here, but can you give us any clues at all about the "soldiers from a mysterious foreign realm (who) arrive on Earth?" [Valiant promo copy]
Matt Kindt: Haha, yes! I already spoiled it a bit, but Earth is about to get infiltrated by a few of the characters from Divinity's Unknown pocket universe. We're getting the Titan Patrol; Brothers of the Bomb; Atom, the Simulacrum Smasher, and a few more. And we're also going to see the re-emergence of a character I seeded way back in Divinity #1, finally realizing his destiny as maybe the best/worst villain in the Valiant Universe: David Camp.
DF: Finally, but certainly not least, talk about the awesome art of Juan José Ryp.
Matt Kindt: Wow. What is there to say? I honestly don't know how he can work so quickly. He puts so much detail into every panel. He's one of those artists who inspires you to come up with the most insane thing you can think of – just so you can see him draw it! The guy is a beast.
Dynamic Forces would like to thank Matt Kindt for taking time out of his busy schedule to answer our questions. X-O Manowar #19 from Valiant Entertainment hits stores Sept. 26 – TODAY!
For more news and up-to-date announcements, join us here at Dynamic Forces, www.dynamicforces.com/htmlfiles/, "LIKE" us on Facebook, www.facebook.com/dynamicforcesinc, and follow us on Twitter, www.twitter.com/dynamicforces.
STAR WARS: REBEL HEIST #1 SILVER SIGNATURE SERIES SIGNED BY MATT KINDT!
GREEN LANTERN #23.4 GOLD SIGNATURE SERIES SIGNED BY MATT KINDT!
JUSTICE LEAGUE #8 GOLD SIGNATURE SERIES SIGNED BY MATT KINDT!
MIND MGMT #13 GOLD SIGNATURE SERIES SIGNED BY MATT KINDT!
MARVEL KNIGHTS SPIDER-MAN #1 GOLD SIGNATURE SERIES SIGNED BY MATT KINDT!
---
NEW! 1. 11/25/2020 - STEVE SKROCE
4. 11/16/2020 - RYAN O'SULLIVAN
5. 11/16/2020 - RYAN O'SULLIVAN