MICHELLE CZAJKOWSKI FUS

SEND THIS TO A FRIEND!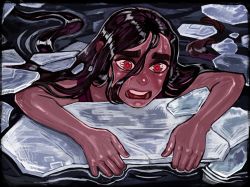 DF Interview: Michelle Czajkowski Fus talks Skybound/Image deal, 'Ava's Demon: Reborn' on Kickstarter
By Byron Brewer
A Kickstarter campaign for Michelle Czajkowski Fus' all-new print version of her YA fantasy/sci-fi webcomic Ava's Demon: Reborn is live now. The comic follows a young girl named Ava and an ancient queen living in Ava's mind. Though the two have struggled to co-exist, they make a pact to destroy the most powerful being in the universe.
Skybound Entertainment and Image Comics have announced a partnership with the creator to assist in efforts around the Ava's Demon: Reborn Kickstarter and future projects, including a mass market soft cover of Ava's Demon down the line.
DF chatted with Michelle Czajkowski Fus about the recent activity around her webcomic and its coming print version.
Dymamic Forces: Michelle, tell readers who might not know about Ava's Demon how your webcomic came to be. When did you start it and what was its inspiration?
Michelle Czajkowski Fus: I was interning at Pixar, and right outside our training lab the entire color script for UP was hanging as a fine-art piece in the hallway. Every time I passed it, I thought about how the color script by itself told the entire story so well, with just mood lighting and shape. I didn't emulate the beauty of it very well, but I tried to make Ava's Demon the color script for my own story, some panel sequences were more successful, and some had me struggling. It was an experiment, in the end, and it still is.
DF: Congratulations on your partnership with Skybound Entertainment. What can you tell us about how this came about, and what will this mean for fans of Ava's Demon?
Michelle Czajkowski Fus: Thank you! I'm super excited that Skybound gave me a chance. Skybound actually contacted me for a partnership, which was awesome because I had a hard time convincing other publishers that what I had made could be put into a book format. The team at Skybound just seemed to "get it" which was excellent and a godsend. I really hope this means bigger and better ways to tell the story of Ava's Demon, but I'm happy with just making as many books for Skybound as possible.
DF: Tell us about the world you have created for this webcomic.
Michelle Czajkowski Fus:Growing up I hadn't found most sci-fi universes available to me very appealing. I often felt left out of them as a nonbinary zelda-loving kid with a ton of self-esteem issues and a desire for fantasy and dark adventures. I've always wanted to make a universe with more possibility, more diversity, and more magic that I could lose myself in, so that I could escape from disappointing realities. I had been dreaming up this place for a very long time just to entertain myself, and I'm happy I've been able to find others who also can lose themselves in it.
DF: Introduce readers to your protagonists: the young girl and the ancient queen.
Michelle Czajkowski Fus:The young girl is Ava, a representation of my outer self, and Wrathia the Ancient Queen, my inner feelings, anxieties, depression, and desires. Ava and Wrathia combine to become a being who can brave the universe around them.
DF: What can you tell us about the overall storyline?
Michelle Czajkowski Fus:I'd like to think of the storyline as a sort of Odyssey, with an alien-esque crew of teens on a quest to kill both the demons plaguing their lives in reality and the demons they must conquer inside themselves. I hope to create characters that are both empathetic and flawed, alien and human, who are not friends from the start but become friends along their journey. That they will gain enlightened, god-like powers through finding what is right and what is wrong in a chaotic and flawed dystopia, inside a fantastic and alien universe.
DF: Tell readers about your creative process. As both writer and artist, how do you go about putting the comic together?
Michelle Czajkowski Fus: I have the general story beats written out, and at about ten panels a week I will sort of knock each of the beats off my list, fixing and mending anything that is lacking or doesn't make much sense along the way. I also like to see how the readers react to each update, and in that way they also help me write the story, and they let me see what I'm doing both right and wrong.
DF: Michelle, tell readers about the Kickstarter campaign for a hardcover version of Ava's Demon.
Michelle Czajkowski Fus: The Kickstarter campaign can be found at https://tinyurl.com/yypt9k4g
It's an 8x9 hardcover combination of both the previous books (One and Two) in a traditional comic book format, plus a lot more panels (and never-before-seen mini-comics of all the characters if funded to its highest). This book means bigger and better things for Ava's Demon as a series and I am super excited to be able to launch it with Skybound! I hope readers old and new will all be excited to participate!
Dynamic Forces would like to thank Michelle Czajkowski Fus for taking time out of her busy schedule to answer our questions. Ava's Demon: Reborn from Skybound and Image Comics is up on Kickstarter now!
For more news and up-to-date announcements, join us here at Dynamic Forces, www.dynamicforces.com/htmlfiles/, "LIKE" us on Facebook, www.facebook.com/dynamicforcesinc, and follow us on Twitter, www.twitter.com/dynamicforces.
---
NEW! 1. 11/22/2021 - KURT BUSIEK
3. 11/15/2021 - DAVID M. BOOHER