CHRISTOPHER PRIEST

SEND THIS TO A FRIEND!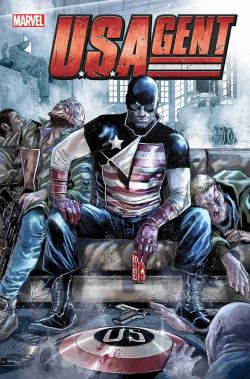 DF Interview: Christopher Priest suits 'U.S.Agent' up for new solo series
By Byron Brewer
John Walker, the former Super Patriot, has been stripped of his official U.S.Agent status and is now operating as an independent government contractor protecting government covert interests. His latest protection detail draws him into a conflict between a small town and the corporate giant trying to destroy it. John acquires a new partner and new enemy along the way while being haunted by ghosts from his past and confronting challenges to his future.
Writer Christopher Priest and artist Georges Jeanty bring back the Super-Soldier you love to hate in this 5-part series from the House of Ideas. Unabashed fans of Walker, DF wanted to find out more, so we chatted it up with scribe Christopher Priest.
Dynamic Forces: Priest, you always approach anything you write with a vigor and intensity that is palpable. Give us your take on this character everyone loves to hate, U.S.Agent.
Christopher Priest: One of my favorite comics stories of all time was Steve Englehart's epic 70's-era conflict between Captain America and the man who replaced him during the 1950s, the so-called "Cap of The 1950's". When Marvel offered me the U.S.Agent project, I was thrilled because I assumed the Super Patriot was also that character, the 1950s Cap.
But, no.
Too late, I'd signed on to the book :-) Apparently, 1950s Cap is still on ice somewhere, and my old friend, the late Mark Gruenwald, created a different character to replace Captain America after Cap renounced the title... which actually made sense. I mean, why thaw out a psycho bigot to replace Steve Rogers?
I've had to be a quick study on John Walker who is close enough to the Cap of the 1950s that I have to wonder why Mark chose not to simply use the Englehart character. Although 50s Cap was decidedly more of an anachronism than Walker.
I see John Walker as another shade of Deathstroke. I mean, you start with Slade Wilson's emotional dysfunction, take a political hard right, and toss in just a pinch of Seinfeld's David Puddy. That's John Walker. Christian rock on his radio presets, a Jesus fish on the back of the Quinjet.
DF: When U.S.Agent hits stores in November, what do readers need to know about what has "gone before" to appreciate John Walker's situation and his frame of mind? Where does this man find himself?
Christopher Priest: Nothing. Because I knew nothing. I'm writing this book by me to me, so it's a primer on John Walker. I guess it helps if you know who Val Cooper is but, if not, just hang on, we'll get around to explaining her.
DF: What can you tell us about the overall storyline of this limited series, which I believe is titled "American Zealot"?
Christopher Priest: Well, anytime you tackle Captain America, you are invariably exploring the theme of what "America" means. As it turns out, "America" means different things to different people. The long-term benefit of what is unarguably shaping up to be a historically painful year for this country will be the acknowledging of People Who Are Not Us, and their right to express themselves. This is a theoretical liberty we've all been taught since grade school that has never been exercised in practical application without sacrifice or, as we have seen, social unrest.
America is all about People Who Are Not Us. Freedom is not about your right to blast hip-hop music. It's about you standing up for that other guy's right to blast hip-hop music. It amazes me that so many of us don't get that. For me to be free, you have to be free. Freedom is about more than our rights, it's about our responsibility to, if not love one another, be patient with and tolerant of one another. To put up with each other.
So that's the swamp we get into in U.S.Agent, this Neapolitan sundae of conflicting views of America. The ways they are different, the ways they are exactly the same, and why we need each other.
John Walker, a man born and raised in a tiny town in a flyover state, is sent to a tiny town in a flyover state on a routine mission which, of course, quickly escalates out of control and brings him into conflict with his replacement, the all-new U.S.Agent, who is, in every conceivable sense, the exact opposite of Walker.
DF: What other characters do we need to look out for during the 5-issue mini? Can you introduce some of them here? Any prominent new characters being introduced?
Christopher Priest: Yes, but I really can't get into them here without dropping major spoilers. In fact, it was hard writing the Previews copy because we have to sound like a lot of nothing is happening, otherwise we give up the surprises.
DF: You tickled me with a comment you made to Marvel.com about thinking you were doing Captain America "until I realized it was this guy, Cap's scowling, emotionally damaged misfit cousin. Cousin America." I know this is a juxtaposition for a superhero psychology text, but can you talk about handling Cap in a situation vs. Walker in the same situation?
Christopher Priest: Oh, sure. When asked, I explain Captain America this way: Thanos is wreaking havoc a mile away from where The Avengers have hunkered down. Between the AV's and Thanos is Farmer Billy Bob's farm. The Avengers say, "Avengers Assemble!" and prepare to race across the farm and punch out Thanos, but Farmer Billy Bob refuses to give them permission to cross his property.
The Avengers scoff at Billy Bob: screw him, the entire planet is at stake. But not Cap. Cap believes in moral absolutes and Cap is unwilling to compromise the very principles he is fighting for.
But, as Tom DeFalco explained to me, the key to writing Captain America is Cap Will Find A Way. And he will. He will solve the problem somehow.
As I understand him, the whole point of the John Walker character is to amplify and define the real Captain America. Therefore, in word and deed, virtually everything John Walker does inures to the benefit of the Captain America character. Everything John does explains why Cap is so great and why just dressing like Captain America isn't nearly enough.
In other words, the whole point of John Walker is He Is Not Captain America. What he is, however, is a patriot, a soldier, a "regular" guy who means well. Per DeFalco, Cap Will Find A Way. Therefore U.S.Agent Will Find A Way Eventually Maybe.
In the Billy Bob example, U.S.Agent would absolutely agree with Cap. He'd say so while hidden in the dense corn stalks on the far side of Billy Bob's farm, aiming a McMillan TAC-338A sniper rifle at Thanos' giant melon.
DF: Talk about your collaborator, artist Georges Jeanty. How do you like the new duds designed for U.S.Agent?
Christopher Priest: The new look was a collaborative effort between editor Brevoort, Georges and myself in an effort to modernize the character and his equipment. I took away his Vibranium shield because, in my vision of the character, an indestructible shield seemed to work against the concept if the whole point of the character is He Is Not Captain America.
We've given him a Titanium alloy shield which, while very tough, can still be dented or even smashed under the right conditions. Walker carries several spares.
I've known Georges for a few years. I've admired his work both for Marvel and independent publishers and tried hard to hire him for sacredsix, but I suspect my writing was well beneath Georges' dignity until COVID took us off the convention circuit (laughs).
What I am looking forward to most in Georges' work is his versatility with characters. Georges has a seemingly inexhaustible catalog of eyes and faces and noses, people from all walks of life, which is the entire point of "American Zealot." The city slickers and the disenfranchised rural poor share virtually the same hopes for their children and yet we have all of this insane finger-pointing and political polarization. I needed an artist who can handle a tossed salad of interest groups polarized by conflicting ideologies with each insisting theirs is the "right" or "correct" view of America while missing the point that America must be all of it or it could never be any of it.
As a human being, Georges generates an amazing amount of electricity just being a guy's guy. He bubbles over with warmth and humanity and a genuineness which is increasingly rare among us snobby comics pros. I have a great deal of faith in his ability to understand both the destination and the journey I'm dragging him along on, and to fire up the writer and the writing by bringing these characters to life. I always write better and faster once the characters themselves start telling me who they are and what they'd do.
DF: Priest, what other projects do you have ongoing or in the near-future you can tell readers about?
Christopher Priest: None, LOL!. Actually, there's so much in the pipeline now I'm sure fans will be just sick of me by this time next year. Unfortunately, I have to be responsible and allow the publishers to announce their projects within their time frame.
Hoping and praying for a season of restoration, healing, and unity for our country. Stay safe.
Dynamic Forces would like to thank Christopher Priest for taking time out of his busy schedule to answer our questions. U.S.Agent #1 from Marvel Comics is slated to hit stores Nov. 4th!
For more news and up-to-date announcements, join us here at Dynamic Forces, www.dynamicforces.com/htmlfiles/, "LIKE" us on Facebook, www.facebook.com/dynamicforcesinc, and follow us on Twitter, www.twitter.com/dynamicforces.
DEATHSTROKE #50 SIGNED BY CHRISTOPHER PRIEST
VAMPIRELLA VOL. 5 #16 - LUCIO PARRILLO CGC-GRADED COVER
VAMPIRELLA VOL. 5 #15 - LUCIO PARRILLO CGC-GRADED COVER
VAMPIRELLA VOL. 5 #14 - LUCIO PARRILLO CGC-GRADED COVER
VAMPIRELLA VOL. 5 #13 - LUCIO PARRILLO CGC-GRADED COVER
VAMPIRELLA VOL.5 #12 - LUCIO PARRILLO CGC-GRADED COVER
VAMPIRELLA VOL. 5 #11 - LUCIO PARRILLO CGC-GRADED COVER
SACRED SIX #1 - LUCIO PARRILLO LIMITED VIRGIN COVER
SACRED SIX #1 - ATLAS EDITION SIGNED BY JAE LEE
VAMPIRELLA VOL. 5 #1 BILLY TUCCI EXCLUSIVE COVER - PURE PENCIL EDITION
JOSEPH MICHAEL LINSNER VAMPIRELLA #1 EXCLUSIVE COVER - VIRGIN BLACK AND WHITE EDITION
---
NEW! 1. 11/22/2021 - KURT BUSIEK
3. 11/15/2021 - DAVID M. BOOHER