STEVE SKROCE

SEND THIS TO A FRIEND!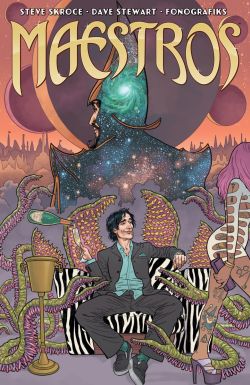 DF Interview: Steve Skroce asks if a nice guy can become a wizard king and STAY nice in Maestros
By Byron Brewer
The Maestro and his entire royal family have been murdered. Now, his banished son from Earth will inherit the Wizard King's throne along with a spell that turns its user into GOD. With enemies everywhere, will this Orlando-born millennial be able to keep his new magic kingdom?
From Steve Skroce, artist and co-creator of We Stand on Guard and Doc Frankenstein, comes the new series, Maestros. DF wanted to know more, so we sat down with the creator to see what we could find out.
Dynamic Forces: Steve, before we begin on your new series Maestros from Image, tell us a little about how you got started in comics.
Steve Skroce: It's the same old story, little comic fan spends every free moment drawing his favorite characters until he feels he has enough skill to send sample pages to the big two, rejection letter after rejection letter until one day Marvel calls up with an assignment and the rest is history. I started on a Clive Barker licensed comic called Ectokid and eventually got a gig on Cable, that evolved into X-Man and ultimately Spider-Man and Wolverine. I wish I had a more original origin story, it would've been cool if I had saved Stan Lee from a mugging or something and he hired me for Spider-Man on the spot but I'm boring.
DF: When did Artist Steve become Artist AND Writer Steve?
Steve Skroce: I'd written and drawn Wolverine years ago and had meant to write and draw more of my own stories but the fates intervened and I ended up doing storyboards for feature films for a bunch of years instead. I had a lot of starts and stops with my own concepts but when Eric Stephenson gave me the thumbs up to do my own thing I jumped at the chance and finally made my own comic.
DF: What can you tell us about the genesis of Maestros? Was there any certain muse from your own life or entertainment that led to the book?
Steve Skroce: Everything in my forty-four-year media diet is being referenced in Maestros, one way or another. It's everything I love about the fantasy and adventure genres, it's '80s fantasy movies, TV and cartoons, it's influenced by writers like Jack Vance and Sussana Clarke, it's comedy horror like Raimi's Evil Dead films. It's a lot of different things.
DF: Introduce readers to your primary protagonist, the "Orlando-born millennial" about to inherit his father's kingdom (which I take it is on another world or in another dimension?) and – AND – a spell to make him a GOD! (No pressure on him! Laughs)
Steve Skroce: William Little grew up in Orlando, Florida, and was pretty much a regular kid until about twelve years old when his mother reveals to him that his absentee father is actually the Maestro, wizard king of a myriad of magical worlds across reality. His father brings Willy and his mother back into his world of wizarding intrigue. He quickly realizes that being a wizard prince isn't what it's cracked up to be, he has over two hundred plus half siblings ahead of him for the throne and being a prince comes with zero exemptions from the often vicious and cruel discipline of magic school. He was expecting Hogwarts and instead is literally fighting for his life. He's a nice guy in a not so nice world.
My story begins with the Maestro and his entire royal family's murder by an ancient enemy.
Now, the throne passes to Willy, his banished son and only living heir.
Willy digs his gig as the new Maestro. He cancels every brutal, cruel and draconian custom that his father's kingdom has. The recently demoted wizarding powers that be are pissed off, and then "The Book Of Remaking," the Maestro's crown jewel, is stolen; it's a spell that allows its user to remake reality in their own image, essentially making its wielder the one true God of a new age. With enemies everywhere, can Willy keep his new magic kingdom?
DF: Can you tell us – or hint in a non-spoilery manner – why the Earth kid was banished from "Wizard World"?
Steve Skroce: Willy was banished from his father's kingdom for doing the one thing that's forbidden. He says "no" to his father.
DF: What can you tell us about the initial storyline? How important will the legacy of his father, the Wizard King, be to the story?
Steve Skroce: The Maestros are a dynasty that goes back to the dawn of time, these all powerful mages create and destroy life and worlds as they see fit. All that power over all those eons hasn't really presented any incentives for any Maestro to get their emotional sh*t together. They're not evil in a Sauron kind of way, but they're capable of some truly horrible stuff, they suffer from a cosmic level, narcissistic personality disorder, from their own perspective I'm sure they'd see themselves as benevolent, yet beyond judgment.
Willy thinks that's B.S. and wants to rule with equanimity and justice for all. He was stepped on a lot during his time in Zainon, his father's capital world, and wants to break the cycle of malevolent rule. Can a nice guy stay nice when you give him ultimate power and no one tells him "NO" again?
DF: Do you prefer the one-man band act (artist/writer) as on Maestros when working in comics as opposed to collaborations, like the one you did two years ago with Brian K. Vaughan on the excellent We Stand on Guard from Image? Advantage or disadvantage?
Steve Skroce: I like both, I'd work with a writer again if he or she had a great story for me to draw. There's nothing like creating your own universe but collaborations lead to new things that wouldn't exist without two minds working together and that's really cool too.
DF: Steve, and I hope you don't mind, but as a decades-long comics fanboy (or fan old man now, LOL) I HAVE to ask about your working with Alan Moore's version of Youngblood for Rob Liefeld. Thoughts or anecdotes?
Steve Skroce: I've fond memories of those times, working with Alan Moore was a bucket list goal and he was really cool the few times we spoke. He'd write these insanely detailed scripts that described these tableaus that packed a lot of story into every drawing. You'd get a thirty five page script for twenty two pages, it'd have everything you'd need to make a great comic page, full of drama and vanguard imagery as long as you were up for some challenging drawing.
Unfortunately, it wasn't meant to last. They lost funding a couple of months in and we only completed two issues and change.
DF: Any other projects, inside or outside comics, that you'd care to let our readers know about?
Steve Skroce: Just comics for me, baby! Maestros is out October 18th and it's colored by the peerless Dave Stewart with letters and graphic design is by the inimitable Fonografics.
Dynamic Forces would like to thank Steve Skroce for taking time out of his busy schedule to answer our questions. Maestros #1 from Image Comics hits stores Oct. 18th!
For more news and up-to-date announcements, join us here at Dynamic Forces, www.dynamicforces.com/htmlfiles/, "LIKE" us on Facebook, www.facebook.com/dynamicforcesinc, and follow us on Twitter, www.twitter.com/dynamicforces.
WE STAND ON GUARD #1 FIRST PRINTING FOUR PACK!
WE STAND ON GUARD #1 FIRST PRINTING TRIPLE PACK!
WE STAND ON GUARD #1 FIRST PRINTING DUAL PACK!
WE STAND ON GUARD #1 FIRST PRINTING!
---
NEW! 1. 11/25/2020 - STEVE SKROCE
4. 11/16/2020 - RYAN O'SULLIVAN
5. 11/16/2020 - RYAN O'SULLIVAN