IAN EDGINTON

SEND THIS TO A FRIEND!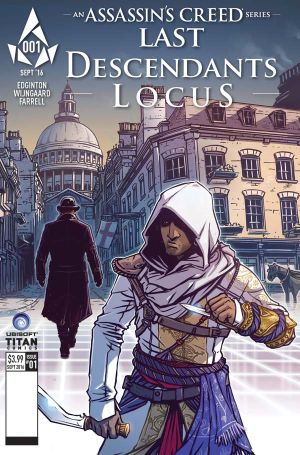 DF Interview: History and mystery abound in Ian Edginton's Assassin's Creed: Last Descendants: Locus
By Byron Brewer
Today, Titan Comics unleashes a brand new story set in the stunning world of Assassin's Creed: Syndicate!
In Assassin's Creed: Last Descendants: Locus, from the talents of writer Ian Edginton and artist Caspar Wijngaard, dive into the sordid underworld of Victorian London, and the memories of New Yorker Tommy Greyling as he teams up with Evie Frye and Henry Green to search for a Piece of Eden that has the potential to change the world!
We were so excited by this, DF had to seek out the scribe, Ian Edginton, for more info. Here is what he told us when we sat down.
Dynamic Forces: Ian, what is it like to be attached to a part of this expanding line of Assassin's Creed comics under Titan?
Ian Edginton: It's great to be able to contribute to the Assassin's Creed "canon," so to speak. To get to play in that world. It's a huge, historical canvas and for me that was part of the attraction, to pull in genuine historical events and characters and weave the threads of their stories in amongst those of the games, or in this case the novel. Sometimes it did feel a little like trying to cram for university, as Ubisoft were particularly thorough in making sure my story fit in with actual events of the time. There were some historical characters that I wanted to use but couldn't because they wouldn't have been quite the right age or were documented as being in a different locations and couldn't be in two places at once!
DF: Are you a gamer or have you written for games before? If so, have you played and/or written for Assassin's Creed?
Ian Edginton: I was a full-on gamer but as I got older and working, married life and kids came along, it had to take a bit of a back-seat. Not because I didn't want to play but because there weren't enough hours in the day! I still kept my ear to the ground and am aware of what's going on but when I landed this job, my first port of call was my future son-in-law, who's a serious gamer. He brought me up to speed on what I needed to know. It was great to be able to sit playing and legitimately tell my wife, "it's research."
DF: Is it true that your book, Last Descendants: Locus, is a four-issue miniseries that not only ties directly into the Assassin's Creed young adult book series, Last Descendants by Matthew J. Kirby [the release date was August 30, 2016 by Scholastic] but also tips its hat to the Victorian London setting of Assassin's Creed: Syndicate?
Ian Edginton: That's right. Kirby's novel is set in 1863, during the Draft Riots in New York City. I picked one of the characters, a New York beat cop named Tommy Greyling and we see what he's up to a couple of years later. It turns out he's now a Pinkerton agent and investigating the suspicious death of Horace Greeley, a nominee for the leader of the Republican Party and the proprietor of The Tribune newspaper who reported on the riots.
His investigation takes him to London where he's joined en route by Mark Twain who is on a lecture tour of the UK. The London they arrive in is the same London from Assassins Creed: Syndicate, where they cross paths with Assassins Henry Green and Evie Frye. I love world-building, so it was fun exercise pulling all those threads together.
DF: Tell us about one of your protagonists, the teenager Sean.
Ian Edginton: Sean is Tommy Greyling's descendant and is something of a troubled soul. Following a life-changing accident, he's now in a wheelchair and is having trouble coming to terms with it. I don't want to give too much away, but Sean has an ulterior motive for riding shot-gun in his ancestor's memories and it's not necessarily a healthy one. However, Tommy's investigation helps Sean come to terms with who he is and the situation he finds himself in.
DF: How has it been working with artist Caspar Wijngaard, whom many readers will know from Image Comics' Limbo?
Ian Edginton: I love what he's doing! I'd already been reading up Limbo before I even knew we were going to be working together, so when I got the word that he was going to be the artist I knew the book would be in safe hands. He's an exceptional talent. The Limbo collection came out recently, I'd recommend picking it up!
DF: I know writers who find it a challenge to take a cult favorite based on live action (say, Six Million Dollar Man or even Britain's Avengers or James Bond) and find that same "voice" on the comic book page. So what is it like to bring a video game-famed world to life for comics?
Ian Edginton: I started off my career working on licensed movie properties such as Aliens, Terminator and Predator for Dark Horse, so I learnt early on the dos-and-don'ts when it comes to adapting established characters and lore into a new story and medium. Regardless of the character/properties, the rules are pretty standard and common sense. You just have to be mindful to keep within the boundaries of how the characters and their worlds operate. There are a ton of references on Assassin's Creed so that made doing the research a lot easier. The only aspect that did take a lot of time was sourcing actual historical events and individuals to work into the story.
Working on a game series isn't all that different from working on a film or TV property. I've worked on a Kane and Lynch series for Dark Horse and The Evil Within for Titan. I also worked on Hellgate: London too.
DF: And, with your miniseries coming out in Sept. 21 [today!], I am sure it won't hurt that the franchise's first movie starring Michael Fassbender and Marion Cotillard is being released in theatres this December, eh?
Ian Edginton: No, of course not – it certainly helps!
DF: Ian, any other projects current or near-future you'd like to mention?
Ian Edginton: I'm currently writing Batman'66 Meets The Avengers -- Steed and Mrs. Peel, not that other lot! I'm also doing several series for 2000AD. There's Scarlet Traces: Cold War, the third in my Scarlet Traces series which are sequels to HG Wells' The War of the Worlds. Then there's the clockpunk saga Brass Sun with INJ Culbard and sword & sorcery series Kingmaker with Leigh Gallagher. In addition I've written a couple of Evil Dead things for Space Goat and I'm working on a project with a rather well-known metal band which I can't say much about right now!
Dynamic Forces would like to thank Ian Edginton for taking time out of his busy schedule to answer our questions. Assassin's Creed: Last Descendants: Locus #1 from Titan Comics hits stores today, Sept. 21st!
For more news and up-to-date announcements, join us here at Dynamic Forces, www.dynamicforces.com/htmlfiles/, "LIKE" us on Facebook, www.facebook.com/dynamicforcesinc, and follow us on Twitter, www.twitter.com/dynamicforces
THE SILVER SCORPION TP Writing by Ian Edginton
---
NEW! 1. 11/25/2020 - STEVE SKROCE
4. 11/16/2020 - RYAN O'SULLIVAN
5. 11/16/2020 - RYAN O'SULLIVAN