FABIAN RANGEL JR

SEND THIS TO A FRIEND!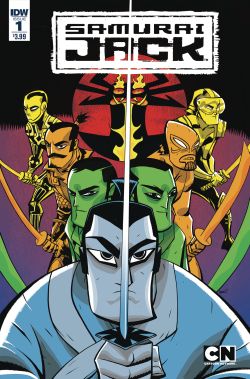 DF Interview: Fabian Rangel Jr. takes us on some realities rides in Samurai Jack
By Byron Brewer
A ruthless biker gang ambushes a royal envoy. The name of their leader? SAMURAI JACK! From the team that brought you Helena Crash – writer Fabian Rangel Jr. and artist Warwick J. Cadwell – comes an all-new take on the legendary wandering samurai based on the Adult Swim TV series of Cartoon Network that is completely different and yet surprisingly familiar!
Don't think so? Well, wait until you see what scribe Fabian Rangel Jr. told DF! Here's what he said.
Dynamic Forces: Fabian, Samurai Jack has a very strong fanbase. Now that he's vanished from the TV screen, you're carrying the ball … every ball! … with your iteration. How do you meet that challenge as this new comics series from IDW begins?
Fabian Rangel Jr.: Well, speaking as a huge fan myself, I'm excited there's going to be new Samurai Jack adventures to read. As long as we stay true to what makes Jack great (action, humor, wild imagination) then I think the fanbase will be pleased.
DF: Tell us how you see the character. Who is Samurai Jack to you?
Fabian Rangel Jr.: He's a modern example of the great hero archetypes. A highly skilled warrior trying to set things right. A hero who does what's right, no matter what. His character evokes a lot of sympathy, we feel for Jack. His frustration, the tragedy of his origin, the overwhelming odds he faces. To me, he represents the endurance of the human spirit.
DF: What kind of stories will readers be seeing in this new series?
Fabian Rangel Jr.: Being able to play in the world of Samurai Jack is a creator's dream come true. You can do all kind of stories; from sci-fi to apocalyptic action, to western, to noir. That's one of the strengths of the series. In our story, we see Jack inhabiting different versions of himself from parallel realities. So, we really had a blast coming up with settings and roles for him to play. Each story has different obstacles to overcome, different enemies to face, difficult decisions for Jack to wrestle with. The spirit of the show is in this comic, but the characters are new, and different, while also completely being a Samurai Jack-styled adventure.
DF: Aside from Jack, tell us about any other characters who will be appearing in the series. Can you introduce them to us briefly?
Fabian Rangel Jr.: Don't want to give too much away, but you'll see new warlords, new alien warriors, berserker bounty hunters, new heroes, the toughest wrestlers several worlds have to offer, and a giant kaiju. Those things cover just the first three issues.
DF: Can you tell us anything, non-spoilery of course, about any big-bads? Any of those behind-the-scenes baddies waiting for us?
Fabian Rangel Jr.: It wouldn't be Samurai Jack without Aku, and when he does show up, it's in a way that shows how no matter what, he is still the biggest, baddest villain of them all. Behind the scenes, I can tell you that writing Aku is so damn fun and fulfilling. He's so great.
DF: Talk a little about the art of Warwick J. Cadwell. How does it feel to be reunited with your partner from Helena Crash?
Fabian Rangel Jr.: Warwick is a damn genius. His design work (especially his character designs) is mind blowing. I've loved every second of working with him ever since Helena, and have been excited to see him level up even more on this. He's an absolute blast to work with, and I don't want it to end anytime soon!
DF: Fabian, what projects are you working on for which readers should be on the lookout?
Fabian Rangel Jr.: Space Riders: Galaxy of Brutality is wrapping up. One of my other comics is getting a sequel, and I have a new creator-owned mini being announced soon. Follow me on social media to stay tuned!
Dynamic Forces would like to thank Fabian Rangel Jr. for taking time out of his busy schedule to answer our questions. Samurai Jack #1 from IDW Publishing hits stores today, Sept. 20th!
For more news and up-to-date announcements, join us here at Dynamic Forces, www.dynamicforces.com/htmlfiles/, "LIKE" us on Facebook, www.facebook.com/dynamicforcesinc, and follow us on Twitter, www.twitter.com/dynamicforces.
---
NEW! 1. 01/14/2021 - MARIA LIOVET
3. 01/07/2021 - DARICK ROBERTSON
4. 01/04/2021 - CONOR MCCREERY
5. 12/31/2020 - BRANDON GRAHAM