PETER MILLIGAN

SEND THIS TO A FRIEND!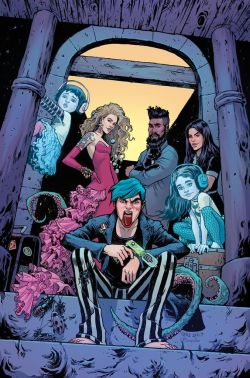 DF Interview: Peter Milligan debuts IDW's Black Crown imprint with Kid Lobotomy
By Byron Brewer
Kafka meets King Lear by way of Young Frankenstein in Kid Lobotomy, a dark, demented, monthly satire that follows a dysfunctional family of hoteliers. Will sibling rivalry, seduction and shapeshifting eventually lead to sanity or salvation?
Big Daddy is a rich hotelier who, in a cracked echo of King Lear, appoints his youngest descendant to manage The Suites, a peculiar hotel located behind the Black Crown Pub. Affectionately known as Kid, his good looks and swagger can't hide a rough childhood of strange therapies and brain operations that have awakened inner demons and psychodramas. This of course makes him eminently qualified to perform lobotomies. A failed rockstar / successful madman gets one last change to prove his worth – and regain his sanity – by turning the hotel that was once his childhood sanctuary into a lucrative business, despite a host of obstacles, including his own sister who would love nothing more than to see him fail miserably.
Kid Lobotomy is co-created/written by Peter Milligan (Shade, the Changing Man, Brittania, Hellblazer) and illustrated by Tess Fowler (Rat Queens). For more on the new book, DF turned to scribe Peter Milligan.
Dynamic Forces: Peter, how does it feel now that you and co-creator/artist Tess Fowler have been chosen to launch the first of a brand new imprint at IDW Publishing – Shelly Bond's Black Crown – as well as "set the tone of the buzz-worthy and hotly anticipated new line"? No pressure, right? (laughs)
Peter Milligan: All joking aside, the pressure – if indeed there is pressure – comes from creating something – or co-creating something – that you believe is very special and that gets you excited and that you want readers to feel the same way about. If this is the tone that's set for the rest of the line, it's surely going to be one of the most absurd, emotionally intense, and heartbreakingly funny lines in the history of words and pictures (horrible self-promotional hyperbole over).
DF: Kid Lobotomy seems on its surface a dark, demented satire, but knowing you as I do, Peter, I am certain there is a heck of a lot underneath even that visibly horrendous surface. Tell us about this book and why "this is different from anything I've written." [IDW promo]
PM: The book is indeed demented, and dark, but at its heart it's about a young man trying to work out why he's the way he is, and not have his brain badly damaged as he does it. An everyday tale, in other words.
It isn't so much that Kid Lobotomy is different from anything I've written – there are elements in this book that I think are related to some of my earlier work – it's how it has come together, how it seems to be a synthesis of a lot of the things that intrigue me about comics and what comics are uniquely capable of achieving. This book feels incredibly personal to me but I hope and feel it has universal appeal too, thanks in no small measure to Tess Fowler's truly incredible interpretations of my dark dreams, adding some of her own dark dreams too, and Shelly Bond's editorial ability to lead a writer through the labyrinth of their own tortured keyboard. In other words, when you're dealing with a book with so many absurdist dark and funny elements, it's great to have someone standing just a little back saying, "Careful, Milligan, you're running this ship into the rocks". Does this answer your question? Only time will tell…
DF: What makes Kid tick as a character for you?
PM: When you tick off some characteristics or facts about Kid, he can at first seem like a pretty absurd and wacky character but what's important for me is that we care about him. He's a very human young man, damaged but still with a lot of heart and, dare I say it, love. He also has an ability not to take himself too seriously, even in the most horrific or gut-wrenching situations.
DF: Can you tell us anymore about the history of his family or the hotel he now runs?
PM: Ruling over Kid's family and hotel empire, part King Lear with a little Citizen Kane, is Big Daddy. Manipulative, grotesque, he's used many dubious means to try to cure Kid of his mental troubles over the years. Though whether these are indeed cures or part of a more malign design, we shall see. Kid has a sister, Rosebud, probably as manipulative as her dad but a hell of lot prettier and certainly more attractive to Kid, which creates its own labyrinthine problems.
DF: Who are some of Kid's first guests we might meet in #1
PM: There's the man having a special kind of room service in the SANITY SUITE; sister Rosebud shows up too but she's not a paying guest. And finally, there's a character called Randall Van de Post, who has a weird kind of condition that he hopes a few days in the suite will cure. In this instance, the disease really is worse than the cure…
DF: Aside from Kid, any other recurring characters? If so, can you briefly introduce them to us?
PM: As mentioned above, there is Big Daddy and Rosebud. There is also Ottla, a beautiful, loyal, yet mysterious shapeshifting chambermaid, and a dapper receptionist called Gervais. Brooding over all these is the character of the hotel itself, The Suites. When the Milligans came to London, they had this pretty big old house. I wasn't born there but lived there from time to time and was intrigued even as a child at how the mental life of this large family and previous occupiers seemed to imprint itself on the house, so the house became a kind of echo of and metaphor for the interior world of the family. There was the room where my poor uncle who ended up killing himself slept. God, that room haunted me. The other room where an old man was meant to have died after World War II. What I'm saying is, the idea of a house, a building, that becomes an extension of the psychodrama of a family's life is one that fascinates me. And we get a lot of that in Kid Lobotomy. There are skeletons in the lower depths, and they're calling for room service.
DF: What makes Tess Fowler the perfect artist for this series? Talk a little about her work and your collaboration.
PM: Sometimes an artist just seems to click with a story … who not only does what you want them to do, but adds to it. This is Tess. Also, being a young woman living in Los Angeles (something even my most devoted fan couldn't claim I was), she brings a very different angle. For example, the way Tess drew Kid's sister Rosebud was just so different from how I'd imagined her. Rather than see this as a problem, I embraced it. That kind of creative surprise can make a book come to life!
DF: Peter, what are some other things readers can expect from you in the near-future?
PM: I'd rather not talk about other stuff while doing this Kid Lobotomy interview, other than to say I'm writing the third storyline for Britannia over at Valiant. I like the way this isn't an official ongoing series, rather a series of four-part storylines produced when the Roman spirit moves us, which right now seems to be often. The new storyline is called "The Lost Eagles Of Rome".
Dynamic Forces would like to thank Peter Milligan for taking time out of his busy schedule to answer our questions. Kid Lobotomy #1 from IDW Publishing and Black Crown hits stores Oct. 18th!
For more news and up-to-date announcements, join us here at Dynamic Forces, www.dynamicforces.com/htmlfiles/, "LIKE" us on Facebook, www.facebook.com/dynamicforcesinc, and follow us on Twitter, www.twitter.com/dynamicforces.
ALL NEW MIRACLEMAN ANNUAL #1 JEFF SMITH VARIANT CGC GRADED!
ALL NEW MIRACLEMAN ANNUAL #1 JOE QUESADA VARIANT CGC GRADED!
TERMINAL HERO: THE DEATH AND LIFE OF RORY FLETCHER TRADE PAPERBACK
---
NEW! 1. 11/25/2020 - STEVE SKROCE
4. 11/16/2020 - RYAN O'SULLIVAN
5. 11/16/2020 - RYAN O'SULLIVAN