SCOTT LOBDELL

SEND THIS TO A FRIEND!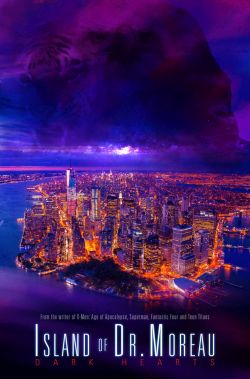 DF Interview: Scott Lobdell tries his hand at the Great American Novel with 'Island of Dr. Moreau: Dark Hearts'
By Byron Brewer
Scott Lobdell is a lifelong fan of the prolific writer H.G. Wells — reading his books, devouring comic books based on his work and watching many filmed adaptations of some of his best. As an award-winning comic book writer used to working with today's classic characters, and because he had been jonesing to try his hand at writing a novel, Lobdell decided to write a modern-day adaptation of the oft-misunderstood Island Of Dr. Moreau.
DF wanted to get the 411, so we went to the man himself: now-novelist Scott Lobdell.
Dynamic Forces: So, Scott, after all these decades of comics, you are trying your hand at the Great American Novel?
Scott Lobdell: Right! How much fun is that? And besides comics, I've written television pilots, feature films, animated films (for none other than Stan Lee and Ringo Starr!), and even an episode of an animated Godzilla series in the late 1990s! So honestly, it was either a cook book or a novel – what other medium did I have left to conquer?!
DF: How has the experience been, and how different from writing for comics?
Scott Lobdell: In comics, when you are writing, you are writing for three different audiences at once. You are writing to your artist, using your words to help him visualize the story in the most dynamic way. You are writing for the editor, who is often most interested in the structure of the story and making sure it all works. And finally you are writing for the reader in a way that you are trying to entertain, but you are also trying to make sure he "doesn't see the strings".
With a novel, it is pretty much you and the reader and that's it! In some ways, it reminds me of my stand-up comedy days when there was nothing between you and every member of the audience. Though in comedy you get a reaction right away – whereas in a novel (or a comic book), you might not learn what the reader's reaction is until years later when they say, "Hey! Scott Lobdell! You wrote a story I read twenty years ago and it made me want to weep!"
DF: You are well-known as an unabashed fan of H.G. Wells. Of all the works to choose from (The Time Machine, The War of the Worlds, etc.), why select the much comics-adapted Island of Dr. Moreau?
Scott Lobdell: Well, while it may have been much comics-adapted, it was never comics-updated … and that's what I'm doing here with islandm.com.
When it was originally written, one of the biggest issues at the day was the morality of vivisection: is it man's place to be able to use animals to experiment on, even if it meant potentially huge medical advancements for mankind?
Well, here we are a hundred-and-change years later and we're gene-mapping and gene-editing out particular strands of DNA. I don't know that many (but some do) people would argue that editing out birth defects is a negative – the idea that we're not far away from designer babies is pretty horrifying.
DF: Elephant in the room: Do you really STILL have a copy of Marvel's official adaptation of the Island of Dr. Moreau movie?? 1977, and for 50 cents!
Scott Lobdell: How dare you!
Keep in mind I am an adult male who has moved from apartments to houses to apartments, etc., many times over the years – which means elements of my collection have come and gone. But there are two things that I will buy at a con or flea market, and that is any early Invaders issues by the incomparable Frank Robbins, and any Island of Dr. Moreau comic with that Gil Kane cover – regardless of the condition!
So, while no, I don't have the cover I grew up with … I do have the comic! (And you know, the universe works in mysterious ways. It could be the comic I have now is the exact comic I read in my misspent youth!)
DF: I don't know if many folks are aware of how far Wells was ahead of his time. His works contain concepts of everything from gene-splicing to hybrids! Do you think Wells ever conceptualized that one day his world of science fiction would indeed be common-day science fact?
Scott Lobdell: Absolutely.
DF: Dr. Moreau as a work certainly stands the test of time. What was the challenge in molding the story into something for the modern reader, and making it separate from the dozens of other adaptations? How did you decide what to change, what to jettison and what to leave alone?
Scott Lobdell: Mostly the locale. In my version, the Island of Dr. Moreau isn't an uncharted island, it is Manhattan.
But just changing the location changed everything about the story.
In the original and all the versions I've read, the hero of the piece arrives at the island and discovers Dr. Moreau is a conducting all his experiments in secret. He's been shamed out of the arena of science. He is a pariah.
But we're living in a world where shame doesn't really mean much any more. I wanted to explore what happens when Dr. Moreau is hiding in plain sight. I wanted to write about what happens when the man has figured out how to work under the guise of respectability.
What's more, all the previous versions (and I have to qualify words like "all" and "most" because I certainly have not read all of the versions!) dealt with the secret society or hybrids in the middle of nowhere, on an island where there were no "normal" people. So I wanted to throw out that model and put all of his experiments right in the middle of the modern day world.
DF: What is "Island M"?
Scott Lobdell: When I knew I wanted to release the novel online first, I started looking for a destination website. All the versions of Moreau were either taken or were too clunky to remember … so eventually I came across www.islandm.com.
It is funny, an obscure website called Bleeding Cool came across by Facebook posting and mentioned that I was using an old X-Men story element, something called Island M. I got a kick out of that because, like most people, I haven't read X-Men much since I left! So I really hadn't realized the tenuous connection.
DF: Joel Gomez's art on the chapters you released online is amazing. Did he also do that breathtakingly awesome cover?
Scott Lobdell: I will thank you on his behalf! And I'll add that Joel is a frightfully talented young man who has yet to get the recognition he deserves as an artist. But trust me when I say that day is coming!
But the breathtakingly awesome cover was all the work of Aspen's Mark Rosland.
DF: And finally, where can readers and an ever-growing legion of fans find your online novel? What are your plans for publishing it and releasing it into the real world?
Scott Lobdell: Actually and honestly, my only plan right now is to release it five chapters at a time online at www.islandm.com. (Though I'm having so much fun that I'll probably be adding more at a time!) When it is all done, I'll look to follow Andy Weir's model with The Martian and release the final completed novel on Amazon.
Dynamic Forces would like to thank Scott Lobdell for taking time out of his busy schedule to answer our questions. Stay tuned to DF News for more on the novel, Island of Dr. Moreau: Dark Hearts!
For more news and up-to-date announcements, join us here at Dynamic Forces, www.dynamicforces.com/htmlfiles/, "LIKE" us on Facebook, www.facebook.com/dynamicforcesinc, and follow us on Twitter, www.twitter.com/dynamicforces
ARMY OF DARKNESS/XENA: FOREVER... AND A DAY #1 (OF 6) Written by Scott Lobdell
RED HOOD AND THE OUTLAWS: REBIRTH #1 SIGNED BY SCOTT LOBDELL
RED HOOD AND THE OUTLAWS #1 SIGNED BY SCOTT LOBDELL
---
NEW! 1. 11/25/2020 - STEVE SKROCE
4. 11/16/2020 - RYAN O'SULLIVAN
5. 11/16/2020 - RYAN O'SULLIVAN