EDUARDO RISSO

SEND THIS TO A FRIEND!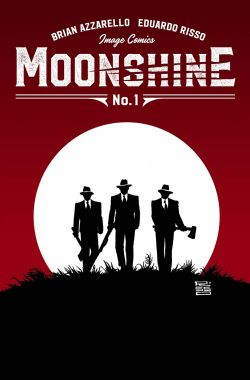 DF Interview: Artist Eduardo Risso brings the light to Moonshine
By Byron Brewer
Set during Prohibition and deep in the backwoods of Appalachia, Moonshine #1, from writer Brian Azzarello and artist Eduardo Risso, tells the story of Lou Pirlo, a city-slick "torpedo" sent from New York City to negotiate a deal with the best moonshiner in West Virginia, one Hiram Holt. What Lou doesn't figure on is that Holt is just as cunning and ruthless as any NYC crime boss. Because not only will Holt do anything to protect his illicit booze operation, he'll stop at nothing to protect a much darker family secret -- a bloody, supernatural secret that must never see the light of day. Or better still, the light of the full moon.

Putting a twist on our interview, DF sought out renowned artist Eduardo Risso to tell us about this new Image series.
Dynamic Forces: Eduardo, this new Moonshine comic marks the first time Brian Azzarello and you have worked together with Image Comics. It also reunites the acclaimed creative team that, to many minds, defined modern crime comics with 100 Bullets. Would you classify Moonshine as a crime drama?
Eduardo Risso: I'm not sure. I would say it's more crime horror.
DF: Brian has said the idea for Moonshine has been "bubbling around" in both your heads for years. What inspired this brutal new series, and why is now the right time for it?
Eduardo Risso: It's true that we have been thinking about this idea for some time, and it's also true that we should have started long ago. Why now? Just simply because now we both have the time to do it.
DF: As the whole art team, you have a great deal to do with the readers' perceived tone on the book. Do you enjoy doing illustrations and the coloring? And what is the advantage of handling both, if any?
Eduardo Risso: Advantage … I don't know. But now, I can't complain, haha!
DF: Moonshine is set during the Prohibition Era, deep in the backwoods of Appalachia. Did you do any research on the period and the area (which is not that far from where I live in Kentucky)?
Eduardo Risso: I always try to find out and get documentation about the place and its people before each new story. I think it is essential to transmit the best possible experience of the time for the reader to feel hooked on the story. That doesn't mean that no errors appear.
DF: I am sure you were busy for some time designing characters for this book. Did Brian play a part in the designs, or did you have artistic freedom? Which is your favorite character to draw thus far, and which the greatest challenge?
Eduardo Risso: Brian gives me some lines that help create any single character better. As always in our stories, there are many characters that appear and all with relevance to the story. I guess as the story develops, I will start to prefer one of them but I haven't a favorite at this time. The big challenge for me is to catch the reader.
DF: Eduardo, are there any other current or near-future projects you can tell is about?
Eduardo Risso: I'm doing a book for Panini Group with Enrique Sanchez Abulí scripts that will be released in mid- to late next year.
Dynamic Forces would like to thank Eduardo Risso for taking time out of his busy schedule to answer our questions. Moonshine #1 from Image Comics hits stores Oct. 5th!
For more news and up-to-date announcements, join us here at Dynamic Forces, www.dynamicforces.com/htmlfiles/, "LIKE" us on Facebook, www.facebook.com/dynamicforcesinc, and follow us on Twitter, www.twitter.com/dynamicforces
DARK KNIGHT III: THE MASTER RACE #1 BEYOND COMICS EXCLUSIVE BLACK & WHITE COVER BY EDUARDO RISSO!
DARK KNIGHT III: THE MASTER RACE #1 BEYOND COMICS EXCLUSIVE COVER BY EDUARDO RISSO!
---
NEW! 1. 11/30/2020 - SKYLAR PATRIDGE
5. 11/16/2020 - RYAN O'SULLIVAN