RODNEY BARNES

SEND THIS TO A FRIEND!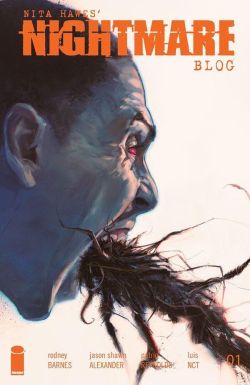 DF Interview: Rodney Barnes expands the 'Killadelphia' universe with 'Nita Hawes' Nightmare Blog'
By Byron Brewer
Jimmy Sangster might have left Maryland for the vampire-infested city of "Killadelphia," but there is still untold evil lurking the streets of Baltimore. The demon Corson has surfaced from the underworld to possess a once-wronged man, and his vengeance will come at the cost of humanity's despair! But Jimmy's former lover Nita Hawes – a woman with demons of her own – has begun a quest to root the evil out of her city. Guided by the ghost of her dead brother, she must come to terms with her own past, lest she join her brother in a state worse than death!
From the universe of Eisner-nominated series Killadephia comes a terrifying new tie-in horror series, Nita Hawes' Nightmare Blog, by writer Rodney Barnes and artist Jason Shawn Alexander. Having interviewed the scribe before publication of the parent book, I could not wait to chat with Rodney Barnes about this horrific series.
Byron Brewer: Rodney, congratulations on this new spin-off of Killadelphia, in and of itself quite an accomplishment. How did the new series, Nita Hawes' Nightmare Blog, come to be? Is this something you had planned all along?
Rodney Barnes: I've had Nita Hawes' Nightmare Blog on my mind for quite sometime. I'd wanted to write a horror story that's more grounded than Killadelphia, but still connected to the same world. A story that's a little more intimate, but horrifying nonetheless.
Byron: Before we discuss Nightmare Blog, can you summarize what Killadelphia has been all about, for the uninitiated?
Rodney Barnes: Killadelphia follows three stories: a father and son trying to find their way past their past, a troubled marriage filled with resentment, and a young man who has tapped into his potential and wants to see how far he can take it. Four out of five of these characters are dead—well, undead.
Byron: Tell us a little about the storyline of this coming spin-off. Will readers necessarily have to be familiar with Killadelphia in order to enjoy Nightmare Blog?
Rodney Barnes: No, Nita Hawes follows its own path. The connective tissue to Killadelphia is through characters, not plot. It's an easy dive in and the waters are cool. The story follows Nita Hawes, a professor of parapsychology at Morgan State University. She's lost a lot in her life, but one of the people most important to her has returned from the dead with a mission for her… one that could save the world or destroy Nita.
Byron: Introduce us to Nita Hawes. Who is she as a character, what challenges does she face in this series and what does she need to do going forward?
Rodney Barnes: Nita Hawes is a strong-willed woman who would like life to steady its waters so she can get some traction. She's smart and sarcastic with a strong moral and ethical compass.
Byron: What the heck is going on in Baltimore? Without spoilers, can you tell us a bit about what the demon Corson is up to?
Rodney Barnes: Bad things have come to Baltimore and Corson the demon is seizing the moment to bring about the end of mankind.
Byron: If the situation is not just a MacGuffin, what can you tell us about the relationship between Anita and her deceased brother? What relationship does she have with his ghost?
Rodney Barnes: Can't give away too much, but I'll say either he's real, a manifestation of her survivor's remorse, or Nita is losing her mind.
Byron: Talk about the art of Jason Shawn Alexander.
Rodney Barnes: Jason is quite simply one of the greatest artists and human beings I know. I love him, but please don't tell him. He's shy.
Byron: Rodney, you always have your finger on the pulse of the entertainment business. Please tell readers as you can about any projects, inside or outside comics, in which you may be involved.
Rodney Barnes: Thank you! There's a lot coming. Off the top of my head, there's Blacula, two Star Wars books, James Bond and Army of Darkness from Dynamite, and Quincredible at Oni Press. Good times!
Dynamic Forces would like to thank Rodney Barnes for taking time out of his busy schedule to answer our questions. Nita Hawes' Nightmare Blog #1 from Image Comics is slated to be on sale October 20th!
For more news and up-to-date announcements, join us here at Dynamic Forces, www.dynamicforces.com/htmlfiles/, "LIKE" us on Facebook, www.facebook.com/dynamicforcesinc, and follow us on Twitter, www.twitter.com/dynamicforces.
ARMY OF DARKNESS: 1979 #1 - RODNEY BARNES SIGNED ATLAS EDITION
STAR WARS: WAR OF THE BOUNTY HUNTERS - IG-88 #1 CGC GRADED
JAMES BOND: HIMEROS #1 - FRANCESCO FRANCAVILLA DYNAMITE METAL PREMIUM COVER
ARMY OF DARKNESS: 1979 #1 - JASON SHAWN ALEXANDER DYNAMITE METAL PREMIUM COVER
---
NEW! 1. 10/21/2021 - JOE BENITEZ
3. 10/14/2021 - MATTHEW ROSENBERG
5. 10/07/2021 - CULLEN BUNN & HEATH AMODIO