JEFF LEMIRE

SEND THIS TO A FRIEND!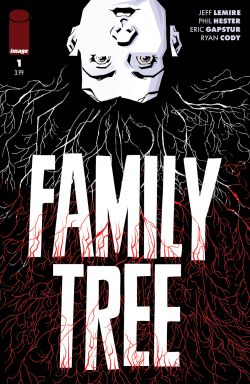 DF Interview: Jeff Lemire tells the story of a little girl who turns into a tree in the horror-filled 'Family Tree'
By Byron Brewer
In Family Tree, an eight-year-old girl literally begins to transform into a tree. Her single mom, troubled brother and possibly insane grandfather embark on a bizarre and heart-wrenching odyssey across the back roads of America in a desperate search for a cure to her horrifying transformation – before it's too late.
From Image Comics comes Family Tree, an all-new ongoing genre-defying series by New York Times bestselling author Jeff Lemire (Gideon Falls, Ascender) and critically-acclaimed artist Phil Hester (Shipwreck, Green Arrow). DF wanted to explore this new book in depth, so we spoke with our old friend, scribe Jeff Lemire.
Dynamic Forces: Jeff, my friend, belated congratulations for being nominated for four Eisner Awards this year – best writer, best new series, best continuing series, and best single issue/one shot – and against stiff competition bringing home the best continuing series trophy for Image Comics' Gideon Falls, which you do with Andrea Sorrentino. Me? I have some new towels in the guest bath. Thoughts (er, on the Eisner win, not the towels)?
Jeff Lemire: It's always great to have your work recognized like that and be included in such an impressive group of nominees. With Gideon Falls, it is especially satisfying, since that is a project that I've been working on in one form or another for a very long time. So it's great to have it embraced in the way it has been.
DF: Old joke: "A magician was driving down the road … then he turned into a driveway." But Family Tree centers around an eight-year-old girl who literally begins to transform into a tree. 'Splain.
Jeff Lemire: If I explained that, I would be revealing my whole story. So I can't say any more, really. This book has a real body horror, Cronenbergian feel to it. The absurd is embraced and treated in a very real and very horrific way.
DF: Tell readers a little more about this strange saga's storyline and its very limb-er protagonist, Meg.
Jeff Lemire: There really isn't one protagonist. The transformation of 8-year-old Meg is the inciting incident, but the book really focuses on the entire family. We have Loretta, a single mom, and her two kids, Meg and Josh, who is 14. And of course, my favorite, Grandpa Judd, who is a total wild-card. So it's really the story of this family, on the run, caught up in an insane and terrifying situation, with only each other to rely on.
DF: What challenges does this family face in trying to help Meg? How do they even know where to begin their journey?
Jeff Lemire: Grandpa Judd has a deeper sense of what is happening and why. How he came to that knowledge is part of the larger mystery, but he becomes their guide. But there are a number of threats and obstacles between the family and getting to where they need to be to find answers. Primarily, a fanatical cult who seems determined to kill young Meg before the transformation can complete itself.
DF: Any other characters that might be instrumental to this genre-defying series (although it HAS to have horror of a nature, or it would not be Lemire literature)?
Jeff Lemire: Loretta is a single mom, but the question of what happened to her husband, Meg and Josh's father, is a key mystery. So he is really an important figure in the series as well. His absence and fate play a big role.
DF: I can usually key in on the subtext you may be going for, but I am stymied. Is there something that has inspired this most unusual comic?
Jeff Lemire: I suppose this book can be looked at metaphorically. Think of the horror aspects of the story as metaphors for any of the fears, hardships and troubles any family can face and how these things can either pull them together or tear them apart.
DF: Great to see my old pal, Phil Hester, behind the art pen rather than the writer's keyboard this outing! Don't see enough of his illustrations. Jeff, talk about Phil's art and your collaboration here.
Jeff Lemire: I have been a big fan of Phil's for a while. I read his run on Swamp Thing with Morrison and Millar back in the day, and from that point on, I was a fan. More recently, it was his work on Shipwreck with Warren Ellis that really hit me. It was so bold and evocative, and I had been working in the ideas for Family Tree when that book launched, so I really started to think about Phil's art a lot when I was writing.
DF: So what other projects are rising like phoenixes (phoenices?) from the Lemire gray matter to bring us more great entertainment?
Jeff Lemire: I have a new original graphic novel, which I wrote and drew, called Frogcatchers coming out September 24. I'm also continuing Gideon Falls and Ascender at Image, the Black Hammer books, and currently writing and showrunning the Essex County TV show here in Canada, which will shoot next spring!
Dynamic Forces would like to thank Jeff Lemire for taking time out of his busy schedule to answer our questions. Family Tree #1 from Image Comics hits stores Nov. 13th!
---
NEW! 1. 11/25/2020 - STEVE SKROCE
4. 11/16/2020 - RYAN O'SULLIVAN
5. 11/16/2020 - RYAN O'SULLIVAN